You may have wondered if the sissy squat is safe for the knees because of how much you have to bend. You may also be curious whether it's a good exercise and one you should add to your program.
So are sissy squats good for the knees? When performed properly, sissy squats are not only safe but beneficial to knee health and performance. While any exercise that utilizes knee flexion and extension (the bending and straightening of your knee) can strengthen and grow your quads, sissy squats are particularly effective due to their extreme range of motion.
Whether you're familiar with sissy squats yet or not, we'll get into the details so you can decide how best to incorporate this exercise into your lifting program.
What is a Sissy Squat?
A sissy squat is a squat variation that puts maximal emphasis on your quadriceps or quads. They can be done with or without various equipment, from free-standing body weight variations to using the Smith machine.
In any variation, the difference in this squat variation comes in locking your hips so that your upper body stays in line with your femurs throughout the movement, bending only at your knees and ankles.
Balance becomes difficult in this position, so most lifters will do it with one hand stabilizing themselves on something nearby, leaning against a wall, or, best of all, with a Smith machine at their back.
Many lifters will also elevate their heels or simply stand on their toes so their ankle mobility does not limit how far they can descend in a sissy squat.
How To Do a Sissy Squat
For the purpose of this article, I'll use the Smith machine sissy squat as the standard variation we'll refer to.
Step One: If desired, place a plate underneath the barbell in the Smith machine
Set a plate or other 1-2" surface under the barbell in the Smith machine if you want to elevate your heels to perform the sissy squat.
Step Two: Rest the Smith machine barbell behind your neck or shoulders
Step under the Smith machine barbell with the bar resting behind your neck or shoulders.
Step Three: Hold onto the barbell with both hands
Lean against the barbell and grab onto it with your hands at least shoulder-width apart.
Step Four: Stand on your toes or the plate
Stand on your toes or the plate/elevated surface you placed under the barbell in step one.
Step Five: Make sure your torso is in line with your thighs
Set your hips, so your torso is in line with your femurs (thighs). Do not let your hips bend or break form throughout the lift.
Step Six: Bend your knees until they almost touch the floor
Bending at the knees, descend with your back leaning against the barbell until your knees touch the floor.
Step Seven: Lean against the barbell and stand back up
Without breaking form (keep your hips locked), stand back upward as you lean against the barbell.
Step Eight: Repeat for reps
Repeat for your desired number of reps.
Again, you can use several variations of equipment, including the Smith machine, dumbbells, or standing on a platform for increased range of motion. You can also do them with just your body weight.
If you have good balance, you can perform these free-standing or with one hand on a rack or stable object next to you to stabilize yourself. You can also do them leaning against a wall if you don't have another way to balance yourself.
Muscles Worked in the Sissy Squat
The sissy squat does a great job of isolating your quads, making them the primary muscles used in a sissy squat.
If you're familiar with the muscles used in the full squat, you'll notice that the sissy squat variation greatly reduces or removes the active engagement of the lower back, glute, and hamstring muscles. Because we keep our torso in line with our femurs throughout the lift, these muscles only work to hold that position while performing sissy squats.
What we are left with are the quads and the calves.
Your quads are the primary muscles responsible for bending and extending your knee. The deeper you squat and the more your knees travel over the toes, the more the quads work.
Because our knees extend way in front of our toes in the sissy squat, we hyper-emphasize the quads, isolating them to do all the work and really grow.
Your calves have a small role in bringing your shin back to alignment with your femur as you stand back up.
Sissy Squat Benefits
Four things stand out to me as excellent arguments for regularly doing sissy squats:
Maximum range of motion
Maximum quad isolation
Multiple ways to progress
Positive carryover effect
1. Maximum Range of Motion
There is not another quad exercise out there that offers as much range of motion (ROM) as the sissy squat. Period, full stop.
The only other one close to it is the kneeling leg extension, where you kneel on the floor with your shins/toes behind you, lie back to the floor, and sit back up.
But this only targets half the ROM, or the extreme end of knee flexion back to 90 degrees. A seated leg extension is needed to get the other half of the full knee extension from 90 degrees to 0 degrees (feet straight out in front of you).
You'll read in the research I share below under the safety of sissy squats that training full ROM of a muscle yields the best strength gains. So if quad strength is a goal of yours, the sissy squat is a fantastic element to add to a program and help you get there.
2. Maximum Quad Isolation
We all love compound leg exercises like the squat to demonstrate our complete strength, but we build and improve our compound lifts by building individual muscles along the way.
At some point, it becomes ineffective to use every muscle involved in the squat just to strengthen our quads by doing, well, more squats. At that point, it's optimal to do isolation exercises and put our energy on the quads directly.
When we are at that point in our workout, sissy squats are as targeted as they come for the quads. By locking our hips and removing the hip hinge element of the squat, our quads are all that's available to bend our knees and push us back up.
When done right, you can laser-focus on your quads and use your remaining energy to really target and grow your quads for strength and size.
3. Multiple Ways to Progress
Look, sissy squats are difficult to begin with, even when we are just using body weight. What I love about that is that it gives us lots of room to progress them.
While you'll never get to a point of doing 300lb loads with sissy squats, they're so difficult that every 2.5lb jump can be felt and effectively add intensity to your sets.
Even if you don't increase the load, sissy squats can be progressed for very high reps as a burnout exercise to conclude a quad workout.
They can also be done intermittently between other quad exercises or superset with another exercise.
You can do sissy squats your whole life, and there will always be some extra runway to progress them and keep them intense.
4. Positive Carryover Effect
As I discussed above, your quad is responsible for flexing and extending your knee.
If you want a big squat, you need strong quads to stand a heavy barbell back up and lock it out. The sissy squat targets the quads for this exact need so perfectly that it's a fantastic exercise to isolate that ability, train it, and have that newfound strength carry over to your traditional, competitive squat form.
While there are hundreds of exercises you could spend your time on, if powerlifting and strength training is your focus, you want to carefully choose the ones that will have the best carryover effect on your squat, bench press, deadlift, or other competitive event.
The sissy squat is an exercise that will absolutely have excellent carryover to your squat and deadlift, whether you do conventional or sumo deadlifts.
Sissy Squat Challenges
A few downsides that come to mind with the sissy squats are the following:
They're difficult
Injuries may inhibit them
1. They're Difficult
Look, I'll say it, sissy squats suck. But they suck in the way that leg day sucks or cardio sucks. It's not because they aren't a good exercise to do, but because they are difficult and very effective when done right.
But the difficulty can be a barrier to entry. Just like many people never start exercising at all because it's hard, many lifters won't consistently do sissy squats because they're difficult, they burn, and, well, they suck.
Don't let their initial (and ongoing) difficulty and general suckiness scare you away from doing them. Avoiding them would be the biggest downside of all.
2. Injuries May Inhibit Them
All the studies that I've found about deep squats and hyperflexion of the knees have confirmed that such exercises are safe and effective for healthy knees. However, there are a variety of ways people have injured their knees or are dealing with knee issues, and this finding may not apply to them.
If you've had knee injuries, the sissy squat might be off the table entirely for you. Unfortunately, it's just one of those exercises that can be impossible in some circumstances, especially if you've had knee injuries in the past.
Talk to a medical professional and see what your situation is first if you're still interested in incorporating sissy squats into your program.
Are Sissy Squats Safe for the Knees?
This question is really two questions:
Are deep squats/hyperflexed knee exercises safe?
Is the range of motion in a sissy squat safe and necessary?
Deep Squats
Let's dive right in with the good news here: deep squats (sissy squats included) are safe when done correctly.

The fear comes from the belief that flexing the knee that far with a load on your back is unsafe. This same fear has been expressed and evaluated when it comes to deep squats or traditional squats that have the lifter descend to the point that the knee flexes beyond 90 degrees.
In a review of clinical studies, Hagen Hartman et al found that deep squats can protect against injuries and help strengthen the legs when performed with proper form and done with suitable progressive overload. In these situations, deep squats have not been shown to increase the risk of injury to the muscles.
Bottom line: Train to squat deep – it's good for you.
Full ROM and Knee Hyperflexion
The whole benefit of a sissy squat is to isolate the quad muscles as much as possible through a maximal range of motion from straight or locked knees at the top all the way to fully flexed knees at the bottom.
This is why some lifters will stand on a box or other elevated platform and allow their knees to descend past their toes – more ROM to train the quads that is hard or impossible to get with any other exercise.
After all, most (or all) seated leg extension machines, which target and isolate the same quad muscles, only allow you to bend your knees slightly past 90 degrees rather than to start the extension with your toes all the way back under your butt, like a sissy squat does.
A study conducted by the Center for Exercise Science at the University of Florida analyzed the strength improvements of men and women specific to knee flexion and extension.
One group performed leg extensions with only the bottom half of the ROM. A second group performed only the top ROM, and a third group performed the full ROM. A fourth control group was also tested without performing any ongoing exercises.
The study found that each group (except the control) improved in strength, but only in the ROM that was trained during the study. Those in the partial ROM groups got stronger, but only for the ROM they trained, while the full ROM group got stronger through the full movement.
So partial ROM exercises can improve strength, but maximum improvement only comes in training the full ROM. While you may train partial ROM to develop initial strength to enable you to successfully perform the full ROM, you must progress to the full ROM at some point.
This is the case for doing sissy squats – training the full ROM of your quad's ability to flex and extend the knee can yield maximum strength gains.
So yes, sissy squats are safe! The key takeaways are that if you do not have existing knee injuries, you learn good technique, you perform weights and reps and set ranges you can handle, and progress steadily from there over time, you're actually preventing injury.
Another exercise that has a reputation for being bad for the knees is pistol squats, but it can be a great exercise to strengthen your knees when done properly. Learn more in Are Pistol Squats Bad For Your Knees? (What Experts Say).
What To Do If You Experience Knee Pain When Doing Sissy Squats
If you experience knee pain when doing sissy squats, you first need to assess the pain level to decide how to proceed. Ask yourself the following questions:
Did the pain begin suddenly with a pop or a snap during the exercise itself?
Does the pain only persist during the exercise, or does it diminish after some rest and stopping the exercise?
If the pain appeared suddenly during the exercise, of course, you should stop immediately. Suppose the pain persists even after ceasing the exercise and allowing for some rest (walking it off, massaging it, etc.). In that case, you may have an injury on your hands, so consult a medical professional.
In many cases, the muscles and tendons around the knee will become fatigued and can become sore during a lift.
This is a different sensation than an injury. It's usually marked by a dull, general pain that subsides with rest and cessation of the exercise. It usually does not appear suddenly with a pop or snap. Instead, it appears and increases somewhat steadily and fades similarly.
Suppose this is the discomfort you feel but can continue additional sets and reps without worsening the pain. In that case, you're likely just experiencing normal body adaptations to the new stimulus of performing this lift. As your body is unfamiliar with this movement, it may take a few weeks of performing it with a light load to become accustomed to doing it without pain.
But when in doubt, see a medical professional.
Who Should Do Sissy Squats?
I've got four groups of people I strongly believe should do sissy squats:
Lifters looking for big quads
Lifters looking for strong quads
Lifters looking to improve knee health
Lifters looking to prevent knee injury
1. Lifters Looking for Big Quads
Bodybuilding is all about muscle isolation. The best bodybuilding exercises are the ones that allow you to zero in and target a particular muscle and leave every other muscle out of the equation for the duration of that rep and that set.
I believe there is no better isolation exercise for quads than sissy squats. Learn good technique, do them consistently, and progress them over time by adding weight, adjusting the rep range and total sets, eat in a caloric surplus (more calories than your body burns each day), and you will absolutely see your quads grow.
Lifters Looking for Strong Quads
Powerlifting is all about using every muscle we can to move the barbell. If you want to improve that cumulative ability to coordinate all your muscles to work together, you can do so by strengthening each muscle individually.
Because the sissy squat isolates the quad and trains its motion in exactly the way you need it to work in a full, competitive squat, it's a perfect accessory exercise to add to a powerlifting program.
On top of that, the added ROM that comes from a sissy squat will only improve and strengthen your knee itself, making your knees (and you) all the more prepared for the limited ROM you need for a heavy squat in competition or when setting PR's in the gym.
For more exercises that can help increase your squat strength, check out 9 Squat Accessories To Improve Strength & Technique.
Lifters Looking to Improve Knee Health
Maybe you don't care about your quad appearance or squatting great weight, but staying healthy is a great reason to do sissy squats.
The research is there: deep squats with full knee flexion and extension improve knee health. If you would like to hike, climb stairs, run, walk, and generally move well through life, even in old age, it's in your best interest to include deep squats in your resistance training program.
To maximize the improvements on your knees by maximizing the trained ROM, be sure to incorporate sissy squats as part of that program.
Lifters Looking to Prevent Knee Injury
I hear the same thing with knees as I hear with backs – people avoid knee and back exercises because they don't want to get injured. The truth is, training your knees, back, and every other part of your body is the single best defense against injury.
On the knees, in particular, there is no exercise incorporating a great ROM other than the sissy squat. It's a fantastic exercise to ensure every possible angle of your knee bending and straightening is trained and strong.
For athletes worried about knees getting hurt in practice or performance, for aging adults looking to avoid hurting their knees in some lifestyle situation, and for everyone in between – sissy squats are a great remedy to strengthen those knees against whatever may be coming in your future.
Who Should Not Do Sissy Squats?
People with a history of knee injury
Wimps
People With a History of Knee Injury
I said it before, but if you've had knee injuries in the past or are currently experiencing ongoing knee pain, seek the advice of a medical professional before attempting sissy squats.
Unfortunately, I can't recommend sissy squats to you if you've had an injury. That doesn't mean they're off the table entirely, but you'll need a medical professional to give you the green light.
No worries – there may be plenty of other exercises you can do for your quads and lower body that don't have the negative impacts a sissy squat might. Be sure to check out our full list of 17 best sissy squat alternatives.
Wimps
Yeah, I'm joking a bit here. But you're not a wimp, so if you don't have any knee injuries, go do your sissy squats. You have no other excuse.
Knee-Friendly Sissy Squat Alternatives
If you would prefer to do some alternatives to the sissy squats, here are a few favorites:
Leg Extensions
I love leg extensions for quad isolation. They are far less technical than the sissy squat and still cover half the ROM, from 90 degrees flexed to full extension.
These are performed by sitting in a leg extension machine, placing your feet under the pad, and extending your feet out in front of you. You can follow the instructions written on one of these machines in most public gyms.
If your knee discomfort comes past the 90-degree flexion point, seated leg extensions are a great alternative to work your quads without using many (or any) other muscles in the process.
High Bar Barbell Squats
The high bar variation of the squat (where the barbell rests on top of your traps/shoulders) puts more emphasis on the quads than the low bar variation (where the barbell rests on the back of your shoulders, further down your back).
They are otherwise performed the same as any other squat, by holding the bar in place on your shoulders, squatting down until your knees break the 90-degree angle, and standing back up.
Without going into too much detail, we need more quad emphasis in the high bar position to push us up out of the bottom of the squat. This can be a great way to target your quads more without drastically increasing knee flexion beyond what you're comfortable with.
Learn more about the differences between high bar squats and low bar squats in Olympic Squat vs Powerlifting Squat: Differences, Pros, Cons.
Bulgarian Split Squat
Another favorite alternative of mine is the Bulgarian split squat.
This exercise is performed in a lunge position, with your rear foot elevated and resting on a bench or some other surface about 12-16" high while your front foot is flat on the ground. You lower yourself until your front leg bends at 90 degrees at the knee and stand back up.
These can be done with dumbbells in hand for added load.
This variation similarly alters the squat to focus more on the knee flexion/extension element both by focusing on one leg at a time and by limiting the exercise to perform the knee flexion/extension over and over again.
As with the other alternatives, it will not require your knee to flex beyond 90 degrees or so but still engages the quads effectively.
Can't do Bulgarian split squats or want to add more variety to your routine? Check out my favorite Bulgarian split squat alternatives.
---
About The Author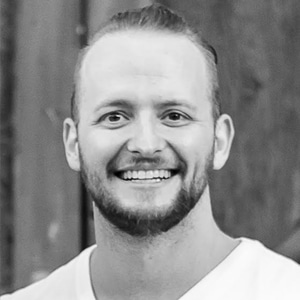 Adam Gardner is a proud resident of Utah, where he lives with his wife and two kids. He has been competing in powerlifting since 2016 in both the USPA and the APF. For the past three years, he and his wife, Merrili, have coached beginning lifters to learn the fundamentals of powerlifting and compete in their first powerlifting competitions.