The ATG Split Squat means "ass to grass" and is a single-leg lunge exercise that targets the quadriceps, glutes, and hip flexors.
I recommend it to clients looking for improved single-leg strength, mobility, and stability. But to maximize strength, consider other leg exercise options like the back squat.
However, not performing movements like the ATG split squat, which prioritizes the knee joint, could hinder your ability to be successful with your leg strength.
In this article, I will discuss:
How To Do The ATG Split Squat
Step 1: Step Two Foot Lengths In Front
Start with just body weight. Take a step forward with your dominant leg, extending it about two foot-lengths in front of you. The heel of your back foot should come off the ground, and you should balance on your toes with most of your weight on your front leg.
Step 2: Squat and Sink
Start the exercise by dropping your hips down and forward by pushing all your weight into your front leg. Your front knee should move forward over your toes. Allow the back of your front thigh to contact your front calf, achieving a deep squat position.
You'll know you're deep enough when your a** is near the grass.
Step 3: Tall and Erect Torso
Lifting your front heel will allow you more mobility to reach the right depth, and make sure to keep your torso tall and erect.
Step 4: Slowly Return
Afterward, go back to the starting position and continue to perform reps as prescribed.
Pro Tip: Breath control is fundamental to the ATG split squat. Inhale on the descent, bracing your core to stabilize your spine. Exhale as you rise, pressing through your heel, which helps maintain abdominal pressure and safeguards your back.
How To Program ATG Split Squat
The ATG split squat is an accessory movement and should not be the primary movement of your session. Here is how to program it into your next workout:
Sets: 2-3 sets
Reps: 3-6 reps
Rest Period: 60-90 seconds
How often per week: 1-2 times a week
Pro Tip: Be sure not to rush. The better your tempo is with each rep, the more you can push your joints into an increased range of motion safely and not hurt yourself during any rep.
ATG Split Squat: Common Mistakes
Knee Overextension
Poor Posture and Alignment
Rushing the Movement
While it's okay for your knees to extend beyond the toes if you're comfortable, ensure your knee is aligned with your ankle to prevent discomfort. Don't push past your toes until you're confident in the movement.
Proper posture is non-negotiable. Avoid rounding your back or leaning too far forward—these mistakes can strain your spine and diminish the split squat's effectiveness. Keep your chest up and your back straight, and engage your core throughout the exercise.
Resist the urge to speed through the exercise. A hasty approach can lead to sloppy form and limited gains. Embrace a slow, intentional pace, paying close attention to each movement phase for full muscle activation and safety.
Pro Tip: Form trumps speed and depth. Align your movements carefully and progress slowly to ensure your ATG split squats are both safe and effective.
ATG Split Squat: Muscles Worked
The ATG (Ass to Grass) split squat is an excellent exercise that engages several muscle groups. The following lists the ATG split squat muscles worked:
Quadriceps
Glutes
Hip Flexors
Pro Tip: The ATG Split Squat is often compared to the Bulgarian split squat. The difference is that it places more emphasis on knee strength and health through a greater range of motion.
Interested in learning more about the Bulgarian split squat? Check out our article about a Bulgarian split squat progression to prepare you to execute this movement!
ATG Split Squat Benefits
Building Leg Strength
Improving Mobility
Enhancing Lower-Body Leg Health
The ATG split squat is the fact it is a single-leg movement, overloading each leg one at a time to get them bigger and stronger.
The deep range of motion also increases flexibility, especially in the hips, knees, and ankles. These squats help alleviate tightness in the hip flexors by pushing the hips beyond their normal resting state.
In addition to the hips, the knees and ankles are pushed into massive positions of flexion that would challenge both joints to be more mobile and flexible.
This enhanced flexibility reduces the risk of lower-body injuries like strains and addresses muscle imbalances.
Moreover, the functional strength gained from ATG split squats can improve daily activities and athletic performance thanks to the enhanced range of motion and muscle engagement.
Want more of the best squat accessories? Check out the full article!
Drawbacks of the ATG Split Squat
Increased Stress on Knee Joints
Balance and Stability Challenges
Limited Strength Gains
Performing ATG split squats with a deep range of motion places significant stress on the knee joint. This can be a drawback for individuals with preexisting knee issues or those not accustomed to the exercise.
While the balance needed can be seen as a benefit for improving your performance, it can also be a drawback for individuals with balance issues, such as beginners. It might lead to falls or discomfort.
Pro Tip: It's essential to start with a shallow split squat and progressively lead into deeper split squat reps.
The increased range of motion in ATG split squats can lead to faster muscle fatigue, making it challenging to use heavier weights. If you want pure strength gains, you need to do other strength-focused leg exercises.
Variations of ATG Split Squats
Bulgarian Split Squats
Walking Lunges
Goblet ATG Split Squats
Bulgarian Split Squats: Raise the stakes by elevating your rear foot. This boosts the motion range, honing in on glutes and hip flexors. Place your back foot on a bench and descend into a deep squat, aiming to lightly tap your rear knee to the ground before rising, emphasizing the push through your front heel.
Walking Lunges: Bring motion to the mix, stepping forward alternately for a fluid, athletic lower-body challenge. They activate the core and glutes more dynamically. In an ATG fashion, lunge deeply with each step, propelling yourself forward with the strength of your leading leg.
Goblet ATG Split Squats: Holding a dumbbell at chest height increases the load on your knees, enhancing quadriceps engagement. Perform as with a standard ATG split squat but with the added focus of maintaining the weight steady in the goblet hold.
The ATG split squat is hard, just like any other squat. Check out our article about the hardest squat variations you can do in a program!
Alternatives to ATG Split Squat
Reverse Lunge
Single Leg Press
Step Up
Reverse Lunges: This is a stable alternative, targeting similar muscle groups as ATG split squats. Begin with feet together, stepping back into a lunge while aiming for 90-degree angles in both knees. Hover your rear knee off the ground, focusing on balance and muscle control.
Single Leg Press: For those preferring machine assistance, single-leg presses isolate and fortify each leg. Settle into a leg press machine, pressing one foot firmly on the platform, and bend the knee to 90 degrees before extending. It's an excellent choice for addressing muscle imbalances and reducing injury risks.
Step-ups: This is a straightforward yet potent exercise, honing on stability and leg power. Face a bench, step one foot onto it, and lift your body upwards, extending your knee fully at the top. Ensure the assisting leg remains passive to maximize the primary leg's workout.
Pro Tip: These alternatives not only complement the ATG split squat but can also serve as a bridge, building your strength and technique until the ATG split squat becomes accessible.
Still not feeling this workout in your quads? Check out this article about the top tips to feel your workout more in your quads for a better leg day.
FAQ
Are ATG split squats the same as Bulgarian split squats?
The ATG split squat has similarities to the Bulgarian split squat, but the main difference is the Bulgarian split squat puts your rear foot on an elevated platform while the ATG split squat has both feet on the floor.
Are ATG split squats safe?
The ATG split squats are safe if done correctly. You have to learn to train this exercise deeper and deeper, as it can push your knee joint past a normal range of motion other exercises cannot.
You can improve your ability with the ATG split squat by using these tips plus considering supportive equipment such as the knee sleeves or lifting belts.
---
About The Author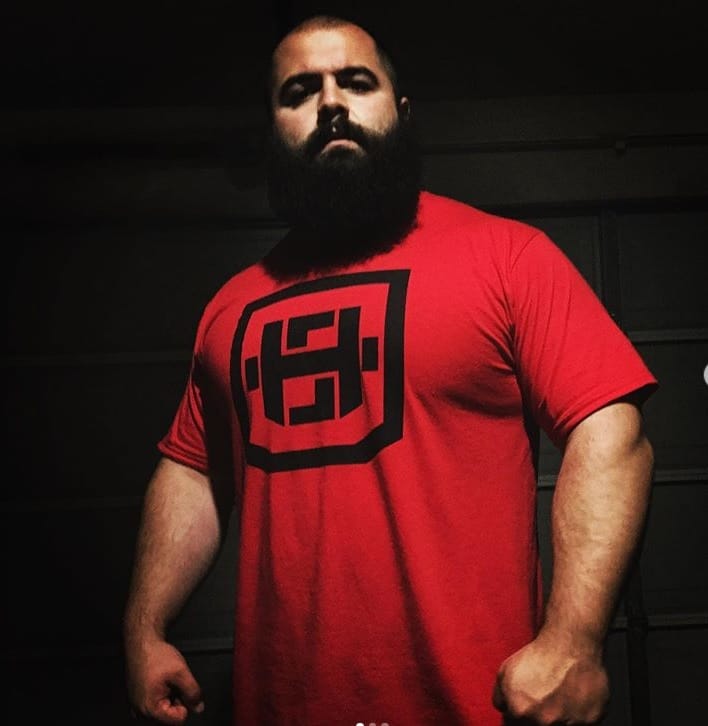 Joseph Lucero is a Strength Coach and Author and owns Harvesting Strength LLC. He's CSCS Certified, and when he's not helping clients get stronger, he writes about strength and conditioning to help readers. You can connect with him on LinkedIn and Instagram.