Whether you are a strongman or powerlifter, one of your main tools for performance are knee sleeves.
Knee sleeves are a popular accessory in the world of strength, designed to support and protect the knees during an intense session. But of all the knee sleeves in the market, one of the top products currently offered is the Iron Bull Strength 7mm Knee Sleeves.
I have personally had the chance to use these Iron Bull 7mm knee sleeves, and here's my quick take.
So, are the Iron Bull Strength 7mm Knee Sleeves worth it? The Iron Bull Strength 7mm Knee Sleeves offer thick neoprene and reinforced stitching for support during heavy lifts. The anatomical fit prevents slippage and temperature regulation promotes blood flow and reduces injury risk. With positive feedback and noted performance improvements, they're recommended for lifters.
Purchasing the wrong type of knee sleeves could ruin your chances of not only being successful but being safe as well.
This article will discuss all the Iron Bull Strength knee sleeves details. We will dive into the pros, cons, specs, and how to use this product to elevate your next workout. Let's get to it!
Overall Rating: 4.7/5
| | |
| --- | --- |
| Product Details | |
| Material | Neoprene |
| Size | S-2XL |
| Thickness | 7mm and 30cm in length |
| Features | Level 2 Compression, Approved in most federations |
| Cost | Around $60 |
Pros
High-quality neoprene material ensures durability and longevity.
Provides compression and warmth, aiding in performance.
Reinforced stitching prevents tears and enhances overall durability.
Available in various sizes for a custom fit.
Approved for competitions in the IPF, IPL, USAPL, USPA, and more.
Cons
7mm thickness might not be ideal for all athletes.
Not recommended for those who might not have mastered their movement yet
The first thing I noticed was how comfortable these Iron Bull Strength knee sleeves were. Now, I am not saying they are too soft or too loose, but they are not that difficult to slip on.
In addition, they have a sticky material inside the knee sleeve that helps the knee sleeve to stay placed on your legs in the right position. 
How do these 7mm Knee Sleeves compare with Iron Bull Strength's Pro and Premium models? Read the full articles.
How Do The Iron Bull Strength Knee Sleeves Work?
The Iron Bull Strength 7mm Knee Sleeves are constructed from high-quality 7mm thick neoprene material, providing excellent support for a stronger performance.
But how do these Iron Bull Strength Knee Sleeves work? They help by:
Providing compression for support
Designed to strengthen your performance
Alleviating discomfort
Reducing injury
Providing Compression for Support
Knee sleeves are typically made from neoprene or similar materials that compress the knee joint. This compression increases blood flow and helps retain warmth around the knees, promoting better circulation and reducing stiffness. 
I immediately noticed how these knees felt good. Within minutes, my knees were warm, and I felt prepared to take on the workout. 
The compression of this knee sleeve is noted as a "level 2," providing a tough build to help keep the knee supported throughout the movement. They felt strong but not overly rigid.
Designed To Strengthen Your Performance
As mentioned, the Iron Bull Strength Knee Sleeves provide tremendous knee support during heavy lifts. Their compression and stability can enhance lifting performance by allowing lifters to exert more force without compromising form. This strength comes from the thickness, material, design, and double stitching provided for each knee sleeve.
Alleviating Discomfort
Any athlete or lifter could experience mild knee pain or discomfort during a tough workout. This could be due to the intensity of the routine or a previous history of injuries.
Either way, these knee sleeves can help alleviate this pain by providing compression and heat, reducing the strain on the knee joint during exercise. Providing compression and heat maximizes the opportunity for enough blood flow to exist to support the knee joint during a tough workout.
Reducing Injury
Knee sleeves can be a preventive measure against potential knee injuries, especially for athletes who engage in high-impact or repetitive lower-body exercises. Providing support to the knee joint can minimize the risk of overuse injuries, strains, and sprains.
The Iron Bull Strength Knee Sleeves are designed to help stabilize the knee joint during these movements.
Looking for more approved knee sleeves currently offered? Check out this list of the top knee sleeves that are IPF and USAPL approved for competition.
What are the Iron Bull Strength 7mm Knee Sleeves Like?
The Iron Bull Strength 7mm Knee Sleeves are a tough piece of equipment for anyone looking to elevate their squat workout. Made of high-quality neoprene, these Iron Bull Strength knee sleeves are built for durability and lasting performance. They provide compression and warmth to aid in better blood flow and flexibility around the knee joint during any strength training session.
The reinforced double stitching adds to their overall durability. Don't expect to put these knee sleeves on with ease!
Placing these knee sleeves tactfully and precisely with the support provided is important. The build of these knee sleeves is for those well into their lifting career and ready to take their efforts to the next level.
Want to add even more pounds to your lifts? Check out some of the top knee wraps for a massive squat!
Can Iron Bull Strength Knee Sleeves Make You Stronger?
The Iron Bull Strength 7mm Knee Sleeves contribute to strength gains by providing essential support and benefits during workouts. They offer stability and compression to the knee joint, enhancing performance and enabling proper form during exercises like barbell squats.
With the level of support provided, lifters can focus on training with confidence and intensity, ultimately aiding in strength improvement.
It's important to recognize that knee sleeves alone won't directly make you stronger. They should be viewed as a supportive tool rather than a primary means to increase strength.
By incorporating knee sleeves into training, athletes can optimize their performance and protect their knees during intense workouts, potentially improving strength over time.
Want more support for your lifts? Check out more Iron Bull Strength options:
Who It's Best For
These knee sleeves are well-suited for powerlifters, strongmen, and anyone engaged in activities involving repetitive or heavy knee-loading movements. They are particularly beneficial for individuals looking to improve knee stability, enhanced strength, and prevent knee-related injuries during their lifting sessions.
Athletes recovering from knee injuries or experiencing mild knee discomfort may also benefit from the additional support and compression these sleeves provide. My biggest recommendation for this product would be for those who are experienced and have a mastery of their movement.
Who It's Not Great For
With how rigid and strong these knee sleeves are, they may not work best for those who are newer to strength training. Those who are newer to lifting could perhaps struggle with how tough these sleeves are and be unable to perform the proper mechanics needed for performance.
Alternatives To Iron Bull Strength Knee Sleeves
If you are looking for alternatives to the Iron Bull Strength 7mm Knee Sleeve, the following products are comparable in design, material, and functionality for a strong workout:
Strong Knee Sleeves by Slingshot
Mava Sport 7MM Knee Sleeve
Mark Bell set out to create a knee sleeve that mimicked the performance-enhancing benefit of knee wraps. He chose the thickest neoprene available on the market to ensure the construction was rigid and durable.
Mava Sport is a great knee sleeve that won't break the bank. You won't get the same 30cm length on all sizes, but you only need to be concerned with the length of a knee sleeve if you are a serious competitive powerlifter wanting to lift more weight in the squat.
Need to grow more this offseason? Take a break from strength-based training, and check out some of the best blood-restricting bands to use to grow in size!
Final Verdict: Are Iron Bull Knee Sleeves Right For Lifters?
The Iron Bull Strength 7mm Knee Sleeves are a reliable and effective product for lifters seeking to protect and strengthen their knees during an intense training session. With their quality construction, secure fit, and added support, these knee sleeves can positively impact lifting performance and help prevent knee injuries. 
Having used these knee sleeves for multiple workouts, I can say that they have aided my performance and made me feel more prepared for each workout I have completed. 
About The Author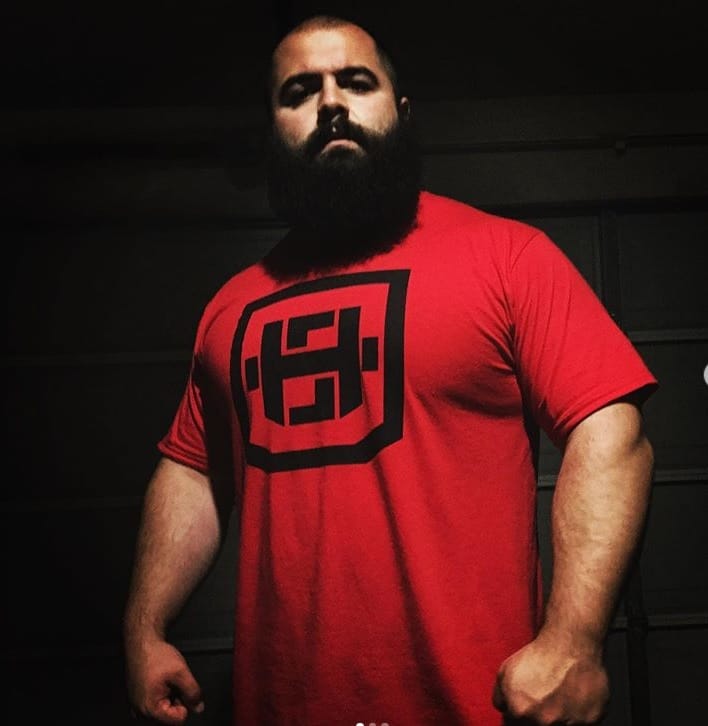 Joseph Lucero is a strength and conditioning specialist who owns his online coaching business "Harvesting Strength." He earned his master's degree from the University of Texas at San Antonio and has his Certified Strength and Conditioning Specialist certification (CSCS) from the NSCA. He coaches all types of strength athletes, including powerlifters and strongmen, and has authored many books on Amazon regarding different topics in strength training!