PowerliftingTechnique.com is independent and supported by our readers. We may earn a commission if you buy through the links below. For more, see our disclosures page.
The king of all upper-body lifts has to be the bench press. But to track your gains accurately, you'll need to answer this question:
How much does a bench press bar weigh? The standard weight of a bench press bar is 45 lbs (20.4kg). This bar is in most gyms and is the competition standard. The standard female bar is 35 lbs, and training bars weigh 22 lbs. Specialty bars can vary from 33 to 55 lbs and have various grips to hit other muscles and reduce your chance of shoulder injury.
So if you aren't familiar with the different bench press bar weights, you won't understand how to maximize your potential.
In this article, you will learn about all things bench press, including:
What is a bench press bar?
Standard bench press bar weight
How much is the bench press bar?
Specialty bars for bench pressing and their weights
How to choose the right bench press bar
Let's get to it!
What is a Bench Press Bar?
A traditional bench press bar is about 7 feet long, made of steel, and can load as much as 1620 pounds, depending on the bar and brand.
Most bench press bars are built to be straight barbells, but as you will find out, some of them are built differently to help improve different aspects of performance. Some of these bars have a curve to increase the range of motion and a design to allow multiple grips to stimulate various parts of the upper body and avoid injury.
The obsession over the bench press bar concerns how beneficial it can be for the upper body.
The bench press bar can allow the lifter to load more weight than in any other instance of resistance training. It is a testament to chest, arm, and shoulder strength.
Anyone can benefit from using a standard barbell to bench press, not just athletes!
Looking for more types of bars to bench press with? Check out this article about the 7 types of bench press bars and their uses!
Standard Bench Press Bar Weight
A typical bench press bar should weigh 45 pounds. There is, though, a difference between male and female bench pressing bars. The male bench press bar is typically 45 pounds, and the female bench press bar weighs roughly 35 pounds. The female bar weighs less as it is thinner and shorter than the traditional bench press bar.
Anyone can use the traditional bench press bar, though. It wasn't meant for just male performance.
In addition to male and female bars, specialty bars are used to improve your bench pressing ability and these might not weigh 45 pounds. This has to do with the shape and size of the bar.
Below is a chart outlining the various types of bench press bars in the market, specs, and key features for each bar.
How Much Does a Bench Press Bar Weigh?
| Brand | Bench Bar Weight | Weight Capacity | Price Range | Key Features |
| --- | --- | --- | --- | --- |
| CAP Chrome Barbell | 45 pounds | 500 pounds | $79.99 | 7' bar, 30mm grip, 15" loadable sleeves |
| Rogue Power Bar | 45 Pounds | 1620 pounds | $290 | 7.15' bar, 29mm grip, 16.25" loadable sleeves |
| Rogue Barbella Power Bar | 33 Pounds | 1500 pounds | $230 | 6.5' bar, 25mm grip, 13" loadable sleeve |
| Titan Midway Power Bar | 45 pounds | 1500 pounds | $159.99 | 7.15' bar, 30mm grip, 15.25" loadable sleeve |
| REP Cambered Swiss Bar | 45 pounds | 810 pounds | $289.99 | 6.6' bar, 35mm grip, 14" loadable sleeve, Sleeve does NOT spin |
| Kabuki Strength Duffalo Bar | 55 pounds | 1500 | $619.99 | 8' bar, 32mm grip, 17.25" loadable sleeve |
Looking to elevate your bench press? Check out this article about the top 9 exercises for improving your bench press in powerlifting!
Standard Bench Press Bar
The standard bench press bar weighs 45 lbs and is around 7 feet long. You can check today's price on Amazon for a budget-friendly model.
The more expensive the bar, the more it can load. The more expensive bars happen to be the longest as well. They have more space on the loadable sleeve to add weight.
Two bars on this list that are not standard bench press bars are the:
Speciality Bench Press Bars
The Cambered Swiss Bar
The Cambered Swiss Bar is bent and has different grips to use for various bench pressing techniques. These various grips allow you to place your hands in a neutral grip position with your palms facing each other.
This is unlike a standard bar with your hands pronated and facing away from the body.
A Swiss Bar can benefit those with shoulder injuries or if you're rehabbing from a shoulder injury. This is because your shoulders are more retracted and depressed when bench pressing. Your scapula is pulled back and down into the rib cage, increasing the stability of the shoulder joint.
Want to learn more about the swiss bar as a specialty bar for improving bench press? Check out this article on the swiss bar for bench pressing!
The Curved Bench Press Bar
The Duffalo Bar is much longer than the traditional bench press bar because it is curved instead of straight. This bar helps improve the athlete's range of motion, which increases bottom strength for a better bench press.
You'd want to consider using the Duffalo Bar to reduce the force and lower your risk of injury on your shoulders, biceps, and triceps.
How to Choose the Right Bench Press Bar
For most people, the standard barbell of 45 lbs is all they will ever need. It's what you'll find in most gyms. And if you want to build a home gym, it's the most practical—because it's so common, it's more budget-friendly.
The weight capacity of most standard bench press bars is over 1000 lbs, which is far more than most people will ever need.
In the world of strength, the standards of competition are also based on the weight of the 45-pound bar.
Is A Lighter Bar Right For You?
But women, or those lifting lighter weights, could benefit from a 35-lb bar, which could be cheaper.
When training your bench press, most people say they want to build size and strength. Some people say they might want to focus just on size or maybe just on strength. This means we must carefully strategize how much weight to put on the bar and how to train effectively.
For those who want size, you want to do more reps and train to failure. This means the weight on the bar might be lighter than normal so that you can work more on repetition.
Is A Heavier Bar Right For You?
If you're looking to build strength, you would want to load more weight on the bar and do fewer reps. But if you do fewer reps, you might want to increase the number of sets you do. This allows you to practice your "single rep strength" more frequently if you do more sets of fewer reps.
This tends to be the concept behind "cluster sets" that most powerlifters perform. An example of size versus strength would be:
Building Size – Bench Press 4 x 8 with 73% of your 1 rep max
Building Strength – Bench Press 8 x 4 with 80% of your 1 rep max
In both instances, you will perform a total of 32 reps. However, building size requires the lifter to do more consecutive reps with less weight; for strength, the lifter does a higher intensity but with fewer reps.
Is A Specialty Bar Right For You?
Specialty bars vary in weight from 33 to 55 lbs.
These bars, though, are also used for other exercises. For example, the Swiss Bar can be used for the bench press and barbell squat for several benefits.
If you want to reduce the load on your shoulders and arms, these specialty bars can be a great investment for your home gym.
Not sure how much you should bench press? Check out this article about how much you should bench press based on age and weight!
Final Thoughts
The standard bench press bar weight is 45 pounds. When talking about performance standards, it is noted that choosing the right amount of weight on the bench press is affected by body weight, age, and training goals.
Considering these standards can help guide your training in the right direction for massive success.
Whether you are a Division 1 football player or a local powerlifter, all types of athletes need to perform the bench press. The bench press is a marker for upper body strength, and the more you improve your bench press, the more your strength and size will elevate to be better than before.
FAQ
How much does the bar weigh on a bench press?
The standard weight of the bench press bar is 45 pounds, while the female standard bar is 35 pounds. Specialty bars can range between 33 and 55 pounds if you want unique grips that can reduce the load on your shoulders and arms.
Why is it important to use a standard weight for bench pressing?
Using a standard weight bar when bench pressing is more practical since most gyms will only have standard weight bench press bars. Using a standard weight on bench press is also important to understand how you compare to other populations relatable to you and your training. It gives you a goal and how to shape your program.
What should I consider when choosing the weight of my bench press bar?
Most people will only need a standard bench press bar of 45 lbs. Women might consider a lighter bar as the standard is 35 lbs. If you have shoulder injuries or want to reduce the load on your shoulders, you could consider using a Swiss Bar with unique grips or a curved barbell weighing up to 55 lbs.
Is it okay to start with a lighter weight and work my way up?
It is absolutely okay if you start with a lighter weight and work your way up in strength. Based on linear periodization and progressive overload, starting lighter and building up the load each session can help improve your overall strength.
What is the maximum weight for a bench press bar?
The heaviest bench press bars weigh 55 lbs. The heavier a bench press bar, the more weight capacity it will have. A standard bench press bar can load up to 1,620 pounds, more than anyone has ever done. Or some specialty bars, like a Swiss Bar, have unique grips instead of a straight bar, leading to extra weight.
About The Author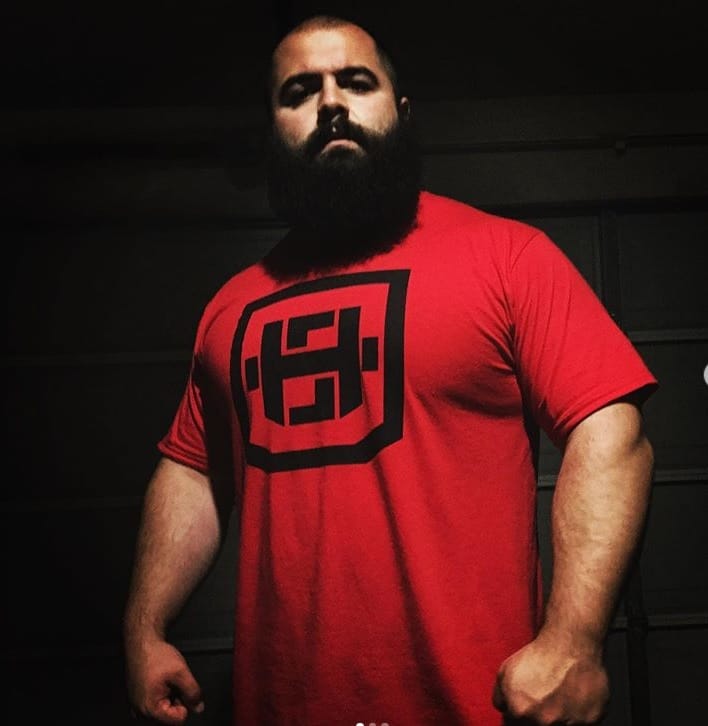 Joseph Lucero is a Strength Coach and Author and owns Harvesting Strength LLC. He's CSCS Certified, and when he's not helping clients get stronger, he writes about strength and conditioning to help readers. You can connect with him on LinkedIn and Instagram.