The gluteus medius muscle is a little-known muscle, but it's vital for balance and healthy posture. While we've all heard the term "glutes" or "gluteus maximus," we don't often talk about the other glute muscles by name.
As a professional trainer, my clients know this means training our booty, but most don't know what exercises to do to strengthen the gluteus medius and what this muscle does.
The gluteus medius is a muscle in the buttocks on the upper exterior corner of each side. It is responsible for hip and leg lateral abduction (moving your leg out to the side). Like all muscles, it can be trained and strengthened with exercise. 
The 11 best gluteus medius exercises are:
Abductor machine
Lying side abduction
Side plank leg abduction
Plank with hip extension
Side clams
Banded glute bridge
Frog bridges
Single-leg squat
Single-leg wall sit
Single-leg deadlift
Lateral box step up
You will only need 4 to 5 of these exercises, but be sure to read through the full article since each has pros and cons.
Since these exercises are so important for basic movements like walking, running, and changing directions, let's dive into the details.
By the end of this article, you'll better understand this muscle, its function, and how to train it with the best gluteus medius exercises so it can grow into the meatiest gluteus.
What Is the Gluteus Medius and What Does It Do?
The gluteus medius is part of the network of gluteus muscles in your butt. Your buttocks are made up of three main muscles: the gluteus maximus, gluteus minimus, and the gluteus medius. 
The gluteus medius sits on the upper outside corner of your glute. It is primarily responsible for or assists in four main movements:
Hip abduction
Hip extension and flexion
External hip rotation
Maintaining hip level
Hip Abduction
Hip abduction is pulling your leg away from your body. It is the primary function of the gluteus medius.
Think of being abducted by aliens or pulled away from Earth as a reminder that leg or hip abduction is pulling your leg away from your body to the side. This would be demonstrated by simply standing on one leg and extending the other leg out to your side.
Hip Extension and Flexion
The gluteus medius also assists in hip extension and flexion, though it is not the primary muscle in these movements.
Extension refers to straightening the hips or standing up straight, while hip flexion is when you bend forward or pick your leg up in front of your body. These movements are demonstrated simply by bending forward or picking your knee up to your waist.
External Hip Rotation
The gluteus medius also assists with hip rotation. In a hip rotation, the leg is not simply extended out to the side but rotated away from the body. You can demonstrate this by sitting down and turning your knee and thigh outward so they point toward the outside of you instead of up. 
Maintaining Hip Level
Finally, and perhaps the most important function for everyday life, the gluteus medius stabilizes your pelvis, which keeps your hips level as you walk. 
If you didn't have a gluteus medius, your hips would tilt or sag to the side every time you took a step and picked one leg off the ground. This would make walking difficult, painful, or even impossible.
Strong medius muscles make walking easy and painless. They also prevent injury and pain that comes from sagging hips. 
3 Benefits of Strengthening the Gluteus Medius
With that understanding of how the gluteus medius works, we can dive into the key benefits of doing workouts to strength your glute medius. Overall, three main benefits stand out to me:
Enables healthy posture
Improves athletic performance
Prevents injury and pain
Enables Healthy Posture
Without your strengthening your gluteus medius, your hips would sag every time you took a step. If your hips aren't aligned, and you manage to keep your balance, your body would try to compensate in other ways to keep that posture and balance.
This puts undue wear and tear on other body parts, breaking down your posture.
But thanks to the work your gluteus medius does, your hips stay straight, and your posture stays intact. Every part of your body works how it's supposed to and doesn't fall like a line of dominoes due to sagging or uneven hips.
So the stronger and more capable your medius is, the better your posture and overall health! 
Improves Athletic Performance
If the gluteus medius does all that just for your posture, think about how important it is for athletes doing any kind of athletic move.
From the football player or basketball player needing to change directions while running to avoid a defensive obstacle quickly to the gymnast performing a floor or bar routine to the everyday athlete just trying to squat or deadlift, your gluteus medius makes it all happen.
The stronger and better adapted your medius is, the better you are at all these movements. Whether you're darting back and forth on a playing field or moving heavy weights on a barbell, the better you train this muscle, the better your performance will be. 
Prevents Injury and Pain
In many ways, your body is like a line of dominoes – if one falls over, several other things start to break down and fall over with it.
A weak or underdeveloped gluteus medius leads to sagging or uneven hip posture. This puts extra strain on the back, leg, and ab muscles; it puts torque and strain on your ankles, knees, hip sockets, and spine. This can lead to discomfort, pain, and even injury if untreated or unaddressed.
Regularly performing exercises for the glute medius and keeping the muscle relatively strong is an important link in the chain to prevent this kind of pain and injury. 
11 Best Gluteus Medius Exercises
So now you know the gluteus medius is an important muscle and does a lot for you in lifting and everyday life. But you may still be wondering how to build the medius.
To keep this muscle strong and developed, here are the 11 best exercises for the gluteus medius for muscle growth and strength. 
1. Abductor Machine
You can't target a muscle any better than using a machine designed to target the exact movement! Most large gyms have abductor machines; if you train at such a gym, using them can be part of a great gluteus medius workout.
How To
Sit in the abductor machine and place your feet on the footrests.
Adjust the position of the footrests so your knees are as close as possible.
Set the pin on the weight stack to your desired weight.
Open your legs and push the leg rests outward to lift the weight. Continue until you reach the widest point your legs allow.
Return to the starting position.
Repeat for reps.
Pro Tip
This is not so much a pro tip as it is a "don't be an idiot" tip. I've seen a lot of social media posts of women with big booties standing on the abductor machine backward, facing the machine's seat, squatting in the air, and pushing the legs out that way.
This is unnecessary and unsafe. Don't hack a machine to do something different than it's designed to do. Just because the way it's designed doesn't make your butt visible on the camera so you can post it on social media doesn't mean you need to modify the exercise so everyone can see your butt.
Wondering how to grow your gluteus medius with other machines like a cable machine? Try adding these cable glute exercises to your routine.
2. Lying Side Abduction
Even if you don't have a machine or even a gym, you can train your gluteus medius using only body weight. You can do this at home or anywhere you find yourself exercising with simple abduction movements of your legs while lying on your side.
How To
Lie on the floor on your side so you are balanced and not falling on your belly or back.
Extend your legs straight out so your body is in a straight line.
Raise the top leg as high as it will go.
Return your leg to the starting position in contact with your bottom leg.
Repeat for reps.
Repeat for the other leg.
Pro Tip
Most people will be able to adapt to these pretty quickly to the point they become easy to do for many reps in a set.
You can progress these exercises by adding a hip circle or elastic band around your knees or thighs. You can also use ankle weights to add resistance.
Like any muscle, gluteus medius strengthening requires progressive overload to continue to adapt and grow. Use these tools to keep the movement challenging.
3. Side Plank Leg Abduction
We can spice up the leg abduction by performing a side plank simultaneously. Instead of lying on the floor, we support our body in a straight line on one hand or forearm below us.
The added benefit here is your body's need to keep your hips from dipping to the side, incorporating your gluteus medius to hold your hips in line with your feet and perform the abduction of your top leg.
How To
Plank on the floor in a sideways position, with one hand or forearm holding you up on the floor below you. Your hips and knees should be in a straight line, one foot sideways on the floor on its edge, the other foot and leg resting on top.
Raise your top leg as high as possible without changing your torso or hip position.
Lower your leg back down to the starting position in contact with your bottom leg.
Repeat for reps.
Repeat for the other leg.
Pro Tip
As you get tired performing these, you'll notice your hips start to give in to the pull of gravity. This is normal. The point of the exercise is to resist that, but be mindful of it before you even start. Anticipate that your form will tend to break down with fatigue, so you can pay attention to it and avoid it as long as possible during each set.
Again, these are doing more work for your gluteus medius by holding that sideways plank position. If we just let our hips sag sideways, we'd be better off doing a simple lying leg abduction and leaving the plank out entirely.
4. Plank with Hip Extension
The side plank is not the only way to hit that gluteus medius. We established earlier that the gluteus medius assists in hip extension and flexion, and we can also do that from a standard plank position.
How To
Plank on the floor facedown, resting on your hands or forearms directly below your shoulders, your feet straight behind you on your toes.
Extend one leg at a time up and back as high as you can.
Return your leg to the floor.
Perform the same extension with the other leg and return it to the floor.
Repeat for reps.
Pro Tip
I recommend performing these a little slower than normal. Focus on feeling the stretch in the front of your hip at the top of the movement to be confident you've reached the top of your range of motion. While the gluteus medius does a lot of the work, you'll feel that stretch in the front of your hip indicates how much further you can stretch it.
By doing these slowly and focusing on the stretch, you'll get better time under tension and accurate form than if you're just flopping your leg behind you like a beached mermaid.
5. Side Clams
Side clams are similar to the side abduction but target external hip rotation and not abduction, making them an excellent gluteus medius exercise to hit the muscle differently and target a key function of the muscle.
How To
Lie on the floor on your side with your knees bent about 90 degrees, your feet resting on each other. You should be almost in the fetal position but without tucking your knees to your chest.
Keeping your feet touching, open your knees apart by rotating your top knee up and out from the bottom knee, like a clamshell.
Return your knee to the starting position.
Repeat for the other side.
Pro Tip
Similar to the hip abduction, you can progress these by adding an elastic band or hip circle around your legs just above the knee.
It won't take much resistance to make these challenging, and adding reps to your sets or sets to your workout will go a long way to progress these if you don't have access to a hip circle for added resistance.
6. Banded Glute Bridge
The glute bridge is primarily a gluteus maximus exercise, but the gluteus medius is involved, as this is a hip flexion/extension exercise. We can exaggerate the involvement of the glute medius by adding a band around our knees to force us to focus on abducting our legs apart during the lift.
How To
Place a band or hip circle on your legs just above the knees.
Secure your back and shoulders against a bench or other surface about knee height.
Bend your knees and place your feet below them so your torso is level with your shoulders when your hips are fully extended upward.
Hold a weight like a barbell, dumbbell, sandbag, or another loaded object across your lap.
Extend your hips upward until your torso is level from shoulders to knees.
Drive your knees apart to pull against the tension of the hip circle or resistance band. Focus on keeping them the same distance apart during the entire rep for every rep.
Return your hips to the floor until your butt touches the floor.
Repeat for reps.
Pro Tip
You can modify this exercise by simply performing it as a hold, where you extend your hips into the level position and hold it there for a set time.
As you do this, focusing on your knees abducting, fighting the band, and pulling them back in will greatly strain your gluteus medius, strengthening and growing it.
This is a great alternative if you don't have access to a sufficient load for glute bridges for reps.
7. Frog Bridges
Frog bridges combine the three gluteus medius movements (hip abduction, external hip rotation, and hip extension/flexion) into one exercise. They may look awkward in a public gym, but they're one of the best exercises for the gluteus medius. 
How To
Lie on your back with your knees bent, knees and feet together, and your feet 12 inches away from your butt.
Thrust your hips up and backward while keeping your shoulders and feet pinned to the floor. Open your knees as wide as you can as you thrust.
Push your hips to the top of their extended range of motion.
Return your hips to the floor and your knees back to touching.
Repeat for reps.
Pro Tip
Focus on pulling your knees apart as you thrust to get the external hip rotation element here. If you keep your knees together or close, you're only doing a hip extension/flexion motion and leaving the hip rotation out of it.
Time your knees to separate at the same pace your hips extend so they work together throughout the movement. Keep that same pace and coordination as you lower your hips and bring your knees back together.
8. Single-Leg Squat
Because the gluteus medius works to keep our hips level and on the right plane as we stand on one leg or take a step, unilateral or one-legged exercises like single-leg squats (or pistol squats) are a great way to train the gluteus medius.
How To
Stand on one leg.
Bend your other leg at the hip and knee so it's out in front of you with your foot below your knee.
Squat down until your hip crease descends below the top of your kneecap.
Stand back up.
Repeat for reps.
Repeat with the other leg.
Pro Tip
It can be difficult to maintain balance and even to have the strength to do a full set of reps for beginners. You can make pistol squats easier by squatting to a box or bench below your butt to assist the movement.
Simply descend until your butt hits the box or bench, then stand back up. As you get stronger and more familiar with the movement, try performing sets without the bench so you no longer rely on it.
9. Single-Leg Wall Sit
Not sure how to strengthen your gluteus medius without equipment? You can train your glute medius anywhere you have a wall with the single-leg wall sit.
How To
Sit against a wall with your hip and knees each bent at 90 degrees like you're in an invisible chair.
Pick up one leg, so it's not touching the floor, and let your other leg do all the work to hold you up.
Hold this position for a set time (30+ seconds, for example).
Repeat with the other leg.
Repeat for reps.
Pro Tip
The static wall sit trains the same muscles as the one-legged squat but is much easier since it's supported by the wall behind you and uses a more limited range of motion.
Use this to strengthen your muscles so you can eventually perform one-legged squats if you have trouble with those! These can be an excellent first step to building the coordination and muscular development needed to perform a full squat (which uses more muscles and a better range of motion, making them superior).
10. Single-Leg Deadlift
The hips flex and extend during a deadlift, which uses the gluteus medius. Doing deadlifts on a single leg also forces the medius to engage to prevent the hips from sagging or tilting, emphasizing their involvement here. 
As such, the single-leg deadlift is an excellent exercise to add to your gluteus medius workouts.
How To
Stand on one leg.
Squat down and bend forward to grab a barbell or dumbbells off the floor.
Push with your leg to stand upright and lift the weight until your knees and hips are fully extended and erect.
Return the weight to the floor.
Repeat for reps.
Repeat with the other leg.
Pro Tip
It can be difficult to balance when learning to do these, making them impossible to train if you can't stay balanced. Until you get a feel for the stability and form of the movement, use very light weights at first. Hold 5 lb dumbbells in your hands and focus on form and technique.
As you get better, add weight that becomes challenging. You may find holding a barbell offers a better counterweight to keep you balanced, or you may prefer a dumbbell in each hand.
Eventually, you can make them more challenging by holding a single dumbbell in one hand to throw your balance off even more and make your glute medius work harder to keep your hips level!
11. Lateral Box Step Up
We can exaggerate the effort the glute medius puts into keeping our hips level as we walk by taking a much larger step up to a box out to our side. This incorporates hip stabilization, hip flexion, hip extension, and hip abduction all in one.
How To
Stand to the side of a box or bench you can step up to without jumping.
With one leg, step sideways and up to the box and stand up until your knee and hips are fully extended and erect.
Step back down.
Repeat for reps.
Repeat for the other leg.
Pro Tip
As you place the box next to you, set it just a few inches to the side. You shouldn't need to take a big lateral step to the side to reach the box to get the benefits here. We aren't trying to do a full hip abduction with our leg just to reach the box.
Find a comfortable distance where you can step one leg onto the box, stay balanced, and extend up and back down.
Looking for more ways to isolate your glute muscles? Check out these 12 glute isolation exercises.
What Causes Weak Gluteus Medius Muscles?
There are 2 main ways the gluteus medius is weakened – sedentary behaviors and extended hip abduction over time.
Sedentary Behaviors
This one is obvious, but if you're bedridden or sit a lot and don't get much time each day standing or walking, your glute medius won't get worked and will atrophy.
This is one of those benefits where getting a good number of steps every day and staying somewhat active or mobile will do you a lot of good.
Extended Abduction Over Time
This can come from various lifestyle habits that many of us do all the time. I'll list three examples:
1. Side Sleepers
When you sleep on your side, your top leg gets over abducted as it rests on your bottom leg or stretches over your bottom leg to rest on the bed. When you lie in this position all night, it puts undue strain on and lengthens your gluteus medius, which can weaken it.
To avoid this, sleep with a pad or pillow between your knees if you sleep on your side at night.
2. Leg Crossers
The same muscle lengthening can happen by sitting with your legs crossed for an extended period. Give yourself frequent standing breaks, switch which leg crosses on top, and avoid doing it for very long to prevent this from weakening your gluteus medius.
3. Standing With Your Weight Shifted
Finally, if you sink into one side of your hip while you stand, you can have the same effect as the side sleepers and leg crossers. It causes too much abduction to the hip, lengthening and weakening the muscles and leading to back and joint pain and discomfort.
How Often Should You Train the Gluteus Medius?
This question will depend on your current situation and your goals.
If you are experiencing strength deficiencies in your gluteus medius, train it like a priority muscle group 2-3x a week.
However, your medical or training professional may advise that you do simple daily exercises instead of the more infrequent intense training you might do 2-3x a week. Seek the guidance of a medical or fitness professional for specific training instructions to fit your conditions and needs.
For most lifters, you'll get glute medius work done without thinking about it. Squats, deadlifts, single-leg accessory movements, lunges, and other gluteus medius exercises you do before and after your main workout (like side steps, side planks, and side clams) will give you all the glute medius training you need.
Wondering if you can train your glutes two days in a row? We discuss the pros and cons of doing so in Can You Train Glutes 2 Days in a Row?
How Many Reps Should You Perform When Doing Exercises For The Gluteus Medius?
The glute medius is like any small muscle in your body – it's not one you'll load with a very heavy load for a few reps, as you would with other compound glute exercises that recruit several muscle groups to work together. You'll want to focus on using an appropriate weight to perform 8-16 reps per set.
This may go way up if you cannot use load or resistance bands, like with the leg abduction or side clams, where you find yourself doing 20-30 reps before you feel the burn, which is just fine. 
Sample Gluteus Medius Workout
Here's an example of workout that is focused on your gluteus medius.
Warm-Up
Jogging in Place: 2 minutes
Leg Swings: 10 each leg, side-to-side
Gluteus Medius Workout
Abductor Machine

Reps: 12-15
Sets: 3
Rest: 30-45 seconds between sets
Instructions: Sit on the abductor machine with your legs inside the pads. Open your legs against the resistance, then return to the starting position.

Lying Side Abduction

Reps: 15 each side
Sets: 3
Rest: 30-45 seconds between sets
Instructions: Lie on your side with legs straight. Lift the upper leg as high as you can while keeping it straight, then lower it back down.

Side Plank Leg Abduction

Reps: 10 each side
Sets: 3
Rest: 30-45 seconds between sets
Instructions: Assume a side plank position. While keeping your body stable, lift the top leg up and down.

Plank with Hip Extension

Reps: 12 each leg
Sets: 3
Rest: 30-45 seconds between sets
Instructions: Start in a plank position. Lift one leg towards the ceiling, keeping it straight, then return to the plank position.

Side Clams

Reps: 15 each side
Sets: 3
Rest: 30-45 seconds between sets
Instructions: Lie on your side with knees bent and legs stacked. Keep your feet together as you lift the top knee as high as you can without moving your pelvis, then lower it back down.
Cool Down
Hamstring Stretch: 30 seconds each leg
Quad Stretch: 30 seconds each leg
Glute Stretch: 30 seconds each side
Frequently Asked Questions
How Do You Isolate the Gluteus Medius?
You can isolate the glute medius by focusing on hip abduction (like lying side abductions) and external hip rotation movements (like side clams). You can also target it with hip flexion and hip extension movements (like lateral box step ups), though these will also recruit the other glute muscles.
What Are the Symptoms of a Weak Gluteus Medius?
A person with weak gluteus medius muscles will show uneven hips, a tilted stance, or an inability to remain balanced while walking or standing on one leg. Other symptoms may include back pain, hip pain, and knee pain.
How Can I Grow My Gluteus Medius?
You can grow the gluteus medius by performing exercises that include lateral hip abduction (moving your leg out to the side), external hip rotation (turning your knees out to the side), hip flexion (bending forward at the hip), and hip extension (pushing your hips forward to and beyond an erect position).
How Long Does It Take to Strengthen the Gluteus Medius?
A very sedentary person can experience results after a week or two of training with very little resistance, while an experienced athlete may require more intense work to see progress, as their glute medius may already be well developed. Lifters should follow a program for 6-12 weeks to see meaningful early results. 
Final Thoughts 
Now you're ready to level up your fitness game with essential gluteus medius exercises that bring transformative benefits.
As a trainer, I can't emphasize enough how a strong gluteus medius underpins everything from stellar athletic performance to a posture that turns heads. If you're going to focus on just three game-changing exercises, make them the Abductor Machine, Lying Side Abduction, and Side Plank Leg Abduction.
These exercises are the ticket to unlocking a meatier, more powerful gluteus medius, setting you on the path to better posture, enhanced athletic ability, and preventing injuries that could sideline your fitness journey.
Don't just stop at your gluteus maximus; give your gluteus medius the attention it deserves, and get ready to feel the difference in every step you take, every move you make.
---
About The Author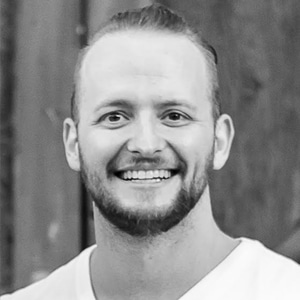 Adam Gardner is a proud resident of Utah, where he lives with his wife and two kids. He has been competing in powerlifting since 2016 in both the USPA and the APF. For the past three years, he and his wife, Merrili, have coached beginning lifters to learn the fundamentals of powerlifting and compete in their first powerlifting competitions.