Most people are not arguing whether the deadlift is a great exercise to have in your training routine, since it is an exercise that targets so many muscle groups. If you ask someone who trains for bodybuilding, they might have it on a back day. If you ask a powerlifter, they might have it on a leg day.
So, are deadlifts a back or legs exercise? Deadlifts are primarily a leg exercise since it involves an extension of the hips and the knees, which recruits the quads, hamstrings and glutes. Although, the back muscles including the lats and spinal erectors are heavily active during deadlifts, so it can be put on either back day or leg day.
In this article, we will be going through exactly what considerations you should make on how to decide where to put deadlifts in your training and how you can change the exercise to target certain muscle groups more.
Deadlifting Muscle Groups Explained: Legs vs Back
We should first understand how the body is moving during the deadlift in order to use deadlifts properly to train the targeted muscles.
The following joint actions occur in the deadlift:
Knee Extension (straightening of the knees)
Hip Extension (straightening or thrusting through of the hips)
Shoulder Extension (bringing the arms backwards from the front)
Knee and hip extension are the primary movements during the deadlift and the shoulder extension is a mild occurrence.
The knee and hip movement during the deadlift makes the deadlift primarily a leg or lower body exercise but we will go through what muscles are being used (including back muscles) and how they are being used also.
Quadriceps
These muscles are on the front of the thigh and they are responsible for straightening your knee during the deadlift.
The quads are primarily used to drive the barbell off the floor, especially right at the start of the movement. If you fail at the bottom end of the deadlift, it's likely because you have weak quads.
Hamstrings
These muscles are on the back of the thigh and contribute to extending your hips, but they are not the primary hip extensor.
In other words, they sometimes help extend the hips in the lock-out portion of the deadlift, but there are probably better exercises to train the hamstrings directly.
Gluteus Maximus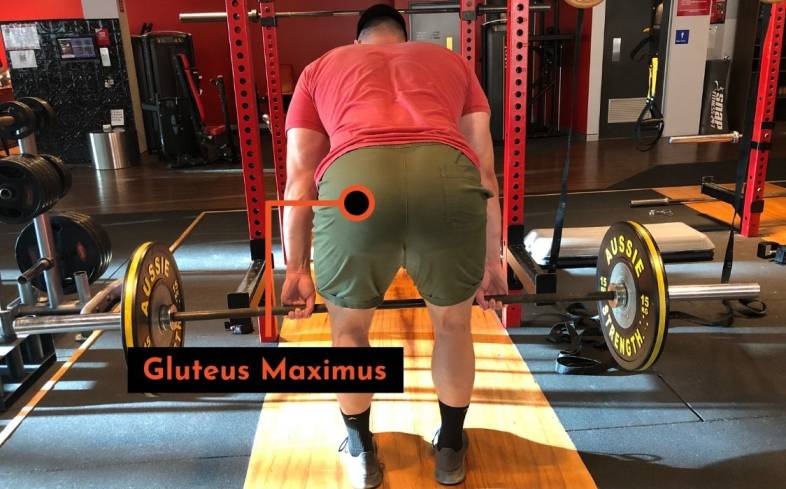 The gluteus maximus is the main glute muscle (it's the muscle we sit on). It's one of the largest muscles in the body and contributes to extending the hip during the deadlift.
They help you thrust your hips through at the top. If you fail in the lockout of the deadlift, it's probably because you have weak glutes.
Spinal Erectors
The spinal erectors or erector spinae are the strip of back muscle that runs along the side of your spine from your neck to your tailbone.
These muscles contract isometrically i.e. they contract but do not change muscle length during the deadlift.
They help maintain the posture of your spine, i.e. help prevent your back from rounding in the deadlift.
Latissimus Dorsi
The latissimus dorsi, or lats, connect from the side of your spine to the back of your upper arm.
These muscles do two things in the deadlift: (1) they help keep your spine extended and (2) they bring your arms closer to your body.
In other words, they help keep the barbell on your body (good for maintaining the optimal bar path), and prevent upper back rounding.
If you'd like to learn more about the Muscles Used In the Deadlift, then check out my full guide.
Should You Deadlift On Leg Day or Back Day?
Training the leg and back muscles are inevitable when performing the deadlift.
It would not be wrong to put deadlifts on either leg or back day, and many popular programs will cycle it between those two days accordingly. However, if we had to pick one day, the conventional deadlift should be on a leg day since most of the joint actions happen at the hips and knees.
However, you can change the deadlift variation to change the muscle recruitment dramatically. So depending on what version of the deadlift you are doing, you may want to consider putting it on your leg or back day.
Check out my article on Can You Work Out Back And Chest Together?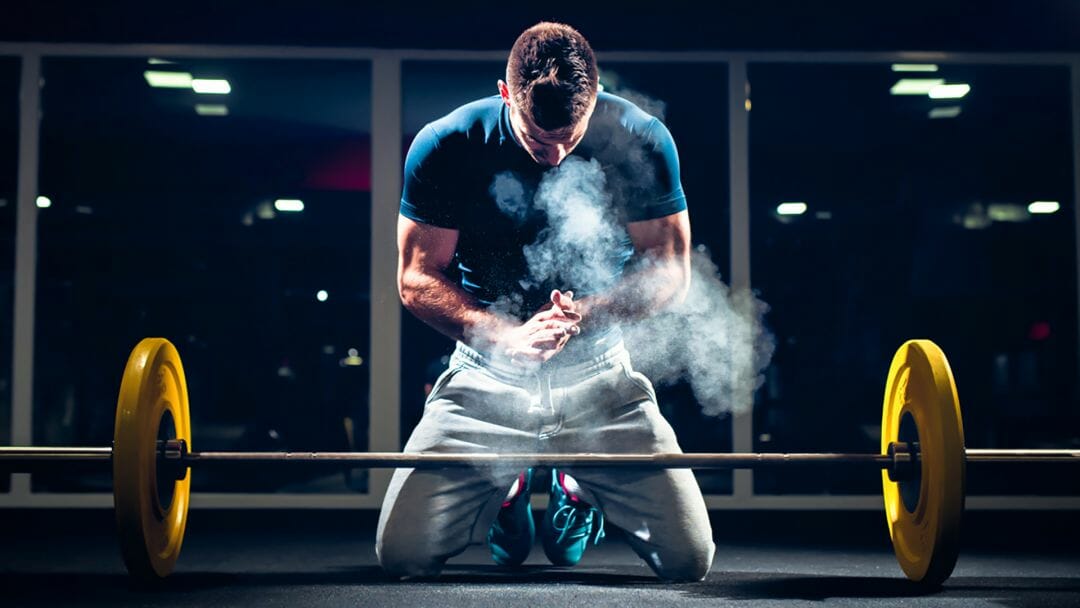 Want to get advice on programming, technique, or competing? Speak with one of our coaches.
Leg-Focused Deadlift Variations
If you are planning any of the following deadlift variations, I would put them on leg day:
Sumo deadlifts
Deficit deadlifts
Trap bar deadlifts
Sumo Deadlifts
The sumo deadlift is a popular variation among powerlifters and it is performed with the legs outside of the arms. The position that the sumo deadlift stance puts you in means you are more upright than a conventional deadlift. Research has shown that the sumo deadlift has a higher demand on the quads and adductors and less of a demand on the lower back muscles.
Check out my other sumo deadlift resources:
Deficit Deadlifts
The deficit deadlift is when you perform deadlifts whilst standing on a foot elevation. This subsequently increases the range of motion through the hips and the knees, therefore puts more demand on the quads, hamstrings and glutes. The range of motion becomes closer to that of a squat.
Check out our article to find out more Benefits Of Deficit Deadlifts.
Trap Bar Deadlifts
A trap bar deadlift utilizes a special type of bar that is shaped like a hexagon. The advantage of the trap bar deadlift is that it allows you to put your knees and hips more forward. This puts your back in a more upright position, which puts less demand on your back and also more demand on your quads as your knee joint range of motion increases.
Related Articles: What Else Should I Do On Deadlift Day? (5 Examples) and Can You Just Do Deadlifts For Back? Yes, But It's Not Ideal
Back-Focused Deadlift Variations
If you are planning any of the following deadlift variations, I would put them on back day:
Snatch grip deadlifts
Stiff leg deadlifts
Snatch Grip Deadlifts
The snatch grip deadlift is popularized by Olympic weightlifters. It is similar to the conventional deadlift but the snatch grip means that you hold the bar at a wider grip. This puts you in a slightly more bent over position and puts more emphasis on your upper and lower back muscles.
Read our comprehensive guide here on Snatch Grip Deadlifts.
Stiff Legged Deadlifts
The stiff legged deadlift is similar to the conventional deadlift but the hips start at a higher position to a point where your back is at or nearly parallel with the floor. Your knees are more straighter than a conventional deadlift. This places less demand on the quads, and more demand on your glutes, hamstrings and back muscles.
Sample Workout Program For Deadlifts
In determining whether we put deadlifts on leg or back day, we also need to understand Is The Deadlift A Push Or Pull? Check out our other article to learn more.
Workout Example: Deadlifting On Leg Day
Warm Up
Sumo Deadlift: 3 sets 8 reps
Trap Bar Deadlift: 3 sets 10 reps
Hamstring Curls: 4 sets 12 reps
Leg Extension or

leg extension alternative

: 4 sets 12 reps
Workout Example: Deadlifting On Back Day
Warm Up
Snatch Grip Deadlift: 3 sets8 reps
Stiff Legged Deadlift: 3 sets10 reps
Lat Pulldown: 4 sets 10 reps
Dumbbell Rows: 4 sets 15 reps
Frequently Asked Questions
Do Deadlifts Build Legs?
Yes, deadlifts do build legs since it requires extension of the hips and the knees. Your quads, hamstrings and glutes go through a concentric and eccentric contraction throughout the exercise meaning they shorten and lengthen. This puts a huge stimulus on your muscles to grow.
Related Article: Deadlift Day After Squats: Should You Do It?
Are You Supposed To Use Your Back In Deadlifts?
Your lower back is only used to a certain amount enough to maintain a neutral spine or a flat posture. You should not be misusing your back by overemphasizing extension of your back at the top, even if you are doing deadlifts on the back day. The reason why is because it puts too much pressure on your joints and makes your back and hip area very unstable. You will inadvertently increase your risk of injury.
Are You Supposed To Feel Deadlifts In Your Back?
It is not necessarily bad to feel some lower back soreness, but it should not be the most sore muscle group since your quads, glutes and hamstrings do most of the work. It would also be acceptable to feel some soreness in your lats and traps as well.
Should My Hamstrings Feel Sore After Deadlifts?
Hamstring soreness is a very normal phenomenon in deadlifts and can occur for different reasons. For more information, click here to read our article about whether hamstring soreness after deadlifts is acceptable.
Conclusion
There are reasons to support putting deadlifts on a back day and leg day. Putting deadlifts on a back day may mean spreading out leg training over more days in a week. Putting deadlifts on a leg day may mean spreading back training over more days in a week.
Personal preference should guide your decision on this one. There are no reasons why you cannot do a deadlift variation more than once a week. To be smarter with doing deadlifts twice or more a week, it would be useful to use different variations to change where the emphasis is on muscle wise.
---
About The Author: Norman Cheung ASCC, British Powerlifting Team Coach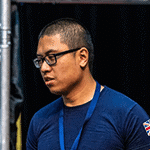 Norman Cheung is a powerlifting coach and an accredited strength and conditioning coach under the UKSCA. He has been coaching powerlifting since 2012 and has been an IPF Team GB coach since 2016. He has experience with coaching a variety of lifters from novices to international medallists and international university teams. Along side coaching, he takes interest in helping powerlifters take their first step into coaching. He currently runs his coaching services at strongambitionscoaching.com