PowerliftingTechnique.com is independent and supported by our readers. We may earn a commission if you buy through the links below. For more, see our disclosures page.
A lot of science-backed research has proven how mouthpieces can have positive effects on strength, balance, and respiratory rates in athletes. New Age Performance mouthpieces are popular amongst powerlifters, strongman athletes, and endurance athletes for these reasons.
So, are the New Age Performance mouthpieces worth it? Yes, the New Age Performance mouthpieces are worth it because they help you breathe more efficiently during workouts, stabilize and align your jaw, and protect your teeth if you clench or grind during heavy lifts. They are also comfortable to wear during long training sessions.
In this New Age Performance mouthpiece review, I'll discuss the benefits of wearing a mouthpiece during training, why the New Age Performance mouthpieces are my favorite, and when you should use each of New Age Performance's different mouthpiece models.
Before we dive into the full review, here's a list of the pros and cons of the New Age Performance mouthpieces:
Pros:
Available in two different models as well as a full mouthguard so you can change them based on your sport or activity
Comes with a carrying case
Doesn't restrict your breathing
Comfortable to wear for long training sessions
Cons:
Have to be replaced after 3-4 months (but this is longer than other mouthpieces on the market)
Looking for the New Age Mouthpiece? Check out the 5DS Model (good for Crossfit & conditioning-based activities) and the 6DS Model (good for powerlifting and strength training) on Amazon.
Things to Consider When Buying a Mouthpiece
Research has shown that mouthpieces have a positive impact on athletic performance. But there are many different mouthpieces on the market today, and they each have different purposes.
If you're interested in purchasing a mouthpiece, there are a few things you should consider to ensure you get the right mouthpiece for your needs:
1. What you're training for
Some mouthpieces are made specifically for powerlifting and strength sports, while others are more ideal for endurance activities.
Mouthpieces that are intended to be worn for heavy lifting are typically made out of thicker material, are stiffer, and offer more protection for your teeth.
On the other hand, mouthpieces that are made for endurance sports or other high-intensity interval types of training are designed to allow for better airflow to help you breathe more efficiently.
If you don't compete in powerlifting or if you incorporate other activities into your strength training, you can get away with a more versatile mouthpiece that is efficient for multiple activities.
2. How long you've been training
If you're new to powerlifting, you don't have to worry about adding a mouthpiece to your training arsenal right away. Instead, you should focus on building a solid strength foundation first and invest in the right lifting shoes and a good belt before you start considering a mouthpiece.
But if you've been involved in the sport for a long time and you're looking for something to give you a slight advantage over your competitors, a mouthpiece can enhance your training.
3. How much money you're willing to spend
Mouthpieces that you can purchase online or at a brick-and-mortar store are generally very affordable. You can get a custom-fit mouthpiece from a dentist, but they will cost you hundreds or thousands of dollars.
You also don't want to buy something too cheap. You'll just need to replace the mouthpiece more often, which will cost you more money in the long run.
New Age Performance Mouthpiece: Product Overview
According to New Age Performance, 90% of the population has a bad or poor bite, which causes misalignment in your body. There are over 50 years of research indicating that when your bite is in proper alignment, the rest of your body is impacted in a positive way.
The New Age Performance mouthpieces are designed to place your jaw in an optimal position, which allows you to square your shoulders, open up your rib cage, allow for better oxygen flow, and allow your hips to align and give you better rotation.
New Age Performance offers two mouthpiece models: the 5DS and the 6DS. The DS stands for "dimensional stabilizer," a patented technology that aligns and stabilizes the dimensions of your lower jaw:
Anterior Posterior
Protrusive
Pitch
Yaw
Roll
Lateral (for the 6DS model only)
The 5DS is ideal for endurance activities, high-rep lifting, and high-intensity sports like CrossFit. It is designed to allow for better airflow while still allowing you to communicate effectively.
The 6DS is more rigid and is ideal for powerlifting and strongman training where you are lifting heavier weights. It has lateral stabilizers that the 5DS doesn't have, which help stabilize side-to-side movements of the jaw during heavy lifts.
Testing the New Age Performance 5DS Mouthpiece: A Detailed Review
I recently wrote about how the 6DS mouthpiece is the best overall mouthpiece for powerlifting.
I've also been testing the 5DS mouthpiece for my lighter strength training sessions and CrossFit WODs. I had high hopes for this mouthpiece, and I was happy that it lived up to my expectations.
The New Age Performance 5DS Molding Process
As with most over-the-counter mouthpieces, the New Age Performance 5DS has to be customized to your mouth before you use it. The instructions that come with the mouthpiece are easy to follow, and the molding process only takes a couple of minutes.
One thing that I like about molding the 5DS mouthpiece is that you drop the mouthpiece into ice water after you've fit it to your mouth.
With other mouthpieces, you have to drop them into cold water immediately after heating them up. This causes them to lose some of their malleability and doesn't allow you to get as tight of a fit.
The New Age Performance 5DS mouthpiece is molded to your mouth right after it's been boiled, and then it is placed in ice water. Molding it while it is still warm allows you to achieve a more secure fit, which helps it stay in place during long, intense workouts.
Testing the New Age Performance Mouthpiece
I tested the 5DS during lifting and CrossFit WODs. My lifting sessions took about an hour while my CrossFit WODs took anywhere from 12-20 minutes.
I didn't notice a significant difference in my bench press, but the mouthpiece did help with my overhead press. I believe this is because it helped me stay more balanced while I was standing and helped me keep my neck in an optimal position when pressing weight over my head.
I haven't been able to squat or deadlift heavy for a couple of weeks while I'm waiting for an ankle injury to heal, but other powerlifters that I spoke to say that the mouthpiece helps them brace and keeps their necks stable under heavy loads. You can see their reviews further down in this article.
When I did my CrossFit WODs while wearing the mouthpiece, I noticed a huge difference in my breathing. Even after several years of incorporating CrossFit into my training, I have a tendency to come out too hot in certain WODs and redline about halfway through.
But when I wore the 5DS mouthpiece, I was able to keep my breathing under control throughout the whole WOD. This also helped me keep my heart rate steady, which allowed me to recover faster once the WOD was done.
Another thing that I like about the New Age Performance 5DS mouthpiece is that I didn't notice as much saliva buildup as I did with other mouthpieces. This meant I was able to focus on my training without becoming distracted by the mouthpiece.
It is easy to drink water with the New Age Performance 5DS mouthpiece, but it did feel a bit awkward to me. This is only a small con though, and it's not something that I would consider a dealbreaker.
I also experienced some minor achiness in my jaw when I took the mouthpiece out at the end of my longer training sessions, but it was much less noticeable than the discomfort I felt after wearing other mouthpieces. I expect it to go away as I get more used to it.
What Others Say About the New Age Performance Mouthpieces
While I've been using the 5DS mouthpiece exclusively for the past couple of weeks, I asked other athletes who use the 6DS mouthpiece about their experiences. They all praised the mouthpiece for its role in protecting their mouths during heavy lifts and say they always have it in their powerlifting gym bags.
Here's what they had to say:
Nicola Paviglianiti – Competitive Powerlifter
"I have been using a New Age mouthguard since 2017. I find it helps protect my teeth from my grinding and clenching when I lift, and I also find it helps me breathe and brace. My dentist has been much happier since I started using it (my tooth wear is now nonexistent) and it's always an essential piece of equipment in my gym bag."

Nicola Paviglianiti
Aaron Madriaga – Competitive Powerlifter and Strongman Athlete
"I always use my 6DS for all my biggest lifts in strongman and powerlifting, during training and on the platform. I have a tendency to underbite under heavy load, and I definitely notice a loss in overall stability throughout my neck, shoulders, and upper back because of it. My 6DS keeps everything feeling locked in and it's one less thing I have to worry about."

Aaron Madriaga
Teresa Parsons – Competitive Powerlifter
"Just like my belt, knee sleeves, and wrist wraps, my mouthguard has become an essential part of my powerlifting kit. I wear my mouthguard during all my main lifts for training and in competition. Wearing my mouthguard allows me to maintain focus on my lifts while knowing my teeth and jaw are protected."

Teresa Parsons
Take a look at what mouthpieces top athletes are wearing:
What Mouthpiece Does Rich Froning Wear?
Final Thoughts
If you want to get stronger in the gym, recover faster, and become more efficient when breathing during conditioning workouts, a mouthpiece is a tool that you should definitely consider adding to your gym bag.
I recommend the New Age Performance 5DS for CrossFit workouts or endurance activities because it's comfortable to wear, you can breathe easily while wearing it, and you can recover faster once your workout is done.
Click here if you're interested in checking out the New Age Performance 5DS mouthpiece or here if you're interested in the 6DS mouthpiece.
Other mouthpiece reviews:
---
About The Author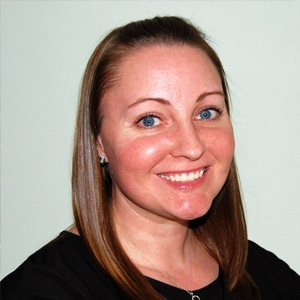 Amanda Dvorak is a freelance writer and powerlifting enthusiast. Amanda played softball for 12 years and discovered her passion for fitness when she was in college. It wasn't until she started CrossFit in 2015 that she became interested in powerlifting and realized how much she loves lifting heavy weights. In addition to powerlifting, Amanda also enjoys running and cycling.