CrossFitters are known for spending a lot of money on gear to protect their knees, backs, wrists, and hands. But they often overlook two of the most important parts of the body – the teeth and mouth.
CrossFitters can protect their mouths by wearing mouthpieces that help prevent wear and tear on the teeth. The best mouthguards for CrossFit also offer benefits such as better body alignment, increased strength, increased endurance, and better recovery.
So, what is the best mouthpiece for CrossFit? The best mouthpiece for CrossFit is the New Age Performance 5DS. It offers a secure fit, keeps the jaw in a natural position that allows for more efficient breathing, and it's comfortable to wear when performing a variety of movements that can come up in a CrossFit WOD.
---
Without a mouthpiece, your jaw may also not be in proper alignment, which can throw off your stability and balance. You also risk damaging your teeth if you tend to clench or grind them during heavy lifts.
In this article, I'll review the best mouthguards for CrossFit and discuss everything you should consider when deciding which mouthpiece is best for you.
If you're looking for a mouthguard for heavy lifting, check out my top 5 mouthpieces for powerlifters.
The Biggest 3 Factors to Consider When Wearing a Mouthpiece for CrossFit
Using a mouthpiece for CrossFit is different than wearing a mouthguard for other sports.
While traditional mouthguards are solely intended to protect the teeth during high-contact sports, mouthpieces for CrossFit are also designed to place the jaw in an optimal position for improved stability and airflow.
When looking for a mouthpiece for CrossFit, you should look for the following criterion:
1. The mouthpiece shouldn't restrict your breathing.
CrossFitters are all too familiar with those soul-sucking WODs that leave you gasping for air. When you wear a mouthpiece during CrossFit WODs, you should still be able to control your breathing so you don't redline too quickly.
Mouthpieces for CrossFit will generally be made out of lighter materials and won't be as thick as a mouthguard for MMA, boxing, or other high-contact sports. This makes it easier to breathe with them in, which also allows you to control your heart rate and pace yourself correctly during a WOD.
2. It needs to work well for both lifting and conditioning.
CrossFit athletes spend time working on both strength and conditioning. Different mouthpieces serve different purposes, with some being designed to protect your teeth during heavy lifts while others are designed to help improve airflow.
For CrossFit, you should look for a mouthpiece that does both. It doesn't need to be as stiff as a mouthpiece that powerlifters or strongman competitors would wear, but it should still be able to protect your teeth while also being comfortable to wear for metcons or monostructural exercises.
3. It needs to fit securely so you can transition between movements without worrying about it falling out.
In most CrossFit WODs, you need to transition quickly between a variety of movements. You could be running back and forth between a pullup bar, a rope, and a barbell, or you could be moving from an Assault Bike to a wall for wallballs within a matter of seconds.
The best mouthpiece for CrossFit should be customized to your mouth so that it remains secure while you move from one spot to another. You also want it to stay in place while doing high-rep barbell work or high-impact movements such as box jumps or double unders.
Top 5 Mouthpieces for CrossFit Available on the Market
The best 5 mouthpieces for CrossFit are:
Check out my complete review of the New Age Performance Mouthpiece.
Out of all the mouthpieces I tested during CrossFit WODs, the New Age Performance 5DS is my favorite.
The 5DS offers stability for five different dimensions of the jaw, including anterior posterior, protrusive, pitch, yaw, and roll.
In a sport like CrossFit where there is a wide variety of strength, endurance, and gymnastics movements, I like knowing that my jaw will remain stable no matter which movement I'm working on while I'm wearing the 5DS.
The 5DS also keeps my jaw in the most natural position for me when I'm breathing heavily in the middle of a tough workout, and it's comfortable to wear for longer WODs.
New Age Performance also offers a 6DS model that is ideal for heavier lifting, but the 5DS is versatile enough for lifting moderate weight and performing high amounts of reps.
This makes it a great mouthpiece for a typical CrossFit class where you spend the first half of class doing strength work and the second half of class doing the WOD because you don't have to carry two different mouthpieces and switch them out in the middle of class.
Pros
Provides a secure fit
Comfortable to wear for both short and long WODs
Comes in a variety of colors
Cons
Has to be replaced every 3 months
---
2. AIRWAAV – Best for Endurance-Based WODs or WODS with Light Weights
Check out my complete review of the AIRWAAV Mouthpiece.
AIRWAAV is a relatively new mouthpiece, having just been released earlier in 2021. It was developed based on 15 years of research conducted by Dr. Dena Garner, Director of Undergraduate Research at the Citadel.
The AIRWAAV mouthpiece has two flaps made out of patented Vistamaxx™, a hydrophobic material that helps the mouthpiece stay in place. While I can feel this material rubbing against the inside of my mouth when I wear the mouthpiece, it's not distracting or uncomfortable.
One thing that I like about the AIRWAAV is how easy it is to drink water while wearing it. This is a welcome benefit if you're like me and tend to take just a few too many water breaks when doing a lot of burpees or thrusters.
However, because the AIRWAAV is shorter in height and doesn't fit as tight as other mouthpieces, I have to keep my mouth more closed than I'm used to in order for it to stay in place.
I was never worried about it falling out, but I did have to be more conscious about keeping it in place during my WODs.
Also, while the AIRWAAV is made out of high-quality materials, it doesn't offer the same amount of stability as the New Age Performance 5DS mouthpiece. With that in mind, I don't recommend the AIRWAAV for lifts over 85-90% or for testing 1-rep maxes.
Dallin Pepper, 3-time CrossFit Fittest Teen on Earth, recently began using an AIRWAAV product. Here is what he had to say:
"AIRWAAV has completely changed my training. I was skeptical at first, but now I use it for every workout. The results don't lie."
Pros:
Compact design
May only need to be replaced every 6-9 months
Cleaning is simple and can be done with just a toothbrush and toothpaste
Cons:
Doesn't fit as tight as other mouthpieces
Doesn't offer as much protection for your teeth when lifting over 85-90%
If you're new to mouthpieces and not sure if you'll like them, or if you just want to save some money, the Under Armour ArmourFit Mouthguard is a good choice.
This mouthpiece is one of the most affordable ones on the market. It is also one of the easiest to mold because it doesn't require any boiling water. All you need to do is wrap it in a wet paper towel and put it in the microwave for 30 seconds.
However, this mouthpiece is a bit hard and it can become uncomfortable after wearing it for a long time. This isn't a big deal if you're okay with taking it in and out during your workout or if you are only wearing it for a quick WOD.
But if you want a mouthpiece that you can wear non-stop for an hour-long CrossFit class, this may not be the one for you.
Pros:
Affordable price
Easy to mold
Made from a hydrophobic material that is chew-resistant and won't break down easily
Cons:
Doesn't come with a carrying case
---
I had high hopes for this mouthpiece, but it didn't quite deliver.
The NXTND Rush mouthpiece is made out of a thermoplastic EVA material. They claim that it is more lightweight and comfortable than other mouthguards on the market, but I found the opposite to be true.
This mouthpiece was more rigid than other mouthpieces I tested, and I found it uncomfortable to wear for more than 10-15 minutes at a time.
The NXTND Rush has an undercarriage air channel that, according to NXTND, is supposed to allow for 30% more oxygen intake. But when I did a WOD with this mouthpiece, I had to take it out halfway through because I found it hard to breathe.
This mouthpiece would work well for certain scenarios in CrossFit, however. If you're practicing barbell cycling or you're doing a lot of high-rep cleans or snatches, it can help protect your front teeth from impact if you accidentally hit your chin with the bar.
Pros:
Affordable price
Made out of a sturdy, durable EVA material
You can register the product to take advantage of their Unlimited Defective Warranty
Comes with two in a package so you can interchange them to make them last longer
Cons:
Was the least comfortable mouthpiece out of the ones I tested
Restricted my breathing during WODs
Can't easily drink water while wearing it
---
The Impact Custom Professional Mouthguard isn't a boil-and-bite mouthpiece like the others mentioned in this review. Instead, when you purchase it, you receive a fit kit to make an impression of your teeth. You then ship the impression back, and Impact creates the mouthpiece for you.
Because the Impact team fits the mouthguard for you, their products are more expensive than others on the market. They are still more cost-effective than getting a mouthpiece from a dentist though, and you can rest assured that the mouthpiece will fit you properly.
The Impact Custom Professional Mouthguard is made from BPA-free material and is 5mm thick. This allows for optimal oxygen flow while also letting you breathe easily and drink water while wearing it.
Pros:
The Impact team creates a mouthpiece for you based on a mold of your teeth
Comes in a variety of colors and designs
Impact will fix the mouthpiece for free if it doesn't fit
Can last for a full year if you care for it properly
Cons:
Premium price tag
Have to wait 14 days to receive your mouthpiece after you send the mold to the Impact team
---
What Are the Benefits of Wearing a Mouthpiece for CrossFit?
There is a lot of science-backed research that talks about the positive effects of mouthpieces on athletic performance. Let's review some of the ways a mouthpiece can enhance your CrossFit performance.
1. Improved breathing
Mouthpieces help align your jaw and place your tongue down and forward, which opens up your airways and allows you to breathe more easily.
In fact, according to AIRWAAV, CT scans show that wearing a mouthpiece during exercise increases the width of your airways by an average of 9%.
2. Increased strength and endurance
Wearing a mouthpiece during strength sessions can not only allow you to lift more weight, but it can also help you get more reps due to decreased resistance to airflow.
And because mouthpieces put your jaw and tongue in optimal positions to support more efficient breathing, you won't get fatigued as quickly during long workouts.
3. Better recovery
Because you are able to better control your breathing when wearing a mouthpiece, you can recover quicker in between sets during your strength pieces.
If you're a competitor or you do multiple CrossFit WODs back-to-back, this means you can also recover quicker at the end of each workout and be more prepared to attack the next one.
Check out what mouthguards top athletes are wearing:
Things to Keep in Mind When Using a Mouthpiece for CrossFit
While a lot of mouthpiece companies make some bold claims regarding the effectiveness of their products, they aren't the end-all-be-all when it comes to improving athletic performance.
A mouthpiece won't magically turn you into the next Rich Froning or Mat Fraser. If you tend to fall in the middle or bottom of the pack in your CrossFit box, you won't suddenly become the top athlete just by wearing a mouthpiece.
(I'm not judging, by the way. I was frequently in that position before I left my old gym and started CrossFitting in my garage.)
But if you plan to compete in CrossFit or you need a mouthpiece for more than just improved breathing and recovery, it can be a beneficial addition to your gym bag.
Wearing a mouthpiece during CrossFit WODs can not only protect your teeth from the impacts of clenching and grinding, but it can also help keep your breathing under control and allow you to recover faster once the WOD is done.
Final Thoughts
If you're looking for a mouthpiece that can help protect your teeth during heavy lifts while also improving your performance in CrossFit WODs, I recommend the New Age Performance 5DS.
The New Age Performance 5DS offers the most secure fit of the boil-and-bite mouthpieces on the market. In a sport like CrossFit when you're transitioning quickly from one movement to the next, you won't have to worry about this mouthpiece falling out.
If you aren't so concerned with heavy lifting or 1-rep maxes and you want a mouthpiece that's not quite as bulky for CrossFit WODs, you should consider the AIRWAAV.
The AIRWAAV is thoughtfully designed to improve your breathing during tough workouts, and the hydrophobic Vistamaxx™ material is comfortable to wear for long training sessions.
---
About The Author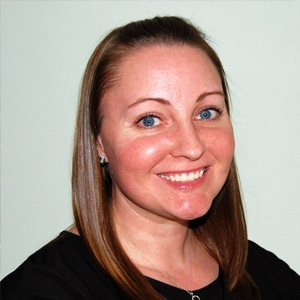 Amanda Dvorak is a freelance writer and powerlifting enthusiast. Amanda played softball for 12 years and discovered her passion for fitness when she was in college. It wasn't until she started CrossFit in 2015 that she became interested in powerlifting and realized how much she loves lifting heavy weights. In addition to powerlifting, Amanda also enjoys running and cycling.