Disclosure: We're supported by our audience, so if you purchase through some links on this post, we may earn a commission at no cost to you.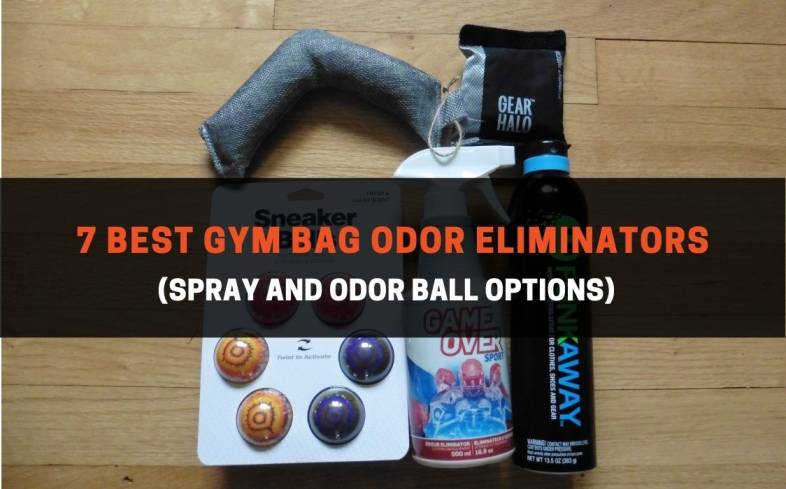 When you work out and sweat a lot, your gym clothes and training gear can smell. If you store your sweaty items in a gym bag for long periods of time, your gym bag will eventually start to smell, too. Using an odor eliminator is an effective way to get rid of odors in your gym bag.
So, what is the best gym bag odor eliminator? The best gym bag odor eliminator is the FunkAway Aerospray. It has a strong fragrance, but it's the only spray I've tried that keeps odors from coming back after it dries. I also like its versatility since you can spray it on your clothes, shoes, or gym gear before storing them in your bag.
---
In this article, I'll review seven of the best gym bag odor eliminators, talk about why gym bags smell, and provide tips on getting rid of the odor. I also provide some DIY gym bag deodorizers at the end.
7 Best Gym Bag Odor Eliminators
The 7 best gym bag odor eliminators are:
Although there are different types of odor eliminators on the market, I prefer sprays because you can also use them directly on clothes, gym equipment, or shoes. After testing multiple products, I found the FunkAway Aerospray to be not only the best odor eliminator spray but the best overall gym bag deodorizer.
Other sprays I've used in the past — including ones specifically formulated for activewear — have only temporarily gotten rid of sweaty odors. The FunkAway Aerospray is the first spray I've tried that seems to truly eliminate odors rather than just masking them.
I've even been spraying this product on my gym clothes once I'm done working out to keep them from smelling until I do my laundry. I haven't noticed any odors return even after the product dries.
This spray has a pretty strong scent, but you don't need much for it to be effective. It's best to use it outside or in a well-ventilated area. I also recommend letting your gym bag sit outside overnight so it can air out after you spray it.
Pros
Slim can is easy to carry in your gym bag
A little bit goes a long way
Can also be sprayed on sweaty clothes or gear before you put them in your bag
Cons
Needs to be used outdoors or in a well-ventilated area
---
The GEARHALO Sports Deodorizer Pods are effective gym bag deodorizers that can be used over and over again.
The pods work by removing moisture from your clothes and gear, which helps to prevent odor buildup in your gym bag. Their scent is noticeable, but it's not overpowering.
One box comes with two pods. If your gym bag has multiple compartments, you can put the pods in two different compartments. They have velcro, so you can also attach both and use them for large gym bags or very tough odors.
They only last for a season — which I'd consider 3-4 months — because they become saturated as they collect moisture. However, you can reactivate them by throwing them in the dryer for 15 minutes.
GEARHALO recommends placing the pods inside your bags or gear as soon as you're done working out since they're activated by heat. However, they worked well even when I put them in my gym bag several hours after my workout.
Pros
Reusable
Non-toxic
Easy to fit in gym bags, even if the bag is full
Cons
More expensive than other deodorizer options
---
The Sof Sole Sneaker Balls are small and don't take up a lot of space, which makes them good odor-eliminating balls for small gym bags.
You have to twist the sneaker balls to activate them, but they're already fragrant as soon as you take them out of the package. They're not refillable, but they last up to six months, so you'll get a pretty long shelf life out of them.
There are six sneaker balls in a package. You can put them in multiple compartments in your gym bag or also use them in your shoes.
These sneaker balls start to work quickly, so if you're in a rush to get odors out of your gym bag, you can throw one of these in and have a fresh-smelling bag within a couple of hours.
Pros
Can fit in small bags
Starts to work quickly
There are six in a package so you can use them in multiple compartments in your gym bag
Cons
---
The Biotech Odor Eliminator Spray is an eco-friendly spray that's best for light odors or to prevent odors from developing. However, it's not strong enough to eliminate odors that have already been trapped in your gym bag.
When I use this product, I have to spray my stuff several times in order to notice a difference. It also works best when I spray my gym bag and gear after every workout rather than waiting until odors become noticeable.
But what I like about this spray is that the fragrance isn't too strong and unlike the FunkAway Aerosol Spray, it doesn't have to be used in a well-ventilated space. It's eco-friendly and doesn't contain any toxic chemicals, so it won't stain or ruin your gym bag. And if you use it on your clothes, it won't irritate your skin.
Pros
Subtle scent
Eco-friendly
Won't irritate your skin
Cons
Not strong enough for tough odors
---
The Vapor Fresh® Natural Sports Cleaning Spray is another non-toxic spray, but this one does a better job at getting rid of strong odors.
Like the Biotech Odor Eliminator Spray, the Vapor Fresh Spray® helps prevent odors when you spray it in your gym bag before it starts to smell. You can also spray it on your clothes as soon as you change at the gym to avoid odors from transferring onto your bag.
This spray contains no ammonia, chlorine, or artificial fragrances. It's made from a proprietary blend of essential oils and non-toxic cleaning agents, which makes it a good spray to use on your kids' equipment as well.
Pros
Non-toxic
Won't irritate skin
Can also be used on machines such as treadmills or bikes
Cons
---
The DeodorDice Deodorizers technically aren't balls, but they work the same as other deodorizer balls. But unlike other deodorizer balls, they don't have any artificial fragrances and are scented with essential oils instead.
The dice are filled with Zeolites, which are naturally occurring minerals that absorb moisture and odors. They have a slow-release mechanism that controls how much fragrance is delivered over time, rather than hitting you right away with an overpowering scent.
This also allows the dice to last for several months, but depending on how bad the odors in your gym bag are, they may only last for a few weeks.
Pros
No artificial fragrances
Slow-release mechanism controls how much fragrance is released
Don't have to twist them to activate them
Cons
Cannot be refilled
Scent may not last for more than a few weeks
If strong fragrances bother you, you should consider an odor eliminator like the AirClear Bamboo Charcoal Shoe Deodorizer Bag. They have no fragrance to them, so they won't leave your gym bag smelling artificially clean.
These bags are filled with activated charcoal and have a bamboo fabric covering. They're non-toxic and biodegradable. If they start to become ineffective, you can reactivate them by leaving them in direct sunlight for an hour. They can be reused for up to a year.
These bags have a compact, curved design. They may not fit with other items in a smaller pocket in your gym bag, but they're not so bulky that they'd take up a lot of space in the main compartment.
I left one of these bags in my gym bag's wet compartment where I had left my sweaty clothes for several hours. When I took them out, neither the wet compartment nor my clothes smelled. I've also been leaving them in both mine and my husband's gym shoes, and I haven't noticed any odors.
Pros
No strong fragrances
Doesn't take up a lot of room in your gym bag
Non-toxic and environmentally friendly
Cons
A little pricey, but they can be reused for up to one year
Gym Bag Odor Eliminators: Buyer's Guide
Why Do Gym Bags Smell?
There are several reasons why gym bags smell, including:
Bacteria builds up inside the bag.
Odors from wet clothes and sweaty gear get trapped in the fibers of the bag.
There's a buildup of other liquids.
1. Bacteria Builds Up Inside the Bag
Bacteria love dark, warm, humid environments, such as gym locker rooms. Leaving your bag inside gym lockers or on a locker room floor can cause bacteria or fungi to creep in, which causes odors if those germs aren't killed right away.
2. Odors From Wet Clothes and Sweaty Gear Get Trapped in the Fibers of the Bag
As you work out, sweat, body oils, and bacteria from your body accumulate on your clothing and equipment. When you leave your gear closed up in your gym bag before it has a chance to dry, it allows the bacteria to multiply and makes odors worse. The odors can then permeate onto the bag's material.
In addition, mold and mildew that accumulate on wet items can transfer onto the bag, which also makes it smell.
3. There's a Buildup of Other Liquids Inside the Bag
If you shower at the gym and carry shampoo, soap, or lotion with you, there's a chance the products will leak, especially if you don't use a toiletry bag or secure them in a separate pocket. And if you throw your protein shake inside your bag, that can also leak.
When the spills aren't cleaned up right away, they can leave behind residue that will start to smell after a few days.
How Do I Get Rid of the Smell in My Gym Bag?
The easiest way to get rid of odors in your gym bag is to prevent them from occurring in the first place. Keep your sweaty items in separate compartments, and take them out of your bag as soon as you get home. You should also consider a gym bag with a water bottle holder so your drinks won't spill inside the bag.
Whenever possible, avoid leaving the bag in a hot car or in a humid garage or basement. This prevents the items inside the bag from being able to dry, which usually makes odors worse.
In addition to using deodorizers, I also recommend leaving your empty bag outside overnight every so often. Leave all of the pockets and zippered compartments open so fresh air can hit every part of the bag.
You can also put unused tea bags or dryer sheets in your gym bag. I haven't personally tried either one, but I know people who swear by both methods.
Gym Bag Deodorizer: 3 DIY Options
If you're looking for a more natural way to maintain an odor-free gym bag, try one of these DIY options below.
1. DIY Odor Eliminating Spray
This DIY odor-eliminating spray requires distilled vinegar. Don't be concerned about the smell — the vinegar odor disappears once it's dry, leaving your gym bag smelling fresh and clean.
You can also use this spray for knee sleeves, shoes, or any other items that smell.
What You Need:
A spray bottle
Water
Essential oils, such as this Plant Therapy set
Distilled vinegar
Instructions:
Combine equal parts water and distilled vinegar in a spray bottle, leaving enough room for the oils. Add 25-30 drops of your preferred essential oil.
Shake the bottle well to mix all the ingredients. Spray the inside of your gym bag and let it sit for 12-24 hours before you use it again.
2. DIY Odor Eliminating Balls
These are also great to throw in the dryer to add a subtle scent to your clothes, and they're a natural alternative to dryer sheets.
What You Need:
Instructions:
Add 3-5 drops of essential oil to a wool dryer ball. Throw the ball in your gym bag and let it sit for several hours or until the smell is gone.
Once the odors have disappeared, keep the wool ball in your gym bag to prevent new ones from occurring.
3. Simple DIY Odor Eliminator
This is one of the simplest odor eliminators that you can create yourself.
What You Need:
Distilled vinegar
Newspaper
Instructions:
Pour some distilled vinegar onto a few sheets of newspaper. The newspaper should be wet but not completely saturated. Roll the newspaper into balls and place them inside your gym bag. Leave them in the bag for 2-3 days or until the odor has disappeared.
Frequently Asked Questions
Are Gym Bags Machine Washable?
It depends on the material. Cloth, canvas, or nylon bags can be washed in a washing machine. Leather bags, bags with wheels, and bags with padded laptop compartments shouldn't be put in the washing machine since you can damage parts of the bag.
How Do You Machine Wash A Gym Bag?
Most bags come with instructions on how to wash them, so you should always follow their guidelines. But to be safe, I recommend washing your gym bag on the gentle cycle in cold water.
Since traditional laundry detergents can leave behind residue that just covers up odors, I also recommend using a sports detergent such as Active Wear Laundry Detergent or WIN Sports Detergent. These detergents contain ingredients that break down oils left from sweat and bacteria.
Make sure you don't leave anything inside the bag when you wash it. Close all of the zippers and velcro pockets. Remove the shoulder strap and bottom insert, if your bag has one. You can wipe the insert with a wet rag and mild soap.
If you have a mesh laundry bag that's large enough to hold your gym bag, use it. It will help prevent the bag from getting caught on the interior of the washing machine or on your other clothes.
Let the bag air dry completely before you use it again.
If your gym bag isn't machine-washable, wipe it down with a rag moistened with rubbing alcohol or distilled vinegar at least once a week. Rubbing alcohol and distilled vinegar are both effective at killing odor-causing bacteria.
Final Thoughts
Using an odor eliminator is one of the best ways to remove odors from your gym bag. My favorite one is the FunkAway Aerosol Spray because it keeps your gym bag smelling fresh even after it dries, and it can also be sprayed on your clothes, shoes, and gym equipment.
If you prefer to make your own gym bag deodorizer, you can create your own sprays and balls using a combination of household items and essential oils.
---
About The Author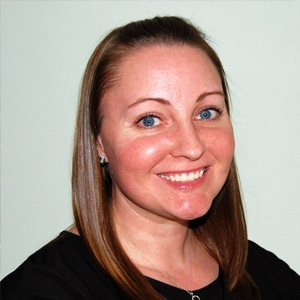 Amanda is a writer and editor in the fitness and nutrition industries. Growing up in a family that loved sports, she learned the importance of staying active from a young age. She started CrossFit in 2015, which led to her interest in powerlifting and weightlifting. She's passionate about helping women overcome their fear of lifting weights and teaching them how to fuel their bodies properly. When she's not training in her garage gym or working, you can find her drinking coffee, walking her dog, or indulging in one too many pieces of chocolate.