When teaching an athlete how to squat, bench press, and deadlift, it is common for me to hear that they are unsure if they should, or how they should hold their breath while performing said movements.
So, why do powerlifters hold their breath? Holding your breath when powerlifting helps to stabilize the spine while performing the exercises. This is done by utilizing what is called the valsalva maneuver, which is responsible for increasing intra-abdominal pressure (IAP). In other words, the natural stability of a person's core muscles.
As with any technique in powerlifting, there are proper and improper ways to implement this type of breathing into your lifts. Below, I will discuss in the proper way to execute the valsalva maneuver, advantages of holding your breath, and the common mistakes that are often made when learning this approach.
What Does Holding Your Breath Do When Powerlifting?
Although you can opt to not hold your breath during resistance training, it is important to understand what is happening when you do
The best way to explain this concept is to refer to a pop can:
The outer can itself acts as a protective sheath (the outer sheath of the body being the muscles that make up the abdomen/lower back.
The top of the can acts as the diaphragm, while the bottom of the can represents the pelvis
The liquid represents the air you have filled your entire trunk with, while the carbonation and sealing of the lid is representative of holding your breath
This system (filled and sealed can) acts as a pressurized system (IAP) that is very difficult to break down
If we open the can and pour the liquid out, we can easily break that system down, or crush the can.
Holding your breath properly will allow you to stabilize your spine as you perform an exercise. This is accomplished as a result of the IAP (Intra-abdominal pressure) being maintained.
How to Hold Your Breath Properly for Powerlifting
The key to holding your breath properly begins before you take your air in at all.
In order to make our torso an ideal system (like the pop can), we need to make sure we are in a neutral spine position.
This means a couple of things:
The lower back must be in a neutral position (not too arched, not too tucked under)
The bottom of the ribs must be pointing straight ahead/down slightly (Check out my article on

Squat Cues

to learn more about how to maintain this "ribs down position")
Once this position is obtained, we can begin the Valsalva Maneuver.
First, we need to draw in a massive amount of air. We need to avoid, however, a rise in our chest while taking this breath in (this would lose the ideal position of our ribs, and likely arch the lower back out of a neutral position).
Instead, think of filling your pop can (trunk) with liquid (air) from the bottom-up.
This will result in your belly to feel like it is filling with air first.
Ensure that the entire trunk is filled with air, and imagine expanding your trunk in every direction (360 degree breathing)
Once this breath has been taken, we need to close the can (brace). We do that by squeezing our abdomen as if we are going to be punched in the stomach. A lot of lifters wear mouthguards because they clench their jaw while performing this maneuver.
This pressure will now allow for a safe and strong performance of the exercise, and the breath should be held for the entire rep, only exhaling near the top, or at the top.
I would recommend re-taking this breath each rep for sets up to 5-6 reps.
For higher rep sets (6+) I would recommend finding a rep amount that is comfortable for you to complete with one breath (for me, that number is 5 reps, at which point I will exhale, and take another breath).
I wrote two articles that explain how to breathe in the squat and how to breathe in the deadlift. Check these guides out for a step-by-step approach.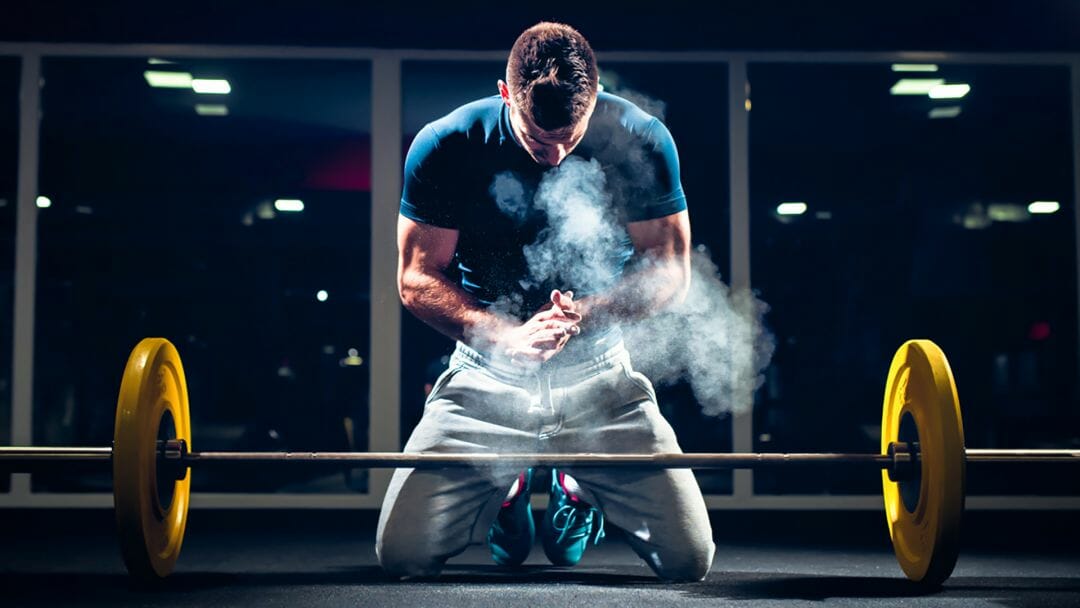 Want to get advice on programming, technique, or competing? Speak with one of our coaches.
Benefits of Holding Your Breath for Powerlifters
There are 5 benefits to holding your breath while lifting:
Benefit #1: It allows you to maintain your core rigidity
After the big breath is taken and the midsection is braced, the spine will be stabilized. This will allow for the core to stay rigid as you move through the movement.
Check out my article on: How to fix Losing Tension at Bottom of Squat (8 Tips).
Benefit #2: It reduces your risk of injury
While moving through a movement, a lack of spinal movement while under load will reduce the risk of injury. You can ensure strong integrity through the spine by breathing and bracing properly, which was shown in a study by Hackett (2013).
Benefit #3: Maximizes efficiency of the movement
Holding your breath and bracing during a movement will allow you to maintain the barbell position throughout. Minimizing deviation from an ideal bar path will increase efficiency of the lift.
Check out my article on: Best Bar Path For Squats.
Benefit #4: Increases force production
The more stable a lifter is during a movement, the greater their ability to produce force. This is due to the ability to recruit more motor units being higher in a stable system
Benefit #5: Increase strength and longevity
Based on having more stability, less deviation in the movement, and higher force production, an athlete who holds their breath and braces well can handle increased loads. This increase in load over time will increase their strength.
Greater stability and safety in each movement also comes with a higher chance that an athlete will achieve longevity and progression in the sport of powerlifting
Mistakes Powerlifters Make While Holding Their Breath
There are three mistakes that powerlifters make when holding their breath during a movement.
1. Not taking in enough air
This is common amongst most beginner lifters, as the idea of drawing a ton of air in is still a foreign topic. There are a couple reason I believe this happens:
There is truly a lack of understanding as to how vital the breathing and bracing process is to success and preventing injury in resistance training exercises
The athlete wears a belt almost all the time, and they usually wear it much too tight. This is an issue for getting enough air, as the belt is physically restricting how much air they can take in
2. Breathing in through their chest
Proper breathing and bracing occurs in a neutral torso position.
If the athlete is able to achieve this position, but then breathes in through their chest, this will cause their shoulders to elevate, and likely bring them into an arched back position.
In this position, the athlete is not able to brace effectively, which means their spine will not be as stable as it could or should be
3. Holding their breath for too long
This issue usually occurs when an athlete takes their breath before starting a rep, and then hesitates to begin said rep, but continues to hold their breath.
Athletes may also experience this issue when they are doing multiple rep sets, and are unsure when to time their breathing. The timing of these breaths may differ per individual athlete, as preference will vary.
A key reminder is that if the breath is held for too long, blood pressure may increase, resulting in lightheadedness or dizziness.
Exercises to Teach You How To Breathe Properly For Powerlifting
There are two exercises that you can do to help learn how to breathe properly for powerlifting:
Dead Bug
1. Lie on your back, with your legs and arms straight up in the air, knees bent at 90 degrees
2. Begin by breathing in using the valsalva maneuver, but pay close attention to getting rid of the space in between the lower back and the ground (neutral position)
3. While maintaining pressure from the previous step, begin to straighten the right leg and left arm towards the ground. If the pressure in the torso is lost, or the lower back comes off the ground, do not go any farther.
4. Return to the start position and repeat with the opposing limbs
5. Perform 1-2 sets of 8-12 reps per side
A progression to the Dead Bug can be seen here: 'The 9 best ab exercises for Powerlifters (don't skip these)'
Kettlebell Belly Breathing
1. Get in to the same position as the Dead bug, but have your feet against a wall (knees still bent at 90 degrees)
2. Flatten the lower back in to the ground just like in the Dead bug
3. Place a small kettlebell (5-10lbs) on the belly
4. Ideally, also place a hand on the chest. This will ensure that during this breathing exercise, the chest does not rise. This imitates an ideal breathing pattern for lifting
5. Begin by fully exhaling
6. Then, draw in as much air as possible through the belly, simultaneously pushing the kettlebell up, and the lower back into the ground. Hold this for 1 second
7. Exhale fully and repeat 1-2 sets 10-15 breaths
Final Thoughts
Like any other technique, holding your breath properly takes practice, and time.
Be sure to get your torso into an ideal position, and then practice taking in air from the belly up without your chest rising.
Finally, compress the air filled system with everything you've got, before initiating the repetition.
Like my athletes and I have learned, the stability in the spine created by this process allows for major strength and technique improvements, and helps to prevent injuries as well.
---
About The Author
Kent Nilson is an online strength coach, residing in Calgary (AB). When he's not training, coaching, or volunteering on the platform at powerlifting meets, you'll likely find Kent drinking coffee or enjoying his next Eggs Benedict. Connect with him on Facebook or Instagram.