PowerliftingTechnique.com is independent and supported by our readers. We may earn a commission if you buy through the links below. For more, see our disclosures page.
PowerliftingTechnique.com is independent and supported by our readers. We may earn a commission if you buy through the links below. For more, see our disclosures page.
I love having a sandbag in my garage gym because sandbag training is a great way to switch things up when I'm feeling bored with my routine.
I did a lot of sandbag research before I purchased one and finally decided on the Rep Fitness sandbag. I've been training with it for more than a year now, and I'm here to give you my honest feedback.
So is the Rep Fitness sandbag worth it? The Rep Fitness sandbag is 100% worth it if you're looking for an affordable, durable, high-quality sandbag to add some variety to your training. It comes in multiple sizes and colors so you can customize it to meet your preferences, and it's unlikely that you would ever have to replace it.
In this article, I'll provide:
An overview of the Rep Fitness sandbag
The pros and cons of the Rep Fitness sandbag
The key features and benefits of the Rep Fitness sandbag
Alternatives to the Rep Fitness sandbag
Things to look for when buying a sandbag
Rep Fitness Sandbag: Overview
Founded in 2012, Rep Fitness has become a go-to brand for individuals looking for affordable but high-quality equipment for their home gyms. In addition to selling standard equipment like barbells, plates, dumbbells, squat racks, and benches, Rep Fitness also sells sandbags for anyone interested in odd-object training.
The sandbags are available in four sizes:
Small – 5-25lbs (comes with one medium filler bag)
Medium – 25-75lbs (comes with one medium and one large filler bag)
Large – 50-125lbs (comes with three large filler bags)
X-Large – 125-200lbs (comes with four large filler bags)
For most people, I recommend either the medium or large. The medium is ideal for most females while the large is ideal for most males. The weights may seem light, but sandbag training is deceivingly challenging, and you likely won't be able to do many movements with the same amount of weight that you can do with dumbbells or a barbell.
All of the sandbags are made with 1000D Cordura, a thick, durable nylon that's used in military gear. They each have seven handles: two endcap handles, two neutral grip handles, two barbell grip handles, and a single suitcase-grip handle.
The variety of handles allows for a lot of versatility in the number of movements you can do with this sandbag and how you can hold it. The handles are all machine-stitched and reinforced with metal grommets to keep them from ripping or fraying.
If you're wondering what's so unique about sandbag training, check out my article on 7 sandbag training benefits.
Rep Fitness Sandbag: Pros and Cons
If you read any of my other product reviews, you'll see that durability is an important feature that I look for in anything I add to my home gym.
Not only do I hate when things break after just a short period of time but I am also not gentle with a lot of my gym equipment. I need products that can handle being thrown around my garage depending on how much other stuff I have in it at any given time.
The Rep Fitness sandbag is extremely durable. I only use it a couple of times per month, but I've had it for over a year now, and it's held up well. The YKK zipper on the outer shell and the velcros on the inner bags are both still strong and sturdy.
I have heard from some people that the metal grommets have popped off their bags, but I haven't had that happen with mine.
Rep Fitness does state that the sandbags shouldn't be dragged, dropped, or filled directly without the filler bags, and the filler bags shouldn't be filled to full capacity. Either of those could contribute to the grommets falling off or the sandbag or its filler bags otherwise bursting.
As you'll see when I talk about this sandbag's benefits in more detail, for the quality and all of the features that come with it, the price is extremely reasonable. While the exact cost varies based on which size you get, I don't think you'll find a comparable sandbag in the same price range that's as durable and well-made as this one.
Rep Fitness offers a one-year warranty on this sandbag. If anything on it rips or breaks due to faulty craftsmanship, you can get it replaced at no cost to you.
I also like how the sandbag is available in six other colors so you can get a product that fits your personality.
My least favorite thing about this sandbag is that the larger inner bag is difficult to get in and out of the outer shell, especially if I have both filler bags in it.
Certain movements like sandbag cleans also cause the skin on the base of my thumbs to rip, which is never fun. Rep Fitness states that it uses soft handles to prevent chafing, but I actually find the handles to be on the stiff side. I've had to start either putting anti-chafing balm on my thumbs or taping them when I use my sandbag to prevent my skin from ripping.
Pros
Available in a lot of colors
Comes in four different sizes
Durable
Affordable price
No leakage
Comes with a one-year warranty
Cons
Can cause abrasions on your thumbs
Larger inner bags can be difficult to get in and out of the outer shell
Rep Fitness Sandbag: Key Features and Benefits
Before I get into the key features and benefits of the Rep Fitness sandbag, I find it important to note that some of these features aren't necessarily groundbreaking or unique.
But plenty of sandbags on the market have similar features and cost nearly twice as much or don't have any of these features at all. So when you look at all of them combined in the Rep Fitness sandbag, you'll realize just how great of a value you're getting.
My three favorite features of the Rep Fitness sandbag are:
1000D Cordura material
Filler bags included
Double-velcro design on inner bags
1000D Cordura Material
Many sandbag manufacturers use 1000D Cordura for their sandbags, and Rep Fitness is no different. Both the outer shell and the filler bags are made with this material, which enhances their durability.
Cordura is also waterproof, which is an important feature if you work out in a humid environment or work out outside. It will help keep sweat, rain, or other liquids from penetrating the bag. And if you fill your filler bags with sand, it will ensure that the sand won't clump.
Filler Bags Included
Not all sandbags come with filler bags (like the Rogue sandbag, for example). With Rep Fitness's sandbag, you'll get one to four filler bags depending on which size you get.
This is an excellent feature because it saves you money and you'll know you're getting the right-sized filler bags for your sandbag.
If you do want more filler bags, you can get them on the Rep Fitness website for an affordable price.
Not sure how to fill your sandbag? I used pea gravel and rubber mulch in mine, but I talk about other ways you can fill a sandbag in Sandbag Fillers Ideas: What's the Best Filler for Sandbags?
Double-Velcro Design on Filler Bags
Unlike other brands whose filler bags only have one velcro closure, the filler bags that come with the Rep Fitness sandbags have a double-velcro design. You can close the velcro at the top and then fold it over to secure the flap to the rest of the bag.
This double-velcro design helps keep the filler secure and prevents a large amount of sand or dust from seeping out every time you slam the bag down.
What Other Athletes Say About the Rep Fitness Sandbag
Other Rep Fitness sandbag users praise its durability and like how versatile it is with all of the handle options.
Other athletes appreciate the affordability of the Rep Fitness sandbag and agree that it's a high-quality product for the price.
Alternatives to the Rep Fitness Sandbag
If you don't think the Rep Fitness sandbag is right for you, consider one of the alternatives below.
Brute Force is considered by many people to be the gold standard of sandbags. Like other top-quality sandbags, they're made out of 1000D Cordura. They have four sets of handles, and the inner bags have double-velcro closures to prevent leakages.
Brute Force sandbags are available in three sizes: 0-25lbs, 25-75lbs, and 50-125lbs. They're also available in several different colors, though options become more limited in the larger sizes.
One of the best things about Brute Force sandbags is that they're all made in the US. And while Brute Force doesn't offer a warranty per se, it will repair any sandbag that gets damaged for a small repair fee.
The Garage Fit sandbag is a good option if you need a sandbag that can go up to 200lbs. It's available in several different size options from 5-25lbs, 25-75lbs, and 125-200lbs. However, there are no options for 75-125lbs, which can be limiting for some people.
The outer shell is made out of Cordura nylon and has eight handles for multiple grip options. The smaller sizes come with one or two filler bags, and the larger size comes with three filler bags. The inner bags have two velcro straps to keep the filler secure.
If you're still looking for more options, check out my recommendations for the best sandbags.
Things to Consider When Buying a Sandbag
Five key things to consider when buying a sandbag are:
Intended use
Durability
Handle placement
Filler bags
Size and weight limits
1. Intended Use
There are several different types of sandbags available on the market. Some are used for CrossFit, HIIT, or general physical preparedness (GPP) workouts while others are used for strongman/strongwoman training.
Unless you specialize in a particular sport that requires a specific type of sandbag, you'll likely want one that can be used for a variety of workouts.
2. Durability
Sandbags are meant to be slammed and dropped repeatedly, but cheap ones can rip or tear easily. You should look for one that's made out of military-grade fabrics or heavy-duty nylon and has sturdy velcro or zippers to hold the filler bags.
If you plan on filling your sandbag with sand, it's also important to look for one that's waterproof so liquids can't get into it and cause the sand to clump.
3. Handle Placement
Having a sandbag with multiple handles that are placed in ideal locations will give it a lot of versatility. Different exercises will require you to hold onto the bag in different ways, and having more than one or two handles can make certain movements easier.
For example, I highly recommend getting a sandbag with handles on the ends so you can easily hold it in place if you're doing back squats or running with the sandbag across your shoulders.
4. Filler Bags
A sandbag with multiple filler bags is important because it enables you to easily change the weight and acts as extra security to keep the filler from falling out.
It's also beneficial if there are multiple filler bags so you can fill the main bag with weight in smaller increments. If you have a sandbag that can hold 50-100 pounds, for example, having only two filler bags doesn't give you much flexibility to add weight in 10lb or 15lb increments. You'll have to keep emptying the filler bags to get your ideal weight.
If the sandbag you want doesn't come with a lot of extra filler bags, you can usually buy them separately from the brand itself or other brands.
5. Size and Weight Limitations
As you can imagine, the bigger a sandbag is, the more weight it can hold. Some sandbags are only available in one size, but others can be adjusted to various weights.
Getting the right-sized bag that can accommodate the weight you can reasonably work out with is important. For example, you don't want to get a bag whose minimum weight is 100lbs if you're only going to use 50lbs because you'll have to fill a lot of empty space with weightless filler.
It's also important to note that just because a sandbag can fit, say, 100lbs doesn't mean you should fill it to max capacity. The filler bags are often not meant to be filled all the way because it increases their chances of bursting.
If you want a sandbag that you can fill with 100lbs, don't buy one whose max weight limit is exactly 100lbs. Give yourself some extra room to work with so you don't have to fill the filler bags all the way.
Final Thoughts
The Rep Fitness sandbag is a durable, affordable option for anyone who wants to add a sandbag to their home gym. It's sturdy, well-made, and has seven different handles to enhance its versatility.
The sandbag also comes in a variety of colors and sizes, so it's easy to find an option that fits your personality and experience level.
---
About The Author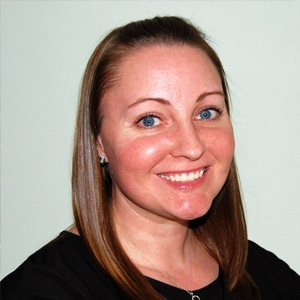 Amanda is a writer and editor in the fitness and nutrition industries. Growing up in a family that loved sports, she learned the importance of staying active from a young age. She started CrossFit in 2015, which led to her interest in powerlifting and weightlifting. She's passionate about helping women overcome their fear of lifting weights and teaching them how to fuel their bodies properly. When she's not training in her garage gym or working, you can find her drinking coffee, walking her dog, or indulging in one too many pieces of chocolate.