We've all seen it, most of us have done it, and you either hate them or love them – planks! The famous isometric ab exercise that defies science and makes seconds stretch into what seems like impossible amounts of time as you hold your body still and let that strain work your abs!
But are you doing it right, and what should you pay attention to when determining good plank form?
Proper plank form requires you to support yourself on your arms and toes in a straight line. Your head, shoulders, hips, knees, and ankles should all be aligned, so your abs have to work to hold your body in this position. You should be nearly parallel to the ground to isolate your abs for the desired effect.
In this article, I'll show you how to do a plank correctly and avoid common mistakes. I'll also discuss what muscles planks target, the benefits of planks, how to make planks even more challenging, and whether you should avoid planks.
What Is a Plank?
A plank is an isometric exercise (an exercise held in a single position instead of repeating a movement for reps) for the core and abs, where you hold yourself up on your toes and elbows with your body in a straight position parallel to the floor.
Holding this position for an extended period engages and trains the abdominal muscles. It's a common exercise to build strength, endurance, and definition in the abs without any special equipment required.
What Muscles Do Planks Target?
When done with the correct plank form, the exercise primarily targets your abdominal muscles but also includes several others that work to a lesser degree to keep your body stable.
The correct form for a plank should put the bulk of the work on your abs.
Abdominal Muscles
Your abs are the primary muscles used in a plank to keep your body in an erect position parallel to the floor. Most people performing planks will feel their abs fatigue more than anything else when doing planks for extended periods.
The specific ab muscles worked during planks are the transverse abdominis (the deepest abdominal muscle), rectus abdominis (the top layer of ab muscles, commonly called a six-pack), and internal and external obliques (which are located along the sides of your core).
Hip Flexors
Your hip flexors work to hold your hips in line with your thighs during a plank. These muscles sit on top of your hip/thigh joint to extend and flex your hips up and down.
Glutes
Your glutes counter your hip flexors on the back side of your body and do the primary work of extending and flexing your hip (bending forward and backward). In a plank, they maintain your body position from the back by keeping your hips in line with your torso and legs.
Hamstrings
The hamstrings also assist in knee flexion and hip extension. In a plank, they keep your thighs in line with your shins and your hips in line with your torso.
Lats
The large middle and upper back muscles stretching from side to side stabilize your spine as you hold yourself in this position, whether you're planking on your hands or elbows. 
Erectors
Your erectors spinae, or erectors for short, extend up either side of your spine. These powerful muscles are used in hip extension, flexion, and side-to-side spinal rotation. In the plank, they keep your spine straight and aligned with the rest of your body. 
How To Do a Plank Exercise With Proper Plank Form
To ensure you do planks with proper form, follow the steps below:
Start on the floor on your hands and knees.
Place your forearms on the floor with your elbows directly under your shoulder for the best plank form. Your hands can be relaxed, in fists, or resting on the floor.
Walk your feet back until they are fully extended behind you, holding you up on your toes, similar to a push-up position.
Ensure your head, shoulders, hips, and knees are in a straight line, almost parallel to the floor.
Flex your core muscles tightly and hold this position for a set period, usually 30+ seconds.
Rest for 60 seconds to 2 minutes, then repeat until you've completed the desired number of sets.
If planks on your toes and elbows are too challenging, start by doing them on your hands first. Learn the differences between planks on your elbows and planks on your hands in Are Planks Better on Elbows or Hands? (Pros & Cons).
Common Plank Mistakes and How To Avoid Them
As you work on achieving the proper plank position, avoid these common mistakes that take away from the benefits your abs are trying to get!
Planking Too Long
Above all, don't plank longer than you can hold the proper plank posture. No matter what element of the plank starts to break down, once it does, you're better off resting and recovering for a few minutes and doing another set when you can do it with good form.
The whole point of the plank is to make your abs work to stabilize your body. As your form breaks down, you lose that targeting. If you let your hip flexors, lower back, or shoulders take all the work away from your abs, you're not getting the benefits anymore. You should stop, rest, and do it again when you can hold the plank with proper form.
If you want to do better planks, don't plank longer — just do it with perfect plank form and squeeze your abs harder in the shorter time you do it!
High Hips
One of the ways your form can break down is by pushing your ups up too high in the air. This position disengages your core, so the plank no longer targets your abs, removing all benefits of the plank.
Have a camera set up at your side, or have a friend watch your plank form. Ensure your hips are level with your shoulders and knees and not jutting into the air.
Sagging Hips
The alternative to high hips is letting your hips dip or sag toward the ground as you plank. This strains your hip flexors to keep you up and gives your abs a break, which you don't want during a plank.
Commonly, this is the first sign of form breakdown after you've been planking for a while. You could also be doing it from the very start if you aren't paying attention.
Keep those hips tight and aligned with your torso and thighs to avoid sagging.
Twisting
Another common mistake is twisting your hips or leaning more to one side as you plank. This engages your obliques and erectors. Again, you don't want to do this because if they start working more, it takes away from the work you want your abs to do to get the targeted benefits.
Keep your hips level and even with the floor, and resist the temptation to twist to one side or the other to try to get a break during the plank!
Benefits of Planks
Planks are a fantastic exercise that offers a range of benefits, but here are the top four that come to mind for me:
Strengthens your core
Improved mental endurance
Can be done anywhere
No lengthening or contracting of the muscle
Strengthen Your Core
At the end of the day, you probably do ab exercises to get stronger abs, and planks are great for that.
As you train these regularly and progress them over time by improving your technique, holding them longer, or engaging your core more intensely, your abdominal muscles will respond to the stress and get stronger!
For this reason, planks and plank variations are some of the best ab exercises for powerlifters.
Improved Mental Endurance
One of the hardest parts of isometric holds, like the plank, is fighting through the urge to quit, to end the pain and drop to the floor. 
Similar to ice baths, planks are a great way to train your mind to endure discomfort and put your desired outcomes higher in priority over your immediate comfort.
I continue to preach that mental toughness is the difference between lifters who reach impressive goals and those who don't. Lifters with mental toughness know what intense training feels like. They push their limits and, in doing so, reach their goals. 
Training planks is a great way to build that mental toughness and teach yourself to endure the discomfort to get the long-term results you seek. This mental toughness carries over to all other aspects of training and even your everyday life.
Can Be Done Anywhere
While planks are challenging, they don't require any equipment. They use your body weight and timed intervals to work your abs. You just need gravity, a few minutes of free time, and enough space to lie on the floor, and you can do planks!
You can even do planks as an alternative for cable crunches if your gym is crowded or you don't have access to a cable machine.
There are so many new fitness gadgets, gyms, and specialized equipment these days. We'll never use them all, but we have no excuse to avoid an exercise as simple and easy to perform as a plank!
No Lengthening or Contracting of the Muscle
I love isometric exercises because they aren't movements that repeatedly contract and lengthen your muscles to do the work. All you do is put the muscle in a position where it needs to resist load or gravity and let time run its course.
This makes planks a great option for new lifters or folks with a sedentary lifestyle. You don't have to worry about doing big movements or shocking the muscles by introducing movements that lengthen and contract the muscle. You can just put it in the position you want it and make the muscle work to hold it.
Even for developed athletes, isometrics are a fantastic inclusion in any program.
4 Different Plank Variations
While there are dozens and dozens of ways you can add variety to planks, they all fall under four main types of planks:
Standard planks
High planks
Side planks
Knee planks
Standard Plank
This is the plank we've been describing, where you rest on your forearms and keep your body in a straight line parallel to the floor.
High Plank
A high plank puts you on your hands with the elbows extended, like a starting position for a push-up. This position is very similar to the standard plank and offers similar benefits. 
Side Plank
The side plank rotates you onto your side, so one leg rests on the other, and only one forearm stabilizes your upper buddy. This version engages more of the erector spinae, obliques, and gluteus medius (one of the three glute muscles) to prevent the spine from twisting and the hips from tilting sideways.
Knee Plank
Knee planks, similar to push-ups from your knees, reduce the strain placed on the abs by having you anchor your lower body to the floor on your knees instead of your toes. This reduces the overall amount of body weight placed on the abs and changes the angle of your torso relative to the floor.
This is a great variation for beginners to build the initial strength needed to eventually move to a full plank.
How To Make Planks More Challenging
Once you know how to plank properly, you may want to give yourself more of a challenge. There are three ways to make planks more challenging:
Time
The most obvious way to make any plank variation more difficult is to hold it for more time. The longer you hold it, the longer your abs have to strain to maintain position, and the harder it gets to keep that position as the muscle fatigues.
So long as you maintain proper planking form, you should push yourself to add time to your planks to make them more challenging.
Load
Another way to make planks more difficult is to add load. This can be done by wearing a weighted vest or backpack or having a friend put weight plates on your back after you get into position.
Given this is an isometric exercise, you wouldn't want to load it so heavy that you can only hold the position for a few seconds. You still want to hold it for a good duration to allow the muscles to work for time under tension. But adding a few pounds as you go is a great way to make them more difficult.
Intensity
The most important way to make your planks more challenging is to make them more intense. You can do this by flexing and engaging your core muscles hard throughout the plank. Instead of simply resting and passively holding the position, think of your core as a muscle you are trying to flex and engage hard the whole time.
This will severely increase the speed of fatigue, decreasing the time you can sustain the proper plank technique.
Before adding several minutes to a passive plank, I would absolutely recommend getting good at increasing the intensity of your planks for shorter periods.
Who Should Avoid Doing Planks?
Planks are a great exercise for all the reasons we've discussed, but they aren't for everyone! As much as athletes and people in everyday life benefit from them, some folks should avoid them in specific circumstances.
If you are experiencing any injury or medical limitations, talk to your doctor or medical professional before adding planks to your exercise routine.
Outside of that, everyone from professional athletes to folks who sit a lot during the day (thus weakening the core muscles) should consider making planks part of their exercise program.
Frequently Asked Questions
How Do I Know If My Plank Form Is Correct?
If you maintain the proper form for a plank, your body will be aligned from your head to your toes, with your knees and hips in line with the rest of your body as you brace yourself parallel to the ground while resting on your forearms and toes.
Is It Better To Plank On Your Elbows or Hands?
Both variations are acceptable forms of planking. Planking on your hands places a slightly different angle on your abdominal muscles, which many argue is easier to hold. Performing planks from your forearms/elbows is generally more difficult to sustain over time.
How Long Should a Beginner Hold a Plank?
Beginners should hold a plank for as long as possible without losing the proper plank posture. The number doesn't matter as much as learning the proper way to plank. Start with 10-20 seconds and video yourself from the side or have a friend watch you to see how long it takes before your form breaks down, and go from there.
Which Plank Position Is Most Effective?
The most effective plank position is from your elbows and toes. With your body nearly parallel to the ground and your hips and knees aligned with your head and shoulders, your abs should experience optimal strain to hold the position until they're fatigued to the point you can't continue.
---
About The Author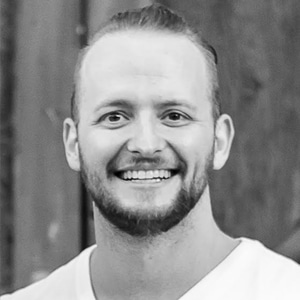 Adam Gardner is a proud resident of Utah, where he lives with his wife and two kids. He has been competing in powerlifting since 2016 in both the USPA and the APF. For the past three years, he and his wife, Merrili, have coached beginning lifters to learn the fundamentals of powerlifting and compete in their first powerlifting competitions.