You may wonder why back extensions are so frequently included in strength programs and why it's such an important exercise. To understand why you're doing it, you should know which muscle groups it targets and their role in the movement.
So what muscles are used in the back extension? The spinal erectors and the lower back muscles are the main muscle groups worked in the back extension. They help you stand upright when you're in a bent-over position. The glutes and hamstrings also play a role in extending your hips as you lift your torso.
In this article, I'll review each of the muscles used in the back extension exercise and discuss ways to identify weaknesses in each of the back muscles that are involved in the back extension. I'll also discuss the muscles used in back extension alternatives.
What Are Back Extensions?
Back extensions are one of the most effective exercises for targeting your lower back muscles and spinal erectors. They're often called hyperextensions and involve the spine's extension and flexion.
This isolation exercise is often performed with body weight only. However, you can also hold a weight plate or dumbbell to make the exercise harder. It primarily targets the lower back but also incorporates some glute activity.
Benefits of Back Extension Exercises
All back extension exercises provide many benefits for lifters of all levels. Here are some of the main benefits of the back extension exercise:
Stronger Posterior Chain
Improved Hip Extension
Better Posture
Reduced Risk of Lower Back Pain
Stronger Posterior Chain
The back extension targets the muscles in the lower back and the erector spine, glutes, and hamstrings. Each of these posterior chain muscles aids in hip extension and stabilization of the spine and pelvis.
Improved Hip Extension
Properly engaging your lower back muscles during the back extension exercise requires you to extend and flex the hip joint effectively. Practicing back extensions and relevant alternative exercises will improve your hip flexion and extension capabilities.
This will not only improve your exercise performance but will also improve your form outside of the gym. You use your hips to bend down when picking something off the floor or reaching into a low cupboard.
Better Posture
The modern-day lifestyle revolves around bending over computers, laptops, and phones, which can clean to poor posture and upper body aches.
Back extensions improve your core strength on the posterior and anterior chains to a lesser extent. This in and of itself can improve posture by strengthening the muscles that lengthen the spine and keep you upright.
Reduced Risk of Lower Back Pain
Every exercise that targets the lower back will help to strengthen the muscles in this area and reduce the risk of chronic pain. Back extension exercises improve posture and stretch the lower back muscles and spinal joints, which further reduces the risk of aches and pains.
Can't do a back extension? Check out our Best Back Extension Alternatives
How To Do Back Extensions
Here is a step-by-step on how to perform the back extension with proper form to maximize your gains and minimize the risk of injuries:
Adjust the back extension machine to a 45-degree angle or to the angle at which your hip bones sit just above the cushion.
Place your feet on the platforms at the bottom of the machine hip-width apart and rest your hips on the cushion.
Cross your arms over your chest or hold a weight plate to your chest if you add extra resistance to the exercise.
Keep your pelvis neutral and your spine straight. Tuck your chin down toward your chest like you are holding an egg, and round your upper back slightly into a hunched position.
Lean forward over the hip pad until your spine is at full extension.
Squeeze your glutes and core to return to the starting position.
Pause for a split second before repeating this movement.
Muscles Worked While Doing Back Extensions (Basic Anatomy and Biomechanics)
While many consider the back extension to be an isolation exercise for the lower back, it also works a few other muscle groups.
The muscles used in the back extension are the :
Erector spinae (muscles that run up and down the spine)
Quadratus lumburom (muscles on the sides of your lower back)
Glutes
Hamstrings
Erector Spinae
The erector spinae are a group of three different muscles that run up the length of the spine: the illiocostalis lumborum, the longissimus thoracis, and the spinalis.
In the back extension, these muscles aid in the extension of the spine as you're raising yourself back up from a bentover position.
Quadratus Lumborum
The quadratus lumborum is a muscle deep in your abdominals that sits on each side of your lumbar spine in your lower back.
Together with the erector spinae, this muscle aids in extension of the spine during the back extension. It also acts as a stabilizer and prevents your spine from twisting as you're lowering and lifting your torso.
Glutes
While the glutes aren't the primary muscle group used in the back extension, they do extend the hips as you straighten your torso.
To activate the glutes even more, you can perform a back extension with your upper back rounded. I generally don't recommend doing this when you're new to the back extension because it can lead to you arching your lower back as well if you're not careful, and that places extra stress on the spine.
But if you're an experienced trainee, you can experiment with this variation. The rounded upper back reduces the range of motion so your glutes remain engaged the entire time rather than just coming into play as you lift yourself back up.
Hamstrings
The hamstrings aren't completely isolated during the back extension, but together with the glutes, they aid in hip extension as you're returning to a more vertical position.
Can't do a back extension? Check out our Best Back Extension Alternatives
Top Form Tips for Back Extensions Exercises
Back extension exercises can be tough to get right but it's important to learn the proper form before you attempt them. Doing so helps you to avoid injuries and get the most out of your workouts.
Here are some top tips to help you perfect your lower back extensions, including things to do and things to avoid:
Don't Rely On Momentum
Avoid Overextending Your Back
Avoid Adding Too Much Weight
Don't Rely On Momentum
Using momentum leads to increased engagement of the lower body muscles, neck, and arms instead of the lower back. Relying on momentum not only reduces the effectiveness of the exercise but also increases your risk of injury
With any back extension exercise, it's important to take things slowly. Every rep should be controlled and you should not be using on momentum to swing yourself up and down. Instead, you should always engage your core to control every rep's concentric and eccentric portions.
Avoid Overextending Your Back
Although the back extension is also known as the hyperextension, this name shouldn't be taken literally. Many beginners (and even some experienced lifters) make the mistake of overarching their backs during the exercise. Doing so is unnecessary and can increase your risk of a serious back injury (such as a slipped spinal disc or spinal disc fusion) that could put you out for several weeks.
Avoid Adding Too Much Weight
I recommend that beginners start with no extra weight at all and slowly build up their core strength before using any additional weight. If you plan to eventually incorporate weights into your back extension routine, you should always start off with a light weight. A gradual approach will allow your body to adapt to the added resistance without risking muscle strain and injuries.
Identifying Weak Muscles in the Back Extension
The back extension may not be quite as technical as the squat or deadlift, but it is possible to have muscle weaknesses that prevent you from executing the movement properly.
Many of the common mistakes of the back extension are due to technical flaws, but they can also be caused by weaknesses in the muscles involved in the movement. Let's look at some of these mistakes and discuss why they point to muscular weaknesses.
Hyperextending The Back
Back extensions are sometimes also called hyperextensions, but that doesn't mean you should actually be hyperextending your back at the top of the movement.
If you find yourself doing this, it could stem from a lack of control and positional awareness. Having a trainer watch you or filming yourself while you're doing back extensions can let you see if you're moving through too large of a range of motion. You'll then be able to practice and correct yourself the next time you do the exercise.
Trouble Keeping Your Spine Rigid
You may have weak spinal erectors if you find it difficult to maintain a rigid torso during the back extension. And while the back extension will help you strengthen those muscles, it's not worth doing if your weaknesses prevent you from doing it correctly.
Not being able to keep your back flat could also mean that your traps and rhomboids are weak. While they aren't heavily involved in the back extension, they do play a role in helping you keep your shoulders down and back, which is important for maintaining a rigid spine.
It should also be noted that this is different than intentionally rounding your upper back to activate more of the glutes, as I described above. If you physically cannot keep your back straight during the back extension, it's a sign that you have other muscular weaknesses to address.
Trouble With The Hip Hinge
The hip hinge sounds simple, but it can be difficult for many people to perform while maintaining a neutral spine. It's especially challenging for people who sit all day for work, which causes tightness in the hips.
If you're having trouble mastering the hip hinge, it could be a sign that you have poor hip mobility, which is also a common indicator of weak glutes and hamstrings.
To overcome this, you should incorporate 10-15 minutes of mobility work every day while also working on your glute strength through exercises like hip thrusts.
Lower Back Pain After Doing Back Extensions
You can expect a small amount of lower back fatigue after doing back extensions, but you shouldn't have debilitating pain. If you do, you are likely moving through too large of a range of motion, as I already explained above, or letting your lower back round throughout the movement.
As is the case with hyperextending your back at the top, letting your lower back round can also be due to a lack of body awareness. But it could also point to weak abdominals or an inability to brace your core properly.
A strong core is just as important as a strong posterior chain, and if you aren't working on strengthening the front of your abdominals, your lower back could be overcompensating. You may benefit from adding some direct core work to your routine.
Read more: Back Extensions vs Deadlift – Head to Head Comparison
Muscles Used in Different Variations of the Back Extension
Each back extension variation works many of the same muscle groups as the back extension, but certain muscles are activated more or less depending on the movement.
Supermans
Supermans are an equipment-free variation of the back extension exercise. They're done by lying face-down on the floor with your arms outstretched and lifting your chest and legs as much as you can. Because you're on the floor, Supermans don't provide a large range of motion, but they work the lower back, glutes, and hamstrings.
In addition to performing spinal extension, as is the case in the back extension, the spinal erectors are also responsible for spinal flexion. When doing Supermans, they allow you to flex your spine in a backward motion as you're raising your chest and legs from the ground.
The glutes are also activated as you lift your chest and legs. And despite the limited range of motion, some hip extension is involved in the Superman, which is where the hamstrings come into play.
How To Do Supermans
Lie down on your stomach with your arms extended in front of you in line with your head and body and your legs extended fully behind you.
Keep your head and neck neutral, and look down at the floor.
Engage your lower back muscles and lift your arms, upper chest, and legs off the floor simultaneously. Try to keep your arms and legs straight as you do so.
Hold this position for a few seconds, keeping your back muscles engaged throughout.
Slowly lower your arms, chest, and legs back down to the ground, and repeat this for your desired number of repetitions.
Reverse Hypers
Reverse hypers are slightly different from standard back extension exercises, but they still target the glutes, hamstrings, and lower back.
Reverse hypers are sort of like a reverse hip hinge. Instead of starting vertically and hinging forward at the waist, you start hinged and swing your legs out behind you.
When doing a reverse hyper, you'll rest your torso on a reverse hyper bench or another elevated, stable surface that allows your legs to hang down with your feet off the ground. You then use your lower back, glutes, and hamstrings to swing your legs back.
All three muscle groups work in tandem to extend the hips as your legs move behind you, and your body becomes more horizontal to the floor.
How To Do Reverse Hypers
Position yourself on the reverse hyperextension machine with your hips resting on the pad and your legs hanging off the back. Hold the handles on the machine.
Engage your lower back muscles and lift your legs until they parallel the floor.
Hold this position for a few seconds, before carefully lowering your legs back down to the starting position.
Repeat for the desired number of reps and sets.
Good Mornings
Good mornings are a barbell exercise in which you bend forward at the waist while holding a bar across your back. This is an excellent exercise for people who want to strengthen the posterior chain but don't have access to a back extension machine.
In the good morning, the spinal erectors work to extend the spine as you return to a standing position. They also help stabilize the spine and keep it in a neutral position.
The glutes and hamstrings are also responsible for hip extension in all back extension exercises and are activated when you lift your torso back up.
How To Do Good Mornings
Stand with your feet shoulder-width apart, pointing forward.
Hold a barbell on your upper back, gripping the bar on either side of your shoulders.
Keeping your spine neutral, hinge at your hips and lower your torso towards the ground. Bend until your back is almost parallel to the floor.
Pause for a few seconds, before returning back to a standing position.
Repeat for the number of reps and sets in your training program.
Romanian Deadlifts
Romanian deadlifts are another barbell exercise that strengthens the posterior chain, but you can do them with dumbbells, kettlebells, or bands as well. Back extension exercises can be a great exercise to complement deadlifts.
Romanian deadlifts are typically performed with just a slight bend in the knees. This allows for greater activation of the hamstrings. They work to extend the hips and move them towards the bar as you rise from the bottom of the movement.
The spinal erectors also aid in hip extension, but their primary role in the Romanian deadlift is stabilizing the spine and preventing you from rounding your back.
And just like in the back extensions, the glutes extend the hips as you lift your torso from the bottom position of a Romanian deadlift.
How To Do Romanian Deadlifts
Stand with your feet shoulder-width apart, holding a dumbbell in either hands down by your thighs.
Engage your core, keep your spine and neck neutral as you hinge at the hips, and bring your torso forward. As you do so, keep the dumbbells close to your shins.
Extend until you feel a nice stretch in your hamstrings, pause for a second, and return back to a standing position.
Repeat for the desired number of reps and sets.
Frequently Asked Questions
When Should You Avoid Back Extensions?
Back extensions are suitable for most gymgoers. However, you might need to avoid them if you have a lower back injury. You should always speak to a physical therapist before reintroducing back extensions into your program following a severe injury to avoid further problems.
Are Back Extensions Good for Glutes?
The back extension exercise is great for targeting your glutes as long as you perform it properly. It isolates the motion of hip extension, which primarily requires your gluteal muscles. However, if this is your goal, it's important to note that there are better back extension variations for glute hypertrophy, such as squats and hip thrusts.
Final Thoughts
The back extension is an excellent exercise for working the spinal erectors, glutes, hamstrings, and lower back muscles.
The spinal erectors are the primary muscles involved in the movement because they aid in spinal extension as you rise from a bent position. The quadratus lumborum in the lower back also helps keep your spine from rotating while the glutes and hamstrings work together to extend the hips.
There are several variations and alternatives to the back hyperextension if you don't have access to a back extension machine. For example, Supermans are a bodyweight exercise that can be done anywhere, while good mornings and Romanian deadlifts can be done with a barbell and plates.
I'd also recommend doing Romanian deadlifts and good mornings in place of back extensions if you want to target your hamstrings more.
Other Back Extension Resources
---
About The Author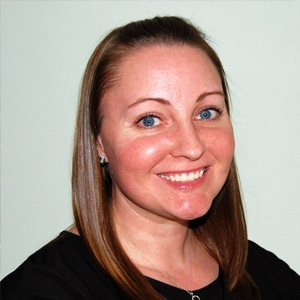 Amanda is a writer and editor in the fitness and nutrition industries. Growing up in a family that loved sports, she learned the importance of staying active from a young age. She started CrossFit in 2015, which led to her interest in powerlifting and weightlifting. She's passionate about helping women overcome their fear of lifting weights and teaching them how to fuel their bodies properly. When she's not training in her garage gym or working, you can find her drinking coffee, walking her dog, or indulging in one too many pieces of chocolate.