PowerliftingTechnique.com is independent and supported by our readers. We may earn a commission if you buy through the links below. For more, see our disclosures page.
Improving your bench press comes down to nailing your technique but also doing exercises that can help you optimize your strength potential.
The barbell bench press is a compound exercise that is common in the sport of powerlifting. It's usually considered the "king" of all chest exercises.
It can also be a very challenging exercise to progress, and it's easy to hit a plateau.
To continue your progression, here are 18 exercises to increase bench press strength:
Generally speaking, you will need to bench press to get better at bench press. However, other exercises will help build muscle and strength in key muscles and will ultimately support your progress.
In this article, you'll learn various ways to improve your bench strength with accessory exercises. I've broken them down by muscle group so you can select accessories based on your own weaknesses.
What is the Fastest Way to Improve Bench Press Strength?
Exercise Selection and Specificity
The fastest way to improve your bench press is through exercise selection. This means choosing relevant exercises that will transfer directly to the barbell bench press or build muscles that will help you develop more strength.
Exercise selection goes hand in hand with specificity, meaning your training should be specific to your goals. In short, you should be bench pressing to bench press more weight.
However, beyond just bench pressing, there are other exercises you can select when developing your bench press workouts for yourself to work the upper body in a way that's conducive to your goals.
Technique
Beyond exercise selection and just benching more frequently, your technique may also hold you back. If you fear this is something you need to address, check out some of our other articles that go into what you can do to fix it:
How To Select Exercises To Increase Your Bench Press
Regarding exercise selection, it's important to understand the main muscle groups involved in the bench press. I always like to break down an exercise to the individual muscles I want to target. This way, selecting other exercises you can use that target the same muscles becomes much easier.
Looking at the bench press, there are a few prime movers that are going to be crucial. A "prime mover" is simply a primary muscle used in any exercise. The primary muscles for the barbell bench press include:
Chest – pectoralis major (large muscle on the front of the torso, usually referred to as the "pecs")
Shoulders – anterior deltoid (front of the shoulder)
Triceps – triceps brachii (large muscle on the back of the upper arm)
Back – latissimus dorsi, rhomboids, and trapezius (muscles throughout the back)
Normally I would recommend you have a balance of bench press accessories that cover all these muscle groups, but if you find you are weak in a certain area and it's holding back your strength, you may want to focus on it for your next block of training.
Also note that both growing the muscle and building strength in the muscles are valuable assets for your long-term progress, meaning you can implement several of these exercises with different rep schemes for results.
Read more: Exercises to Increase Your Bench Press By 50 lbs
5 Chest Exercises to Improve Bench Press Strength
The chest is the most obvious muscle when we think of the bench press and is definitely the largest mover. An easy way to remember which exercises focus on the chest is by breaking it down into 2 types of movements: presses and flys.
Typically, fly movements are reserved for building muscle, while presses can be used for muscle building and strength.
1. Pin Press or Dead Press
The pin press and the dead press are two similar exercises where you don't place the barbell on your chest but rather on raised safeties.
The pin press is performed the same way as a bench press, where the start and end position are with your arms locked out, whereas a dead press starts and ends from the safeties.
These exercises both address building strength off the chest and are a great accessory choice. The dead press is a better choice for increasing your bench press if you struggle with maintaining a good bar path and not having strength at the chest.
2. Incline Bench Press
The incline bench press is another barbell bench press alternative to regular benching that emphasizes the upper region of the pec muscle and the shoulders.
If you fail your bench at the chest, particularly if you have a large arch or at the mid-range of the lift, an incline bench may be an important exercise to add to the roster.
The incline bench press is set up like a bench press, except the bench is placed at about 55 degrees and can be both a main lift to swap out with your normal bench or an accessory you do after a few sets of regular benching.
To learn more about the utility of the incline bench press for powerlifters, check out: Should Powerlifters Do Incline Bench Press? (It Depends)
3. Dumbbell Bench Press
Dumbbell press variations mimic the bench press, can help build the chest, and are especially great for ensuring both sides of your body work just as hard.
We all have a dominant side, and beginners especially can sometimes really favor one arm over another; therefore, adding dumbbell pressing can be a great way to provide equal stimulus to both sides.
Also, when it comes to bench press variations, the dumbbell bench press can be a perfect alternative for muscle growth.
You can modify the dumbbell presses similarly to barbell pressing by slowing down the tempo, pausing at the chest, or moving the bench into an incline, flat, or decline position.
4. Dumbbell Chest Flys
While dumbbell chest flys are less specific to bench pressing, they are a great accessory movement for building and targeting the pecs.
The use of dumbbells allows you to use each arm individually and helps build strength equally on your left and right side additionally, it is a movement where most people feel the isolation of their pecs, more so than in pressing movements.
If dumbbell chest flys aren't your cup of tea, you can swap it out with a cable chest fly or a pec deck machine to accomplish the same thing. The cable or machine variations are good for maintaining the same amount of resistance on the eccentric and concentric and can be a great muscle-building tool.
Can't do a dumbbell fly? Check out my article on the best dumbbell fly alternatives.
5. Deficit Push Ups
While push-ups, in general, are a great chest exercise, especially for anyone with limited equipment, deficit push-ups, in particular, are a great choice for improving bench press progress.
With a deficit push-up, your hands are elevated by plates, a platform, or handles, and you lower your body to the floor the same way you would with a typical push-up. This method allows you to get extra range of motion and stretch the chest a few extra degrees.
You can think of the movement as a bench press flipped around, where you are pushing the ground away from you instead of pushing a bar.
Read Another Push Up Guide: Why Do I Feel Push Ups In My Shoulders?
3 Shoulder Exercises to Increase Bench Press Strength
The shoulders are sometimes forgotten when we think of bench pressing, but that's because they are inherently involved in most upper body exercises for the chest and back.
However, it's important to maintain the health of our shoulders to make sure we can maintain their position in the bench and load them over and over again with heavy weight.
Shoulder movements included pressing, raising, and pulling apart.
6. Overhead/Strict Press
The overhead press, sometimes called a strict or military press, is a barbell movement that will help you build strength in the shoulders. This is especially a good movement to choose if you fail your bench in the mid-range or touch your bar lower on your chest.
The overhead press starts with the barbell sitting on the top of your chest, with your head pushed back and out of the way. The bar is then raised above your head, as your head then pops through so that at the top of the press, the bar is floating directly above the crown of your head.
The overhead press can be used to focus on either strength or hypertrophy, as you can increase the load more than you would be able to with just a dumbbell shoulder press.
To read more about the overhead press, check out: Does Overhead Press Help Bench Press?
7. Band Pull Aparts/Reverse Flys
While the front of the shoulders gets attention through many movements, the back of the shoulders often are left neglected. The rear deltoids, although not a huge mover in the bench press, are critical in maintaining good shoulder health and mobility.
A strong bench press can only be strong if you aren't in pain or discomfort. Therefore band pull apart or other reverse fly-like movements are necessary for a healthy, strong bench press.
Reverse flys can be done with light dumbbells, but just hinging at the hips and raising your arms up like wings. Band or cable pull aparts are done from a straight standing position and involve, quite literally, pulling apart a band or pulling back a cable.
You can also add rotation to these movements. When performing the rep, think about rotating the thumb behind your body (at the top of the rep). This can help build additional strength and stability in the shoulder and rotator cuff.
8. Front and Lateral Raises
Front and lateral raises are conventional shoulder movements you'll find many gym-goers doing, and they really are great tools for building muscle in the shoulders. Having more muscle mass on the delts will, in turn, help you further your strength and open up more potential with the bench press.
Lateral raises primarily target the lateral or medial deltoid. There are various ways to do lateral raises, with straight elbows, bent elbows, slight lean forward, seated, standing, or even with a cable, and they primarily focus on the lateral or top of your shoulder.
Front raises primarily target the anterior deltoid. Front raises are typically done with dumbbells and in a straight standing position; however, you can angle your arms to either be directly in front or slightly away from you. You can also adjust your grip to be neutral, pronated, or supinated.
For the purposes of powerlifting and just building shoulder size, I would recommend doing front raises with a neutral grip (this is where your palms would face one another).
When compared to lateral raises, the front raise will get you more activation with the front of the shoulder. Both exercises are important to include for long-term shoulder health and stability.
6 Tricep Exercises to Increase Bench Press Strength
Triceps are an incredibly important muscle group in the bench, and their moment to shine comes during lockout. If you have trouble with finishing your bench press even when you can get it off your chest, that's a sign your triceps need attention!
Tricep movements primarily involve elbow extension through pushdowns, push ups, and presses. For powerlifters, the types of movements can be broken down more simply into tricep isolation movements and compound variations that mimic the bench lockout.
For a deeper dive on tricep exercises to improve your bench, check out:
9. Close Grip Bench Press
The close grip bench press is a compound movement nearly identical to the bench press except that your hands should be placed about 1-2 fist lengths inside your regular grip.
In this variation, your triceps will be more activated throughout the movement, and you will still be able to keep the benching specificity by incorporating this into your program.
The term "close grip" can be applied to many different exercises. It does not only have to apply to traditional bench presses. You can add this alternative to just about any exercise that you want. For example, close grip incline press, close grip dumbbell press, and close grip push-ups.
This can also be a more comfortable variation if you have issues with your rotator cuff (these are muscles responsible for stabilizing the shoulder joint during movement). If you have a current or past injury in a rotator cuff muscle, I highly recommend seeing a medical professional if you haven't already.
You can also try performing the close grip press with dumbbells instead of a barbell. I like to keep my hands and the dumbbells in a neutral position while pressing. You can even try rotating the palms in toward you. This can be more comfortable if you have shoulder discomfort while pressing.
To learn more about close grip bench, check out: Close Grip Bench Press Benefits (Plus, 1 Drawback)
10. Tate Press
The Tate press is a lesser-known exercise, but it activates the triceps and mimics the lockout of a bench press a little more than something like a dumbbell kickback.
This exercise can be done flat or on an incline, and it involves holding dumbbells with locked out arms and then lowering the weights down and in toward the center of your chest and then extending back out.
11. 2-Board Bench Press
The board bench press is an exercise where a board is held on your chest, and you work in the top range of motion rather than lowering the bar all the way down to your chest.
This is extremely specific to the part of the lift you're likely trying to improve, and so it is a great exercise to help you add pounds to your bench press and create a solid lockout. Those who train alone can purchase Bench Blokz that attach directly on the barbell.
12. Tricep Pushdown
The tricep pushdown, using a straight bar cable attachment, is one of the best isolation exercises for the triceps and will serve as a great muscle building tool.
While the tricep pushdown doesn't necessarily provide specificity, it does provide activation of the muscles and will contribute to building mass in the arms. Over time this will contribute to your performance on the bench and your ability to continue building strength.
Make sure to keep your elbows as still as possible and focus on the triceps pushing the bar downward.
Need an alternative to the tricep pushdown? Check out my article: Best Tricep Pressdown Alternatives
13. Dips
Dips are an excellent exercise and are unique in the way they activate both the triceps and the pecs, making them a great accessory for bench press enthusiasts. This movement can be difficult for those with sensitive shoulders, so it may not be the best exercise for everyone.
To get more triceps involved, you will want to keep a more vertical posture, whereas if you wish to get more chest involved, you'll want to lean forward a bit. You can also make them more intense by using a weight belt and aiming for lower rep ranges under 10.
To add weight to your dips, you need a great dip belt. Or if you're looking for other chest exercises that you can do standing up? Check out my article on the Best Standing Chest Exercises. Or, if you can't do dips, check out the best dip alternatives.
14. JM Press
Invented by JM Blackley, the JM press is probably one of my favorite tricep exercises out there. It is pretty much a combination of the barbell close grip press and a skull crusher.
This is definitely a more advanced exercise, I would first recommend being comfortable with both the close grip bench press (which we talk about in this article) and the skull crusher before trying the JM press.
4 Back Exercises to Improve Bench Press Strength
It may seem strange to include back exercises for improving the bench press; however, the upper back and lats are involved, particularly when it comes to lowering the bar in a safe and efficient manner.
While there are a plethora of back exercises, some will help not only work the back but also cue the retraction of your shoulder blades. You may want to prioritize these exercises if you find your arch tends to collapse or you find it difficult to keep your shoulders retracted while pressing.
Another way to think about it is when selecting these types of exercises. Your best bet is to pick exercises that closely resemble the movement of the bench press. These exercises may not target the chest muscles directly, but they can still be used to boost your bench press numbers.
You can read more in my articles on How Do Powerlifters Train Back? and Does a Strong Back Help Bench Press? (Yes, here's how)
15. Lat Pulldown
The lat pulldown is a seated cable exercise that focuses on the lats and provides a great opportunity to activate the muscle and truly feel what shoulder retraction feels like.
It can be used as both a warm-up tool before you bench and an accessory movement for building lat size and strength, which will help you maintain a stronger arch and hold your shoulders in place when benching.
A wide grip (similar to your bench grip) is ideal here.
I also recommend trying to "recreate" your bench position while seated. It would probably more resemble a barbell overhead press, but the principles are the same. I like maintaining a slight arch in my back and creating a "proud chest," just like I would in any other bench presses.
16. Barbell Row
The barbell row is a good exercise to include as an accessory because you can load it relatively heavy and require using your upper back.
In addition, squeezing your shoulder blades together at the top of the movement is similar to how you should be squeezing your shoulder together while setting up for a bench press.
Therefore, the barbell will be a good choice for building some muscular awareness in the upper back and help you maintain that squeeze even when bench press reps become difficult.
This is another great example of your accessory movement resembling the bench press. A barbell bent over row is essential for the barbell bench press in reverse.
Another great variation for the barbell row is the seal row. This is traditionally done lying down on a flat or incline bench.
17. Inverted Row
The inverted row is a back exercise that actually has a similar movement pattern to both the bench press and barbell row, except it's your body that's moving instead of the barbell.
This feature makes it a great back exercise that is a bit more specific than other options. It can also be used as a warm-up/activation exercise to cue your lats and shoulder position as well as an accessory to build muscle and strength.
To do the movement, you will need to set up a barbell low on a rack and sit on the ground with your feet out in front of you. Then grab the barbell and row/pull yourself up to the bar. If keeping your knees straight is too challenging, you can also keep them bent.
You can also use TRX bands or other similar straps. I generally prefer setting up with a barbell, but the TRX bands are a fantastic alternative.
Related Article: Best Inverted Row Alternative (With Pictures)
18. Pull-Ups
Pull-ups are a bodyweight exercise that allows you to build your lats and ultimately build control during the eccentric phase of the bench press.
Pull-ups can be a difficult exercise for many, but you can do them assisted on a machine or with a band until you are able to progress. Alternatively, you can also do a jump to slow eccentric pull-up when you just focus on the lowering part of the exercise.
Additional Tips To Increase Your Bench Press
Outside of selecting bench press variations and different accessory exercises, here are some of my favorite tips or cues when it comes to performing the bench press or training others.
Pull the Bar Apart
This is pretty simple and straightforward. As you set up for your first rep, think about trying to split the bar by pulling it apart in the center.
You can help train this by using a lighter resistance band and having it looped around your wrists. This modification will require you to actively fight the band from pulling your wrists in.
Imprint Your Pinkies In The Bar
When performing the bench press, I like to focus the grip on the pinky. My thought process is, if I can grip with my weakest finger, then my stronger fingers should have no problem holding on.
I like to keep pressure on the pinky side of my hand. When I press the bar up, I think of driving on the ulna side of my forearm.
Drive Into The Ground
The bench press is a "full body" exercise in my eyes, and one of the most important cues is to drive your feet into the ground as your bench press. The more you press into the ground, the more you can press above your body.
I like to keep my quads tense as I start my rep, pretty much as the bar is lowering. Then as I drive the bar back up off my chest, that is when I try to extend my quads into the ground.
Read more: Do Push-Ups Help Your Bench Press?
Frequently Asked Questions
When discussing whether certain exercises improve the bench press, these are the most frequently asked questions that I get:
Do Push-ups Help Bench Press?
Yes, push-ups and push-up variations will help bench press strength because similar muscles like the pecs, triceps and delts are involved in pushing your body up similar to pushing the barbell off your chest. This is also an especially great accessory tool if you have limited equipment available to you.
Does Floor Press Help Bench Press?
Yes, the floor press helps the bench press because it is just a slight variation of the actual lift which focuses primarily on the triceps and lockout strength. Therefore, the floor press is a great lift for those who need to provide more stress on the triceps in a more bench press-specific manner.
Does Deadlift Help Bench Press?
Deadlifts may help your bench press through the strengthening of upper back muscles like the lats. The carry-over is likely not going to be as great as it would be with other upper body movements; however, deadlifts place your lats under very heavy loads, allowing for greater stability in the bench.
Does Dumbbell Press Help Bench Press?
Dumbbell press will help your bench press strength because the movement itself is very similar to the bench press and has the added difficulty of maintaining stability with each arm. It can be used for developing the chest as well as evening out strength between your left and right side.
Do Dips Help Bench Press?
Yes, dips can help improve your bench press because they activate the chest, triceps and delts, muscles crucial in the bench press. Dips can also be adjusted to focus more on the chest by leaning forward or staying upright and focusing on the triceps depending on your needs.
Do Chest Flys Help Bench Press?
Chest flys can help the bench press because of its ability to isolate the pec muscles. It is a great exercise best used to build the muscle tissue in your chest. Flys can be performed with dumbbells or cables as an accessory movement and should be used if you lack strength off the chest in the bench press.
Can I Get a Stronger Bench Press Without Bench Pressing?
Yes and no. If you are trying to improve at something, then you have to actually do it. However, bench pressing requires strong chest muscles so if you improve your chest in other ways, your bench press will get stronger. As we discussed in this article, we can definitely improve your bench press with different exercises.
For a head-to-head exercise comparison, check out my article on Dips vs Decline Bench Press.
Final Thoughts
The bench press is a staple exercise for so many, especially powerlifters, and building strength can be a challenge especially if you've hit a plateau or aren't sure about
However, understanding the basic muscle groups that are involved in the lift can help you address any specific concerns or just make sure you are building yourself a well-rounded muscular base that has the potential to push a lot of weight.
What To Read Next:
---
About The Author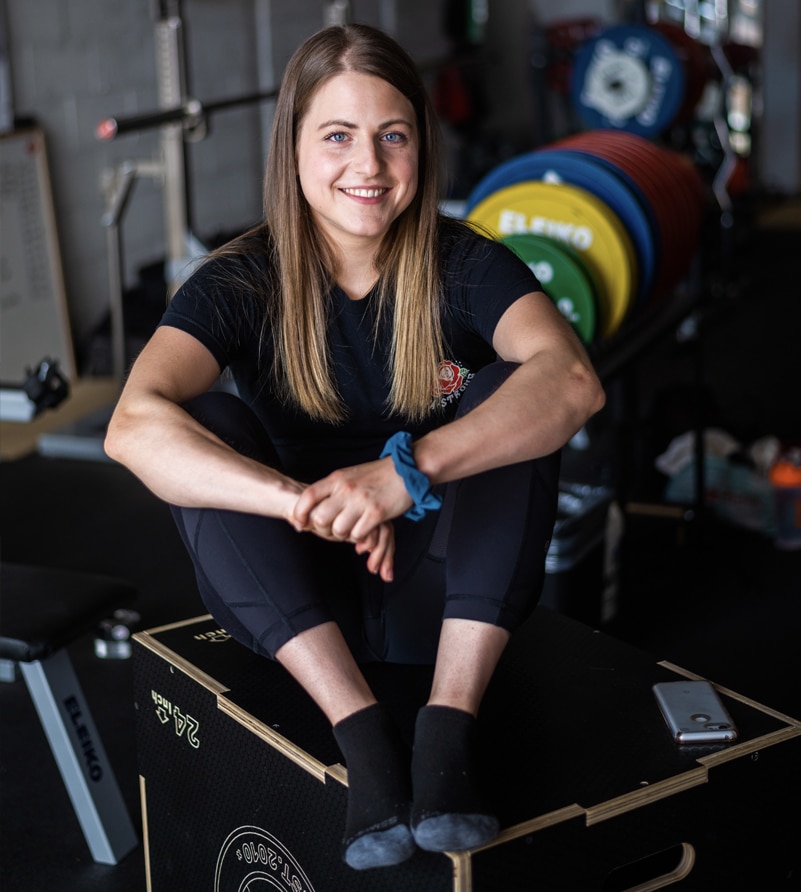 Elena Popadic has worked within the fitness industry for over 6 years, is co-host of the Squats and Thoughts podcast and trains and competes as a powerlifter. She has a BSc in Life Sciences from McMaster University, a Postgrad Certificate in Public Relations from Humber College and is currently pursuing a MSc Occupational Therapy at Western University. Connect with her on Instagram or LinkedIn.