Some links in this article are affiliate links, which means I earn from qualifying purchases.
If you have flat feet, you probably know the struggle of finding a proper shoe that provides your feet with comfort and support in your daily life, let alone deadlifts.
The problem with most deadlift shoes is that they are designed to be as minimal as possible in order to reduce the range of motion you need to pull the barbell off the floor. While this is a benefit to most lifters, it means deadlift shoes typically offer no arch support, which make them extremely uncomfortable for people with flat feet.
While not as popular, there are definitely some shoes for deadlifting that can provide both a minimal design and at least some arch support for those who have flat feet. It will always be a fine balance though between getting as close to the ground as possible, but still having your arches supported.
You just have to remember that if you're buying a deadlift shoe for flat feet, that you're only going to wear them during deadlifts, and then you will likely switch to another set of shoes that are going to be more comfortable for the duration of your workout.
So what's the best deadlift shoe for flat feet? I recommend the Sabo Deadlift Shoe Pro as the overall solution for deadlifting with flat feet because these shoes are designed to have a little bit of arch support while keeping the sole as flat and incompressible as possible. This way, the feet stay comfortable while still offering the benefits of a limited range of motion.
---
If you want to find out more about the top recommendations, features to consider as well as the types of alternatives to consider if you have flat feet, keep on reading!
If you want technique tips on how to deadlift with flat feet, then check out my other article.
Top 5 Deadlift Shoes for Flat Feet Available on the Market
The 5 best deadlift shoes for flat feet are:
The Sabo Deadlift Pro features an innovative construction that is designed to provide flat-feet lifters with the arch support they need. It's probably the only shoe on the market that was designed from the ground up with flat foot lifters in mind.
The shoe comes with a heel drop of about 1 mm that flattens out when you lift weights, which helps you distribute the weight all over your feet, taking out the stress off your arches.
What makes this shoe the ideal option for flat-footed lifters is that this one has a little bit of arch support to solve this problem. I haven't had any of my athletes with flat feet complain yet about wearing these shoes after switching from either deadlift slippers or converse shoes (which I would definitely not recommend for lifters with flat feet).
Also, the Sabo Deadlift Pros have a non-compressible 5 mm outer sole and no cushioning to help keep your feet as close to the ground as possible. This minimizes the range of motion you have to pull the barbell while maximizing the force transfer through the floor for maximum stabilization.
The double straps on both the metatarsal area and the midfoot section aren't only for security and added durability, but they also give you that extra tug that pulls up the midfoot section for a more supported arch, which is perfect for someone with flat feet.
As well, if you pull sumo, you're going to want to have the high ankle support and extra straps to help stabilize the ankle. So if you have flat feet and pull sumo, these are definitely your best bet.
Lastly, I also ranked the Sabo Deadlift Pro as the best deadlift shoe for wide feet as well, since it comes with a wide toe box. Many lifters with flat feet also have wide feet, so if you fall into this category then there's really no better option on the market.
Pros
Specifically designed for deadlifts and overcomes flat feet issues
Extra durable construction
Provide enough arch support while keeping your feet anchored to the floor
Cons
A bit pricey, but most specialty shoes that solve a specific problem (like flat feet) will come with a price tag
---
In addition to the Pro version, the Sabo Deadlift Shoe is easily one of the best all-rounders on the market, whether that's for someone with flat feet or not.
Despite being less suitable than the Pro version for a flat-footer, it still offers them an outstanding performance all the while staying relatively more affordable.
Here's a complete review I've written about these shoes, so you can find more in-depth information about the shoes' features.
At the highest point, the shoes are only 5 mm away from the ground while it keeps you at only 2 mm throughout most of the shoes.
This means that it keeps you as close to the ground as possible while maintaining a little arch support, making it excellent for those with flat feet.
Additionally, the shoes also support the arch indirectly through the metatarsal strap. This strap allows you to pull the midfoot section up to provide more comfort to the flat feet and support the ankles for different types of deadlifts.
I would get these shoes over the Pro version if you only need slight arch support and want to save a bit of money. However, if you need more arch support than most people, I'd still go with the Pro version.
Pros
Great value for its price
Thin and quite flat soles for the maximum connection to the ground
Designed for all kinds of deadlifts with traction pods
Cons
The metatarsal straps velcro isn't as durable as the fabric of the shoe
---
While many wrestling shoes aren't great for flat-footed lifters, the Asics Matflex 5 is one of the ideal options, especially if you're on a tight budget and looking for a relatively cheaper option for lifting.
These wrestling shoes are relatively flat and low to the ground, which allows you to anchor your feet to the floor through multiple points.
This reduces the range of motion of the feet to a minimum, which is essential for deadlifters to help transfer the force through the ground and keep you stabilized as much as possible!
Such features can be a huge advantage for a deadlifter because it gives them the maximum feel of the floor while lifting.
Moreover, these wrestling shoes have a grippy outsole that outperforms lifting on bare feet and prevents slipping and injuries.
Pros
A highly affordable option for buyers on a budget
Excellent traction and slip resistance
Decent ankle support to allow a midfoot arch lift
Cons
---
The ideal deadlift shoes for flat feet will usually be uncomfortable for moving around or doing various exercises in the gym.
However, if you're looking for lifting shoes that are still versatile enough to let you use them in every day life, the Inov-8 Bare-XF 210 might be the ideal choice for you.
What makes it suitable for lifting with flat feet is that these shoes have minimum padding and are only 3 mm outsole above the ground.
Yet, the non-compressible soles are slightly more flexible in these shoes, which makes them quite easier to wear and move around without affecting their performance during a lift.
Pros
A versatile option that can still be used for a variety of movements in the gym
Minimum cushioning and a relatively flat sole that is only 3 mm above the ground
Easier to wear than high-top shoes
Cons
---
Lastly, the Adidas Combat Speed 5 is an excellent shoe that is also suitable for deadlifts because it has a bit of arch support while staying mostly flat and as close to the ground as possible.
The shoes have a TPU sole that is relatively flat and very thin, which allows you to feel the floor while giving you enough wiggle room that is exactly enough room to clench your toes while lifting for added stability.
Another reason why I like these deadlift shoes for sumo is that they have an extra metatarsal strap that adds more support to the ankle. This kind of support is critical for the success of specific lifting techniques, such as sumo deadlifts.
Pros
Available in a variety of sizes and colors
The metatarsal straps support is great for ankle-stressing deadlift stances like sumo
Durable construction
Cons
The straps could've been a bit longer for extra tugging on the ankle
---
What To Look For in Deadlift Shoes for Flat Feet?
Arch Support
As a rule of thumb, a good deadlift shoe should have a flat sole with no cushioning or padding. This is necessary to keep your feet stabilized and allow you to anchor your feet to the floor.
However, for somebody with a flat foot, an entirely flat shoe would cause too much stress on their arch muscle
Sole Thickness and Rigidity
Deadlift shoes are great for one thing: deadlifting.
However, they're not ideal for walking around or other exercises because of how little padding and support they have.
While picking a shoe for deadlifts, you should look for one that has a non-compressible sole that is as thin and rigid as possible. A maximum of 2 to 5 mm should be enough.
This way, it keeps your feet as close to the ground as possible, which is essential for staying as stable as possible while lifting the bar up.
Remember, you only need to wear them during deadlifts, they don't need to be comfortable enough for you to wear during every day life.
Straps and Support
If you have a flat foot, you should look for every feature that will provide every possible bit of arch support.
Straps are known for their ability to improve your ankle support, especially when doing non-conventional deadlifts.
Additionally, an extra tug on the laces and straps doubles as an additional method to pull the midfoot section up.
Deadlift Shoes to Stay Away from If You Have Flat Feet
While there are many shoes and brands on the market that specialize in deadlift footwear, there are also various alternative and great options that many lifters have gone for through the years.
Since a person with a flat foot requires a specific shoe with very specific features, not all of the options out there would work for them. This also applies to squat shoes.
Here are some of the deadlift shoe options that people with flat feet should avoid:
Converse
If you take a look at the kind of footwear that powerlifters wear in the gym, there's a huge chance that you'll come across plenty of guys and girls who wear Chuck Taylor Converse Shoes for deadlifting.
Of course, there's a very good reason why these athletes decide to depend on converse shoes while hauling a ton of weight off the ground!
For starters, if you look at the anatomy of the average converse shoes, you'll notice that it has all the necessary aspects to be a good deadlift shoe. In addition to being an extremely versatile shoe that also looks quite good on any outfit, they have remarkably flat soles.
This helps the lifters to stabilize their feet on the ground while lifting. The soles aren't too thick, so they also keep you relatively close to the ground.
Moreover, they're quite cheap and can be easily replaced with a new pair when the added stress of lifting takes its toll on the shoes.
Despite having much less cushioning than the average shoe, they're still not ideal for someone with a flat foot because they don't offer any kind of arch support, which makes it quite painful to lift in them for most people with flat feet.
Deadlift Slippers and Socks
Since good shoes for deadlifts are all about being as minimalist and close to the ground as possible, many companies took the minimalism of deadlift footwear to the next level, creating some new categories known as deadlift slippers and deadlift socks.
These slippers are designed so that they maximize the benefits of deadlifting in bare feet but avoid the slipperiness and the accidents that come with them.
LiftingLarge Deadlift Slippers, as well as MOXY Socks Knee-High Performance Deadlift APeX Socks, are great options if you're looking for lightweight, highly affordable, performance footwear for deadlifts, but not when you have flat feet.
While they deliver in what they promise, these slippers and socks aren't an ideal choice for someone with flat feet.
The reason behind that is that these slippers are extremely thin and flexible, so they absolutely lack the little arch support that a person with a flat foot needs to avoid the pain!
Not only that, but they're also only good for conventional deadlifts, so if you're doing sumo deadlifts, you should avoid using them.
This is because sumo deadlifts put extra stress on the ankles, so they require special shoes with extra powerful ankle support, something these slippers don't offer at all.
Most Wrestling Shoes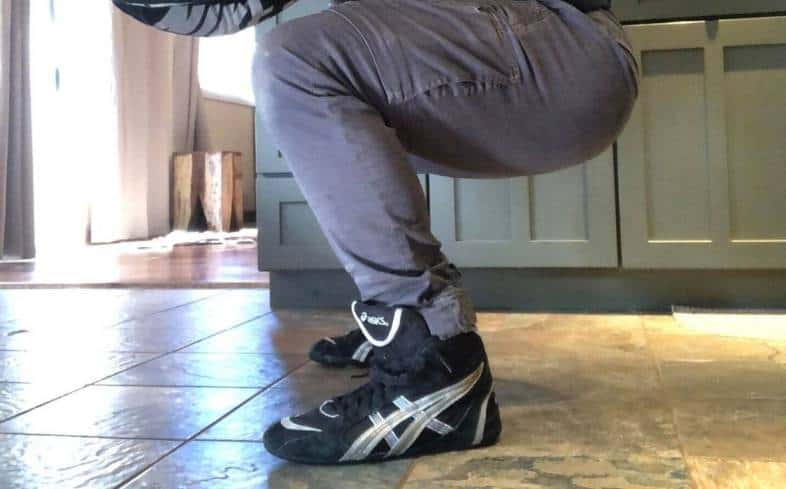 A lot of lifters and athletes believe that wrestling shoes are among the best options to consider while deadlifting because they have exactly what you need in a deadlift shoe.
Despite all their merits, most wrestling shoes may not be the ideal solution for a lifter with flat feet.
This is because a huge sum of these shoes is absolutely flat with no arch support at all. And while this might be an excellent choice for a regular lifter, a guy with flat feet might not be as comfortable in those shoes.
For instance, this Otomix Men's Stingray Escape Bodybuilding Weightlifting is a great wrestling shoe and I've featured it as one of my top recommendations for powerlifting on multiple occasions.
However, it doesn't have enough arch support to help a lifter with flat feet to lift comfortably.
For that reason, if you have flat feet and want to deadlift in a wrestling shoe, a better choice for you would be the Asics Matflex 5 Wrestling Shoes with its arch support that balances between performance and avoiding pain.
Importance of Wearing Proper Shoes While Deadlifting with Flat Feet
Here are some of the reasons why proper deadlift shoes are essential if you have flat feet:
Maximizes performance and enhances arch support
Some deadlift techniques require the extra metatarsal support that these shoes offer, such as sumo deadlift
Prevents Injuries that result from lifting with the long shoes in the long run
Protects you from dirty floors
Prevents slipping and accidents
Common Causes for Flat Feet while Deadlifting
Unlike what people think, there is more than one factor that can cause flatfeet while deadlifting. Let's have a quick look at them:
Genetics
Despite not being the only cause for flat feet, genetics will always be the number one reason for people to lack a high arch while lifting.
Yet, even those who aren't born with naturally raised arches can still improve and fix their arch problems through a variety of corrective steps.
Weakened Feet Muscles and Ligaments Laxity
Some people with flat feet actually have no issues with their genetics. However, they suffer from a general weakness in their feet and leg muscles or loosened ligaments.
These muscles and ligaments aren't necessarily the arch muscles, but there are other muscles in the feet, ankle, and calves that are designed so that they lift the arch section up.
Weakness in these muscles leads to false flat feet, which are easily solved by training and strengthening these muscles too.
Inadequate Deadlifting Techniques
What many people don't know while powerlifting, whether it's deadlifts or squats, is that the lifting technique is extremely crucial.
In addition to the stance, it's extremely essential that you understand how to properly anchor your feet into the ground and stack your ankle and knee joints while powerlifting.
Failure to establish a correct stance and technique while lifting will put extra stress on a variety of spots, including your arch muscles, which flatten them under pressure.
What characterizes these types of lifters is that they might not encounter any problems (or at least not to the same extent) while moving around or doing different types of exercises. Yet, they notice significant arch issues and flat-footedness while powerlifting.
How to Fix Flat Feet while Deadlifting
As previously mentioned, there are various exercises and practices that you can use to fix or improve your flat feet situation, such as:
Wearing orthotics
Strengthening arch-supporting muscles
Warm-up arch, calf, and ankle muscles before deadlifts
Understanding and Improving your deadlift techniques
Wrap Up
There you have it! A complete guide with everything you need to know so that you can buy the best deadlift shoes for flat feet.
Unlike many feet conditions, having a flat foot always requires that you pay attention to the comfort of your feet and supporting the arch muscles. In addition to methods and exercises to fix your flat feet, you should also consider wearing suitable shoes with some arch support.
In that case, the Sabo Deadlift Shoe Pro would be a great choice to consider. Not only does it promote your arch muscle by providing some arch support, but it's only a pretty durable shoe with strap support to pull the midfoot section of the feet up.
This helps in keeping your feet comfortable while anchoring the main points of contact in your feet to the great for efficient force transfer through the solid floor.
---