PowerliftingTechnique.com is independent and supported by our readers. We may earn a commission if you buy through the links below. For more, see our disclosures page.
Finding the best safety squat bar for your situation is not easy, especially knowing that it can potentially be an expensive purchase. Safety squat bars come in different shapes, sizes, and even price points, so there are a few things to consider when finding one that's right for you.
In this safety squat bar review, I'll cover everything you need to know to find an ideal SSB bar for your situation. But if you're in a rush, here are the eight best safety squat bars on the market:
5 Factors To Consider When Choosing the Best Safety Squat Bar for You
Here are five factors you need to consider when buying a safety squat bar:
Home vs. commercial use
Training experience
Body size
Budget
Training area spacing
Home vs. Commercial Use
One of the most important things to consider is whether the safety squat bar you intend to buy is for home use or a commercial setting. Buying a safety squat bar for home use opens all the safety squat bars on the market suitable for shortlisting.
However, if you are looking for a safety squat bar for a commercial setting with a potentially high frequency of use, this will narrow down your options. Needing a safety squat bar for a commercial setting like a public gym or a sports training center means you'll need one with more robust construction.
You will also need one that can handle heavier loads and is designed more intelligently so that wear and tear are less likely to happen.
Training Experience
If you are buying a safety squat bar for yourself, consider your training experience level. If you have a lot of training experience, you'll need one with a higher load tolerance. If you buy one with a low tolerance, and the load you use exceeds it, you may bend the bar too much or break it.
Body Size
You should also consider your size, particularly regarding your upper body around the shoulders and neck.
If you are quite small and narrow, look for a safety squat bar with a narrower shoulder grip spacing. If you are wider and tall, look for one with a wider shoulder grip spacing and a longer shoulder grip.
Budget
Safety squat bars typically cost between $250 to $700, a considerably large range. Your budget will determine which one you buy, but you may need to consider the benefits of increasing your budget, especially for a commercial use case.
Training Area Spacing
Training area space refers to how much space you have to use a safety squat bar. Consider the space around the squat rack for the safety squat bar, your ceiling height, and your storage solution. The last thing you want is to buy a longer safety squat bar that hits the ceiling every time you take it out of a barbell holder.
8 Best Safety Squat Bars
| Model | Best For | Price | Suitable for Commercial Gyms? | Full Length | Shoulder Grip Spacing | Padding Type | Weight | Tolerance |
| --- | --- | --- | --- | --- | --- | --- | --- | --- |
| Titan Fitness V2 | Overall | $ | Yes | 90.5" | 12.75" | 1 piece | 61 lbs | 1,500 lbs |
| Marrs Bar With Padded Harness | Shoulder comfort | $$$$$ | Yes | 89" | 11" | 1 piece | 65 lbs | 1,200 lbs |
| Rogue Fitness Safety Squat Bar SB1 | Home gyms | $$$ | Yes | 93" | Not provided | 3 pieces | 70 lbs | 1,000 lbs |
| Synergee 25 kg Olympic Safety Squat Bar | Tight spaces, small lifters | $$$ | No | 86.5" | 11.5" | 1 piece | 45 lbs | 1,000 lbs |
| REP Fitness Safety Squat Bar | Large athletes | $$ | Yes | 92.5" | 13" | 1 piece | 68 lbs | 1,500 lbs |
| Bells of Steel Safety Squat Bar 3.0 | Experienced squatters | $$ | Yes | 86.6" | Not provided | 1 piece | 47.5 lbs | 1, 500lbs |
| RitFit Safety Squat Bar | Lifters on a budget | $ | No | 87" | 12.1" | 3 pieces | 43.5 lbs | 700 lbs |
| American Barbell Safety Squat Bar | Shoulder tightness | $$ | No | 85.5" | Not provided | 3 pieces | 53 lbs | Not provided |
Rating: 4.7/5
Pros
Very affordable
Wide shoulder grip spacing suits larger lifters
High weight tolerance suits advanced lifters
Single solid foam padding
Cons
May not be suitable for small and narrow lifters
Chrome finish may not have good longevity
The Titan Fitness safety squat bar V2 is currently the brand's second-generation safety squat bar. For the retail price and the weight tolerance, it is a very good value for money.
It has a traditional safety squat bar profile and a wide enough shoulder grip handlebar for it to be suitable for large and strong lifters. It also has solid single-piece foam padding.
It has a good camber depth near the barbell shaft's end, making it suitable for most squat racks.
The chrome finish may chip easily, especially in a harsher environment such as a commercial gym. But since this squat bar has a high weight tolerance with a low price, it is suitable for home use by a strong athlete.
Rating: 4.5/5
Pros
Unique shoulder bars for comfort
Narrower shoulder grip spacing makes it suitable for smaller lifters
Loads the hips more than the knees
Weight pressure is on the back rather than the shoulders
Cons
Very expensive
Hard to manipulate the center of mass
The Marrs bar is one of the most unique-looking safety squat bars that loads your body differently than most safety squat bars. Two distinct features of this safety squat bar separate it from the rest.
One distinct feature is the shape of the shoulder grip handlebars that contour around the shoulder and upper back area. The second is the location the barbell load presses on, which is closer to the upper back than the shoulders. The foam pad also allows the weight distribution to be spread across a larger area of your upper body, leading to more comfort.
The shoulder grip handlebars are also narrow enough to be suitable and comfortable for the lifter with a smaller frame.
However, the black oxide coating is inferior for rust protection. Rust may occur if you use the bar outdoors or in a humid environment.
Another drawback is that due to the bar's shape, there is not much freedom for how you hold it to change how the weight distribution is loaded.
Rating: 4.6/5
Pros
Secure foam pads
Balanced camber drop for balanced squatting
Superior finish on sleeves
Cons
Very long bar takes up space
Smooth handles
The Safety Squat Bar SB1 is made by Rogue Fitness, a very reputable brand. This model is priced at the mid-range for a safety squat bar.
This safety squat bar also has a typical safety squat bar profile with a regular straight handlebar. It also has a Cerakote finish, considered a superior coating for barbells. This is a useful quality for any barbell.
However, the problem comes down to the foam pads. They are made of closed-cell foam, which is superior to other types of foam. However, there is not enough foam to tolerate high-frequency use in a public gym setting.
Also, replacing the foam pads is difficult, as they are sealed around the handles. But this is a double-edged sword because it reduces the chances of the pads falling off.
If the foam pads were thicker, this safety squat bar would be a perfect model for commercial use. Having said that, it is still a good option for home use where it won't be used as frequently as by as many people.
Rating: 4.3/5
Pros
Narrower shoulder grip spacing suitable for smaller lifters
One-piece foam pad won't fall off easily
Diamond knurling handle for a firm grip
Cons
Lower weight tolerance
Barbell finish can potentially rust over time
The Synergee Olympic Safety Squat Bar is another great mid-range model weighing in at 25 kgs or roughly 45 lbs. The foam padding is also formed by one piece, so it won't fall off easily.
The camber angle relative to the shoulder grip handlebar makes this model bias loading toward the back instead of loading closer to the front. This may cause you to load into your hips more when you squat.
Its 1000 lb maximum weight capacity and chrome finish make it less ideal for commercial settings. However, its narrow shoulder grip distance and light weight mean it's suitable for small- to medium-sized lifters.
The lightness in weight and shortness of the bar also make it a more suitable option for smaller training spaces.
Rating: 4.4/5
Pros
High weight tolerance of 1500lb
Good value for money
High-density foam for shoulder pads
Cons
Barbell finish may not be the most robust
Long barbell takes up a lot of space
The REP Fitness Safety Squat Bar is priced at mid-range but is great value for money regarding its overall construction and capacity. It has a high weight tolerance of 1,500 lbs, making it one of the highest ones compared to the rest.
The spacing between the shoulder grip handlebars is 13", but the spacing between the foam pads is around 8". This safety bar is suitable for most lifters, including those with larger frames. It is long and heavy at just over 92" and 68 lbs, so you will need a lot of space to move this bar around.
It is suitable for commercial use, but the downside to this bar is the chrome finish and powdered paint coating. This can wear off over time, especially if placed on harsh J hooks on the squat rack and expose the layers underneath the coating.
The camber angle relative to the shoulder grip handlebars is narrow, which can bring the center of gravity more forward. This can encourage a loading similar to a front squat, which is more knee- and quad-dominant.
Wondering what the differences are between front squats and safety squat bars? Check out Safety Bar Squat vs. Front Squat: Differences, Pros, Cons.
Rating: 4.5/5
Pros
Unique selection of alternative handles
Ergonomic handle design for sturdy grip
Shorter bar length suits smaller spaces
Cons
Chain handle catches on foam pads
Camber distance is narrow
The Bells of Steel Safety Squat Bar 3.0 is the brand's third-generation safety squat bar and has three optional shoulder grip handles. The handlebars include a short pair of handles, a long pair of handles, and a pair of chained handles.
The short handles provide a traditional grip on the safety squat bar, while the other handles impact the barbell orientation on your back. The long handles provide a more relaxed back and shoulder position for comfort. The chained handles are more for advanced lifters who do not want to influence the barbell position from a firm grip.
The chain handles allow the lifter to hold onto something in case the bar falls backward. This makes it useful for more experienced squatters who want a barbell to sit naturally on top of the shoulders without the arms influencing the center of mass.
This barbell is reasonably priced compared to the other barbells. Even though it is a shorter and lighter barbell than the rest, its weight tolerance is 1,500 lbs, which is very high compared to the rest. The high weight capacity also makes it useful for experienced and advanced lifters.
Rating: 4.2/5
Pros
Very cheap and affordable
Camber distance wide enough for most squat racks
Light barbell weight suitable for newer lifters
Cons
Low weight tolerance
Shoulder grip spacing too wide
The RitFit Safety Squat Bar is the best squat bar for lifters who don't want to spend a lot of money. It's a great budget model for novices or intermediate lifters who train at home.
It is one of the lowest in terms of price, and the barbell's features match the price. It is shorter and lighter and has a lower weight tolerance than any other safety bar on this list.
However, the 87" length makes it suitable for smaller spaces, and the 19.5kg weight makes it easier to move it around. The 700 lb weight tolerance is enough for most casual lifters.
The alloy steel is unlikely to rust, and this safety squat bar is quite durable. The only major drawback is that the shoulder grip handlebars are wide, so this bar is unsuitable for short or small-framed individuals.
8. American Barbell Safety Squat Bar (Currently Out of Stock) – Best for Lifters With Poor Shoulder Mobility
Rating: 4/5
Pros
Encourages more upright squatting
Shorter length bar for saving space
Handle design reduces shoulder mobility needs
Light barbell weight
Cons
Unknown tolerance
Handle design may impede squat performance
The American Barbell Safety Squat Bar also has a unique shoulder grip handlebar. The handles come forward and down into an L shape and are horizontal instead of vertical. This makes it useful if you cannot hold onto a safety squat bar with a typical profile due to shoulder issues.
It is also a shorter barbell with a lighter weight, making it useful for a small space, such as a home or garage gym setup. Its weight tolerance is unknown, so I don't recommend it for commercial gyms.
Also, a flaw with the shoulder grip handlebar is that depending on your body proportions, it may impede your ability to squat deep because it can hit your knees.
Curious about other types of squat bars? We have a full guide on the best squat bars, their pros and cons, and who should use them.
How We Ranked and Compared the Safety Squat Bars in This List
To compile this list, we reviewed the safety squat bars we currently use or have used in the past used.
We evaluated how the safety squat bars compare on paper using their product details and highlighting the key features we consider most important.
We also trawled through forums and reviews to gather other lifters' experiences with these bars so we could offer unbiased opinions.
Safety Squat Bar Buying Guide
There are six main features that are the most important when deciding which safety squat bar is appropriate for you:
Weight tolerance
Padding structure
Shoulder grip structure
Length
Barbell weight
Barbell finish
Weight Tolerance
The weight tolerance will matter more to some people than others. Generally speaking, most safety squat bars can tolerate more than whatever someone can squat for a one rep max. Still, the weight capacity is important, especially if you are a strong athlete or looking to purchase one for a commercial setting.
For a commercial setting, consider a minimum requirement of at least 1,200 lbs or 1,500 lbs if you cater to extreme strength athletes such as Strongman competitors and powerlifters.
Padding Structure
The padding structure is important, especially for commercial settings where the bar will have a high frequency of use. Good padding material will determine how long the padding will last.
Padding structure also refers to the shape of the pads and how they are formed on the safety squat bar. Generally speaking, the padding on the safety squat bar comes in one piece or three pieces.
Having one singular piece means it is harder to remove. Having three separate pieces, especially if they are secured using a simple velcro attachment, means you can easily remove them.
In a commercial gym setting, removable pads are easier to lose, which could render the bar useless.
If the pads are not removable, they are less likely to get lost. But they are harder to replace when necessary.
Shoulder Grip Structure
Considerations for the shoulder grip structure include the distance between the shoulder grips, the length of the shoulder grips, the shape of the shoulder grip, and the surface of the shoulder grip.
The distance of the shoulder grip can bias who the safety squat bar is suitable for. For example, the longer the shoulder grip, the more suitable it is for larger lifters with big arms.
The shape of the shoulder grip may influence how comfortable the barbell sits on the shoulders. The surface of the shoulder grip may influence how grippy the handlebars are.
Length
The length of a safety squat bar will determine if you have the space for it. If you have a large open space or own a commercial gym, a long safety squat bar may not matter. However, if you are working with a smaller space or in a home gym setup, you may want to consider a shorter bar.
Barbell Weight
Consider a lighter barbell if you are more of a novice or if you want a safety squat bar for a gym with a large beginner clientele.
Barbell Finish
The barbell finish can determine the bar's longevity and aesthetics. A better finish reduces the chances of rusting.
Here is a list of possible finishes you may find in a safety squat bar listed in order of descending robustness:
Stainless steel
Cerakote – a ceramic-based coating known for its durability and rust-preventing capabilities
Hard chrome
E-coat – a type of coating that involves submerging the metal with protective paint. It's also known for its durability, especially when exposed to harsh weather.
Zinc/nickel
Decorative chrome
Black oxide – sometimes called blackening. It is not as rust-resistant as other finishes.
Why Should You Use a Safety Squat Bar?
The problem with performing regular back or front squats is the huge upper body involvement, particularly the shoulders. Your shoulders may be the limiting factor in how much you can squat or get beat up by the number of squats you do.
The safety squat bar allows you to do more squatting work without destroying your shoulders, helping you progress further in your lower body training.
It also prevents your upper body performance from being impeded by the stress in your shoulders when you do back squats or front squats.
Learn more about the benefits of safety bar squats in 4 Reasons To Do Safety Bar Squats (Plus, How To Program It).
How Do You Use a Safety Squat Bar? 5 Steps
Here is a concise guide on how to squat with a safety bar:
Set up a safety squat bar on a squat rack at about armpit height.
Stand underneath the barbell, put your head between the shoulder grip handles, and hold onto the handles.
Stand up and walk out the safety squat bar with your feet about hip- to shoulder-width apart.
Adjust your arm position so that the weight on the barbell is directly above your mid-foot.
Take a deep breath in and squat, then stand back up. Be careful not to let your elbows touch your legs.
Frequently Asked Questions
How Heavy Is a Safety Squat Bar?
A safety squat bar can weigh anywhere between 43.5 lb to 70 lb.
Is the Safety Squat Bar Worth It?
The safety squat bar is worth it if you want to increase the amount of squatting in your training without putting undue stress on your shoulders. It's also worth it if you don't want injured shoulders to affect your ability to squat.
Are Safety Bar Squats Safer?
Safety bar squats are safer for your shoulders and the rest of your upper body. They are not inherently safer than regular squats for your lower body or back area. You will still need the same amount of attention in breathing, bracing, and managing your posture during safety bar squats.
Can You Lift More With a Safety Squat Bar?
Generally, you cannot lift as much with a squat bar with handles, but this depends on the model of the safety squat bar. Most safety squat bars force you to squat in a deeper, more upright position, which doesn't necessarily allow you to squat more weight.
Is a Safety Squat Bar Better For Your Back?
Most safety squat bars are better for your back because they put you in a position where you can squat more upright. Therefore, there is less loading on your back. Consequently, it may mean loading onto your knees more.
---
About The Author: Norman Cheung ASCC, British Powerlifting Team Coach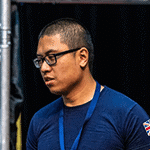 Norman Cheung is a powerlifting, and accredited strength and conditioning coach under the UKSCA. He has been coaching powerlifting since 2012 and has been an IPF Team GB coach since 2016. He has experience coaching various lifters, from novices to international medallists and international university teams. Alongside coaching, he takes interest in helping powerlifters take their first step into coaching. He currently runs his coaching services at strongambitionscoaching.com