If you're a CrossFitter, someone who frequently does high-intensity workouts, or any other athlete who practices box jumps often, a plyometric box is an excellent addition to your gym.
But as with all gym equipment, many different brands sell box jump boxes. Plyo boxes are also available in different sizes and materials.
To make it easier for you to find the one that best suits your needs, I've compiled a list of the 12 best plyo boxes:
Why You Should Trust Us and How We Tested These Plyo Boxes
We're a team of experienced powerlifters, CrossFitters, and fitness enthusiasts. Collectively, we have decades of experience in the fitness industry, so we know how to identify the best products on the market.
We've used several plyo boxes on this list in various CrossFit gyms and our home gyms over several months (and, in some cases, over a couple of years). The products we haven't tried are similar to those we have tested, or they come from brands from which we've purchased other equipment. We have a strong understanding of their overall quality.
To come up with the best plyo boxes, we also evaluated criteria such as:
Durability
Safety
Affordability
Versatility
Featured Products
12 Best Plyometric Boxes
| | Rating | Price | Product Weight | Dimensions | Wood, Foam, or Steel | Key Features |
| --- | --- | --- | --- | --- | --- | --- |
| REP Fitness 3-in-1 Soft Plyo Box | 4.8/5 | $ | Small: 27 lbs Medium: 34 lbs Large: 58 lbs | Small: 12" x 16" x 18" Medium: 16" x 20" x 24" Large: 20" x 24" x 30" | Foam with an inner wood core | Non-slip vinyl shell |
| Rogue Fitness Games Box | 4.6/5 | $ | 56 lbs | 20" x 24" x 30" | Wood | Rounded edges for safety |
| Titan Fitness 3-in-1 Wooden Plyo Box | 4.3/5 | $ | 32-50 lbs | 16" x 20" x 24" 20" x 24" x 30" | Wood | Textured rubber surfaces on multiple sides |
| Rogue Fitness Foam Games Box | 4.2/5 | $$ | 58 lbs | 20" x 24" x 30" | Foam | All-foam core absorbs more impact when jumping |
| Rogue Fitness Foam Plyo Boxes | 4/5 | $$ - $$$$ | 7-27 lbs | Heights vary from 6" to 24" Each box is 28" long and 28" wide | Foam | Hook-and-loop strips to secure multiple boxes together |
| Yes4All Stackable Soft Plyo Box | 4.4/5 | $ - $$$ | 8-28 lbs | Heights vary from 6" to 24" Each box is 29" long and 29" wide | Foam | Velcro straps keep them secure when stacked |
| REP Fitness Adjustable Plyo Box | 4.3/5 | $$ | 40 lbs | 19.8" x 19.8" overall footprint 16" x 16" landing surface | Steel | Not a lot of overhang to protect your toes on missed jumps |
| RPM Training Exobox | 4.7/5 | $$$ | Not available | 20" x 24" x 30" | Wood with rubber-lined edges | Hatch panel provides access to the inner core |
| Synergee 3-in-1 Non-Slip Plyometric Box | 4.5/5 | $ - $$ | 15-47 lbs | 12" x 14" x 16" 16" x 18" x 20" 16" x 20" x 24" 20" x 24" x 30" | Wood, PVC | Grippy PVC covering on all sides |
| Rogue Fitness Resin Plyo Box | 4.4/5 | $ - $$ | 21 - 31 lbs | 19" x 19" overall footprint 12" - 24" in height | Resin | Stackable for storage purposes |
| Rage Fitness Steel Plyo Box | 4/5 | $ - $$ | ~12 lbs | 12.5" x 12.5" overall footprint 12" - 30" in height | Heavy gauge tubular steel, ¾" plywood, rubber | Plywood platform to absorb shock when jumping |
| Fringe Sport Traditional Plyo Box | 4.6/5 | $ - $$ | 10.5-33 lbs | 12", 16", 20", 24", or 30" in height | ¾" birch plywood | Wider base at the bottom for extra stability |
Rating: 4.8/5
Pros
Available in three sizes
Grippy, non-slip vinyl cover
Wood core for extra stability
High-density foam won't collapse over time
Reasonable price
Cons
Not stackable
Can wobble if you don't land on it evenly (but likely won't tip over completely)
My pick for the best plyo box is the REP Fitness 3-in-1 Soft Plyo Box. I've had this box in my garage gym for over two years, and it's affordable and sturdy. It also doesn't slide around much on various surfaces such as pavement, my cement garage floor, and my rubber horse stall mats.
The box's inner core is wood, unlike other foam boxes that are made entirely of foam. It adds weight to the box and ensures its stability when moving through box jumps and jump-overs quickly.
That said, it does wobble slightly if I land on it unevenly. When I do box jumps, I have to think hard about doing them with control to ensure I don't land too much on one side and force the box to become unbalanced.
The foam is thick but not too soft, so it doesn't feel like jumping on pillows when I land on it. It's maintained its density since I've had this box, and I use it for workouts with box jumps at least once a week.
The vinyl covering isn't shiny and smooth but textured and grippy. It provides a non-slip surface, so I don't have to worry about my feet slipping when I land.
The shell is also well-constructed. In the two years I've had this box, it's hardly gotten any tears or rips. The worst damage has been a small amount of wear on the corners, which speaks to the shell's durability. If your shell tears, you can buy a new one from REP Fitness for an affordable price.
This foam plyo box is available in three sizes: small (12" x 16" x 18"), medium (16" x 20" x 24"), and large (20" x 24" x 30"). I'd recommend at least the medium for most people because the small size doesn't have a large surface area to land on.
Check out my full review of the REP Fitness 3-in-1 soft plyo box.
Rating: 4.6/5
Pros
Reasonably priced
Sturdy
Durable enough for home or commercial gym use
Handles make it easy to carry
Cons
Only available in one size
The CrossFit gym I trained at before I built my home gym owned the 3-in-1 Wood Plyo Boxes from Rogue. Athletes of all different weights and sizes used them multiple times a week, and the boxes held up even with heavy use.
The boxes are made of ¾" Radiata pine. Radiata pine is known for its ability to hold nails and is often used for large interior construction projects. The pine itself isn't known for its durability when exposed to harsh weather. However, many users store this box in their humid, non-temperature-controlled garage gyms without issue.
It's unlikely that you won't experience scraped shins if you miss a box jump with any wood box. But Rogue has taken steps to increase this box's safety by rounding the edges to help minimize the risk of severe injuries.
The only thing I don't like about it (other than my general preference for foam plyometric boxes) is that it's only available in one size – 20" x 24" x 30". It may not be suitable for anyone looking for a lower box for step-ups or a beginner learning box jumps who is afraid to jump high.
Rating: 4.3/5
Pros
Can support up to 550 lbs
Textured surfaces for extra traction on the floor and a non-slip jumping platform
Interlocking plywood puzzle pieces add stability
Cons
Doesn't come assembled
Large printed numbers aren't aesthetically pleasing
The Titan Fitness 3-in-1 Wooden Plyo Box is the best workout box for anyone on a budget. It's one of the most affordable options on the market, but that doesn't mean you'll have to sacrifice quality.
This box is available in two sizes: 16" x 20" x 24" or 20" x 24" x 30". Each one features interlocking plywood puzzle pieces inside for added stability and can support up to 550 lbs. Beginners, advanced exercisers, and heavier individuals can all use these boxes.
Each box also has textured surfaces on multiple sides. You'll get a non-slip landing surface and extra traction on the floor, so you can jump without worrying about slipping.
I'm not a fan of the extra large printed numbers on all sides, but that is a style preference and has no bearing on the box's performance.
Rating: 4.2/5
Pros
Durable enough for home or commercial gym use
Doesn't wobble when used on the higher sides
3-in-1 sizing for versatility
Cover can be removed for cleaning
Cons
Can't be used on smooth floors
Some may find the all-foam interior too soft
The Rogue Fitness Foam Games Box is another plyo box I often used at my old CrossFit gym, and I liked it for its durability and overall construction quality.
Unlike other foam boxes with wooden cores, this one is made entirely of foam. It has an ultra-dense foam core and a softer foam lining. While the softer foam offers more shock-absorbing properties than wood or higher-density foam, it was too cushiony for my liking.
Furthermore, the vinyl shell isn't as grippy as the one on the REP Fitness Soft Plyo Box. Rogue also recommends not using it on smooth floors (like smooth concrete or tile) because it can slide.
That said, I still recommend this box for CrossFitters. On rubber gym flooring or horse stall mats, it won't slide when doing high-rep box jumps at a fast clip. It also wobbles less when used on the higher sides, unlike the cheaper soft jump boxes I've used.
Rating: 4/5
Pros
Can be fastened to other boxes for more security
Foam core to protect your shins if you miss a jump
Available in four heights to create a custom height
Cons
Expensive
Can't be used on smooth floors such as smooth concrete or tile
If you're looking for a stackable box for box jumps, look no further than the Rogue Fitness Foam Plyo Boxes. They're available in 6", 12", 20", and 24". You can also buy them in sets if you have the budget.
These stackable plyo boxes allow you to get a customized height for your box jumps and are much safer than stacking other plyo boxes on top of each other. Each box has hook-and-loop strips on all four sides. You can secure multiple boxes together, so you don't have to worry about them sliding off each other.
They're covered with the same heavy-duty vinyl used on the non-stackable foam plyo box from Rogue. As I mentioned earlier, I'm not fond of this vinyl because it's not as grippy as I'd like. Still, it shouldn't be an issue if the bottoms of your shoes are dry and have good traction.
Like the other Rogue Fitness padded jump box on this list, you can't use this box on smooth concrete, tile, or other smooth surfaces. If you don't have rubber flooring in your gym but want to use this box, you'll need to get a rubber mat to place it on.
Rating: 4.4/5
Pros
EPE foam doesn't collapse, even with heavy use
Reasonable price
Durable
Cons
May wobble at higher heights
I always recommend low, foam, stackable plyo boxes for beginners. The soft surface can offer peace of mind when jumping, and it's easy to add height over time.
But options like the Rogue stackable plyo boxes mentioned earlier can be expensive for someone who's not even sure they'll enjoy working out. The Yes4all Stackable Soft Plyo Box is a more affordable option for newbies who may not want to make a significant investment initially.
The box is available in 6", 12", 20", or 24", so you can mix and match to find a height that works for you. Each box has velcro strips on the top and straps on the bottom, enabling you to fasten them together. This helps ensure the boxes won't slide when you jump on them.
This box is also made from high-quality EPE foam that maintains its structure even with frequent use.
Rating: 4.3/5
Pros
Rubber feet for floor protection
Easy to move and store
Non-slip surface for landing
Can adjust the height in just a few seconds
Cons
Doesn't go higher than 24"
The REP Fitness Adjustable Plyo Box enables you to get three heights – 16", 20", or 24". It's made of sturdy, thick steel and has three steel springs that securely lock the legs in place when you adjust the height. The top is lined with a non-slip rubber platform.
Even though this box weighs only 40 lbs, it has a weight capacity of 400 lbs. The light weight makes it portable, and its small footprint means it's easy to store when not in use. I also like that the legs have rubber feet to prevent damage to your floor.
Another great feature of this box is that it doesn't have a large amount of overhang, reducing the risk of toe injuries if you miss a jump.
Rating: 4.7/5
Pros
Hatch panel provides access to the box's core for storing small items
Handles for easy portability
Built in the US
Rubber-lined edges to avoid scraped shins on missed box jumps
Cons
Expensive
Only available in one size
If you're looking for the stability of a wood plyo box but want the peace of mind of jumping on a soft plyo box, the RPM Training Exobox is an excellent option.
RPM Training is known for its jump ropes, but it recently debuted its first piece of box jump equipment. This plyo box is a wood box with rounded, rubber-lined edges. You get the stability of a wood box with the reassurance that you won't scrape your shins on a failed box jump.
My favorite feature of this box is the hatch panel that gives you access to the box's interior. You can use it to store small gym gear like jump ropes, lifting straps, wrist wraps, or a belt. This is great for anyone who doesn't have room for a storage rack or wall-mounted storage hooks for small items.
You can also use the hatch panel to keep heavy dumbbells or kettlebells inside the box for added stability when you jump. The box is plenty sturdy on its own, though.
The box has multiple handles, which come in handy when moving it around. However, RPM Training advises against dragging the box on the floor because the rubber edges can rip or wear down.
This box comes at a premium price and is the most expensive option on this list. I also wish it was available in smaller sizes for beginners or those who don't like to do high jumps. But for those who are comfortable with jumping high and have a large budget, it's worth the price.
Rating: 4.5/5
Pros
Covered with textured PVC
Available in four sizes, which are all adjustable to three different heights
Larger boxes have inner supports for extra stability
Good customer service
Cons
Doesn't come assembled
Larger boxes are expensive
Boxes with a non-slip surface, like the Synergee 3-in-1 Non-Slip Plyo Box, are ideal for anyone who does box jumps at a fast clip and doesn't want to worry about slipping.
This box is primarily made of wood that is ¾" thick, and the inner supports on the larger boxes (16" and above) make it durable and sturdy. It's covered with a grippy, textured PVC material. However, the PVC doesn't cover the edges, so there's still a chance you can scrape your shins if you miss your landing.
The box doesn't come pre-assembled, but Synergee includes everything you need to put it together. If you have trouble with assembly, you can contact Synergee and get a fast, helpful response. The company will also send a new box for free if the box breaks and you're within the one-year warranty period.
Rating: 4.6/5
Pros
Textured, anti-slip surface on top
Easy to move around
Can stack multiple boxes together to save room when storing them
More affordable than some wood or foam plyo boxes
Cons
If you have a small gym (or own a commercial gym where classes are always packed), a large plyo box may not work for you. Space-saving plyo boxes like the Rogue Fitness Resin Plyo Box are better options because they don't take up as much room.
This box has a footprint of just 19" x 19". While it's not adjustable, it is stackable. Even if you buy more than one to get multiple height options, you can stack them when you're not using them. You'll then have more floor space available when doing workouts that don't include box jumps.
The top of the box features a textured design to reduce the chances of slipping. There are also handles on each box, making it easily portable.
Rating: 4/5
Pros
Reasonably priced
Plywood platform offers some give when you land, preventing all of the force from being transferred to your joints
Doesn't require a lot of space
Cons
Not ideal for doing fast, high-rep box jumps, where you're more likely to fall
If the Rogue Fitness Resin Plyo Box doesn't suit your needs, but you still want a space-efficient plyo box for your gym, a jump box made of steel is a suitable alternative. I recommend the Rage Fitness Steel Plyo Box.
It's not made entirely of steel. The top features a plywood, rubber-coated box jump platform that has some give to it when you land. But this is an excellent feature because your joints don't have to absorb all of the force. The grippy surface also reduces the chances of your feet slipping.
Because these plyo boxes are affordable and don't take up much room, you can buy more than one of the same height and use them for exercises like belt squats.
Rating: 4.6/5
Pros
Made of birch plywood, which is known for its strength and durability
Is wider at the bottom than the top, improving its stability
Available in four different heights
Handles for easy portability
Cons
Doesn't come pre-assembled
More expensive than some other wooden plyo boxes
Made of birch, one of the strongest and most stable types of wood, the Fringe Sport Traditional Plyo Box is a durable plyo box that can withstand a lot of wear and tear. It's not the most cost-effective wood box jump option, but it's an investment you'll only have to make once.
Unlike other plyo boxes, this box has a tapered design. It's wider on the bottom than at the top, which may be an issue if you don't like to land with a narrow stance. However, it offers more stability by giving the bottom of the box a wider base.
It's also lightweight and has handles, making it easy to move around your gym.
Want to do box jumps but don't have room for a plyo box? Try incorporating these box jump alternatives into your routine.
Buying Guide: What To Consider When Buying a Plyo Box
Budget
A plyo box isn't the most expensive piece of gym equipment, but budget is still important to consider when buying one.
You don't have to break the bank to get a good-quality jump box for your gym. But you get what you pay for, and cheaper boxes are notorious for lacking durability and stability. Spending a little extra cash to reduce your risk of accidents is worth it.
Size
Size is an essential factor to consider when buying a plyo box. You have to think about the height you're comfortable jumping to and how wide a surface you want to land on. You also have to consider stability because not all plyo boxes are stable on their highest height options.
Many plyo boxes are 3-in-1, meaning you can rotate them to one of three heights. Common sizes are 16" x 20" x 24" or 20" x 24" x 30".
I like having a 20" x 24" x 30" box for several reasons. I'm tall and have long legs, so it's easier for me to jump higher. I also like to land with a wide stance, so I like having a larger surface area that allows me to spread my feet more when I land.
However, if you're short, not experienced with box jumps, or don't want to jump high because of an injury, a smaller box may suit you better.
I recommend 16" for most people. It's high enough to make your box jumps challenging but not so high that it seems impossible to jump onto the box. Of course, if jumping high terrifies you, you can get a smaller box with a 6" or 12" height.
Also, CrossFitters should get a box that meets the height requirements of most prescribed CrossFit workouts, especially if they want to compete. The standard heights are typically 20" for women and 24" for men. However, some competitions may make them higher as athletes get more and more experienced.
Foam vs. Wood vs. Other Materials
The material of your plyo box is another important factor to consider. It will determine the box's durability and overall stability and can affect how comfortable you are with jumping.
For example, many people are hesitant to do box jumps on wood or steel plyo boxes. Those materials can mess up your shins if you fall. I've fallen off a wood box and scraped my shins pretty badly before, and it is not a pleasant experience.
Wood can also warp or rot if it's frequently exposed to moisture. You may have to replace your box if you keep it in a humid environment or one prone to flooding.
However, wood and steel plyo boxes tend to be more stable. They're also less expensive, and steel plyo boxes take up less space.
On the other hand, soft plyo boxes made of foam will do much less damage if you fall. For people who move through box jumps quickly or are trying to overcome a fear of jumping, a plyometric box made of foam is a better option.
What if you want the space-efficient features of a steel plyo box but don't want to risk severe injuries? You can look for a box made with resin or other high-quality plastic materials. Just ensure it can handle high-impact movements, as some plastic plyo boxes aren't meant for jumping.
Stackable vs. Non-Stackable
The best plyo boxes enable you to rotate the box to the height you want to jump at. However, these boxes usually aren't stackable. You could theoretically stack them, but there's a risk that the top box will slide out from under you when you land.
Stackable plyo boxes feature hook-and-loop straps or velcro strips to secure them to each other. But a downside of stackable boxes is that you have to buy more than one, which can eat into your gym budget.
Purchasing a stackable or non-stackable box depends on how much customization you want. If you don't plan on jumping very high, or you know you'll use one height much more often than another, a non-stackable plyo box is sufficient.
But suppose you want to frequently vary your box jump height or gradually increase how high you can jump. In that case, stackable plyo boxes are better options.
Assembled vs. Non-Assembled
A wood, steel, or resin plyo box may need to be assembled when you receive it. Manufacturers do this to save costs on shipping since an unassembled box doesn't require as much packing material or space in a delivery truck. 
Plyo boxes are easy to put together, though. Most brands include all the screws you need to assemble them. But if you aren't handy or want something you can use as soon as it arrives at your door, you may want to look for an already-assembled plyo box.
Benefits of Plyo Boxes
Versatility
You can use a plyo box for more than box jumps. You can do box squats or step-ups. You can use a low plyo box as a back support for hip thrusts or rest your non-working leg on it for Bulgarian split squats. You can even do dips, elevated push-ups, or pike push-ups on one.
I also like using the 30" side of my plyo box for the hip opener stretch as part of my warm-up for lower body days.
Because there are so many ways to use a plyo box, it is an essential piece of equipment for any gym.
Increase Athleticism
A plyo box for box jumps is a great way to increase speed, power, and coordination. These skills have a high carryover to multiple sports, including football, basketball, track and field, and Olympic weightlifting.
Frequently Asked Questions
Are Plyo Boxes Worth It?
Plyo boxes are worth it because you can use them for many exercises. For example, you can do box jumps, jump-overs, squats, and step-ups. Plyo boxes are especially worth it for CrossFitters who work out at home, as box jumps and box jump-over variations are a staple in many CrossFit workouts.
What Is a Plyo Box Used For?
People use plyo boxes primarily for box jumps. However, you can also use one for elevated push-ups, pike push-ups, step-ups, box squats, Bulgarian split squats, and dips. Lower-height plyo boxes also work well as a back support for hip thrusts.
What Can I Use Instead of a Plyo Box?
For exercises like step-ups or box squats, you can use a sturdy bench instead of a plyo box. However, I don't recommend jumping on a bench because benches aren't designed for that purpose. If you want to jump without a plyo box, I recommend squat jumps, tuck jumps, or jumping over an object like a laundry basket.
Is Foam or Wood Plyo Box Better?
Whether a foam or wood plyo box is better depends on your experience level and preferences. Wood plyo boxes are more stable but can cause more damage if you miss a landing. I prefer foam plyo boxes, especially for beginners, for the reduced risk of bruised or scraped shins and better shock-absorbing properties.
What Is the Best Height For a Plyometric Box?
The best height for a plyo box depends on factors like your experience level, height, and the exercises you do. For example, an experienced box jumper or someone with long legs may prefer a 24" or 30" box. Beginners or short individuals may prefer 16" or lower.
Additionally, if you plan on competing in CrossFit, I recommend at least a 20" box for women and a 24" box for men. These are the most commonly prescribed box jump heights in CrossFit workouts and competitions.
What Type of Plyo Box Is Safest?
A foam plyo box with a non-slip vinyl or PVC shell is safest. It won't cause severe scrapes or bruises if you fall. Many people also find foam more comfortable to land on, and it doesn't cause as much lower-body soreness. However, it's essential to look for a heavy foam plyo box to ensure it doesn't wobble.
Final Verdict: What Is the Best Plyo Box?
My top pick for a plyo box is the REP Fitness 3-in-1 Soft Plyo Box. I've tried multiple plyo boxes in the past, and this is one of the best foam plyo boxes I've used. It's sturdy, the foam doesn't wear down easily, and it's available in various sizes for individuals with different experience levels and jump height preferences.
If you prefer a wood box for box jumps, consider the Rogue Fitness Games Box. You can flip it to make it 20", 24", or 30" high, and it will remain stable no matter what. It can also withstand humid conditions without warping, which is important for garage gym owners whose garages aren't temperature controlled.
---
About The Author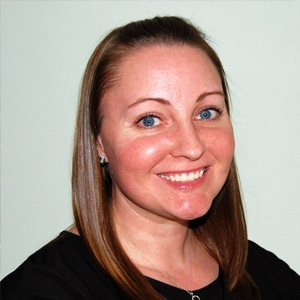 Amanda is a writer and editor in the fitness and nutrition industries. Growing up in a family that loved sports, she learned the importance of staying active from a young age. She started CrossFit in 2015, which led to her interest in powerlifting and weightlifting. She's passionate about helping women overcome their fear of lifting weights and teaching them how to fuel their bodies properly. When she's not training in her garage gym or working, you can find her drinking coffee, walking her dog, or indulging in one too many pieces of chocolate.