PowerliftingTechnique.com is independent and supported by our readers. We may earn a commission if you buy through the links below. For more, see our disclosures page.
Bicep curls are a great isolation exercise to complement your upper body workouts when you're trying to gain strength and size in your biceps. Whether you want to perform bicep curls in a sitting or standing position and blast your arms, you'll need a trusty curl bar in your home gym.
The 9 best curl bars are:
REP Fitness Curl Bar – Best Overall Curl Bar

Rogue Fitness Curl Bar

– Runner Up
REP Rackable Curl Bar – Most Versatile Curl Bar

Titan EZ Curl Rubber Fixed Weight Bar

– Best Fixed Weight Curl Bar

Rogue Rackable Curl Bar

– Best Rackable Curl Bar
CAP Barbell Olympic EZ Curl Bar – Best Curl Bar for Beginners
American Barbell Stainless EZ Curl Gym Bar – Best Premium Curl Bar
Holleyweb Olympic Barbell EZ Curl Bar – Best Curl Bar for Customizability

CAP Barbell Standard Threaded Solid Easy Curl Bar

– Best Budget Curl Bar
With a top-quality curl bar at home, you can easily perform bicep curls during your at-home upper body or full-body workouts. Keep reading because we will cover the 9 best curl bars available on the market to help you find the best one for your needs.
Featured Products
REP Fitness Curl Bar – Best Overall Curl Bar
Rogue Fitness Curl Bar – Runner Up
American Barbell Stainless EZ Curl Gym Bar – Best Premium Curl Bar
9 Best Curl Bars
Rating: 5/5
Pros
Medium knurling for a strong but comfortable grip
10-inch sleeves for extra loading
High tensile strength
Cons
30 mm diameter might be too thick for some lifters
The REP Curl Bar takes first place for being the best EZ curl bar overall. It's a stainless steel EZ bar that's available either with a hard chrome coating or no coating at all. It has a high tensile strength of 190,000 and long 10-inch sleeves, so you can significantly load the barbell for heavy bicep curls.
The knurling doesn't cover the full bar but is present where your hands would grip the bar (unless you want to use a very wide or very narrow grip). It's of medium aggression, so it won't tear your hands.
The bar shaft is 30 mm, which could be too thick for some lifters. That's the only downside I could find with this bar. However, note that your grip typically isn't the limiting factor in a set of bicep curls, so this shouldn't impact your lifts too much.
Rating: 5/5
Pros
Comes in rackable and non-rackable options
Long 10.5-inch sleeves
Cambered knurling along the whole length of the bar
Cons
The Rogue Fitness Curl Bar is up there with the REP Fitness Curl Bar for being one of the best options on the market. It was a close call between the two for first place in this list, but based on its higher price, I awarded the Rogue curl bar the runner-up spot.
It has a longer-than-average sleeve length (10.5 inches), so you can load the bar up for heavy bicep curls. It has slightly deeper bends than most, but this is a benefit more than a drawback because it provides a comfortable, angled grip.
The knurling is medium and cambered, and it runs along the full length of the bar, aside from a 5-inch smooth section in the center. The shaft is 28.5 mm in diameter, which is ideal for most lifters.
Wondering whether it's safe to do bicep curls every day? We give our expert opinion in Is It Okay To Do Bicep Curls Every Day? (Yes, Here's How).
Rating: 4.5/5
Pros
Rackable due to longer bar length
Great angle, shape, and depth
Suitable for a wide range of exercises
Cons
Knurling doesn't cover the full length of the bar
The REP Rackable Curl Bar has a length of 74 inches, which is around 19 inches longer than a standard curl bar. Although this might not be suitable for all lifters and can make the weight feel heavier, the longer length enables you to rack the bar.
Because the bar is rackable, it offers a higher level of versatility than shorter, non-rackable EZ curl bars. Alongside bicep curls, you can perform additional exercises like front squats.
REP Fitness offers a five-year warranty on its chrome EZ bars and a lifetime warranty on its stainless steel bars, which is a testament to this bar's high quality and durability.
Rating: 4.5/5
Pros
Convenient and no setup required
Available in a wide range of weights
Rubber-coated heads for safety and enhanced aesthetics
Cons
Lack of versatility due to fixed weight
The Titan EZ Curl Rubber Fixed Weight Bar is available in a wide selection of weights, from 20 lbs to 110 lbs.
Each fixed-weight bar is made of steel with shiny chrome plating. There are rubber heads at the ends of the bar to protect the steel and provide extra safety if you drop the bar. Each bar's weight is clearly marked on the rubber ends, so you can easily identify which bar you need during your workouts.
The diameter of each bar is 32 mm, which could be a little too thick for some lifters. However, as I've mentioned, this shouldn't be a huge problem, even for those with smaller hands. Bicep curls aren't usually an exercise where your grip will give out first.
Rating: 4.5/5
Pros
Great angles to reduce pressure on the wrist joints
Longer length between sleeves for easy racking
Five year warranty
Cons
The Rogue Fitness Rackable Curl Bar has a wider space between the two sleeves (51 inches, which is 20 inches longer than the standard curl bar from Rogue Fitness), making it ideal for racking on a traditional power rack. However, it still has standard 10.5-inch loadable sleeves, so you can load up the bar for heavy lifts.
The bar has a curved shaft that places your wrists in the most optimal positions, especially during high-rep exercises, where your wrist joints are placed under repetitive stress. It has a back E-coat finish, which looks great and also improves the durability of the bar by making it more resistant to chipping.
With a high tensile strength of 110,00 PSI and alloy steel and bronze construction, this bar is built to last. There's a five-year warranty in case you run into issues. It has cambered knurling that is relatively passive, which might not be your preference if you like more aggressive knurling.
Rating: 4.5/5
Pros
Sleek black appearance
Medium knurling for strong grip
Compatible with standard 2-inch weight plates
Cons
Low maximum weight capacity and tensile strength
Only has a 30-day warranty
The CAP Olympic EZ Curl Bar is manufactured using solid steel with a black powder coating finish, which enhances the bar's durability. It has diamond-patterned knurling for a non-slip grip on the bar. The sleeves are 7.5 inches, so you can load the bar up to a heavy weight. The bar is compatible with standard 2-inch weight plates.
The downsides to this bar are its tensile strength of just 51,000 PSI and its maximum weight capacity of 200 lbs. However, for beginner lifters, this is enough for a challenging workout. There is also only a 30-day warranty on the bar.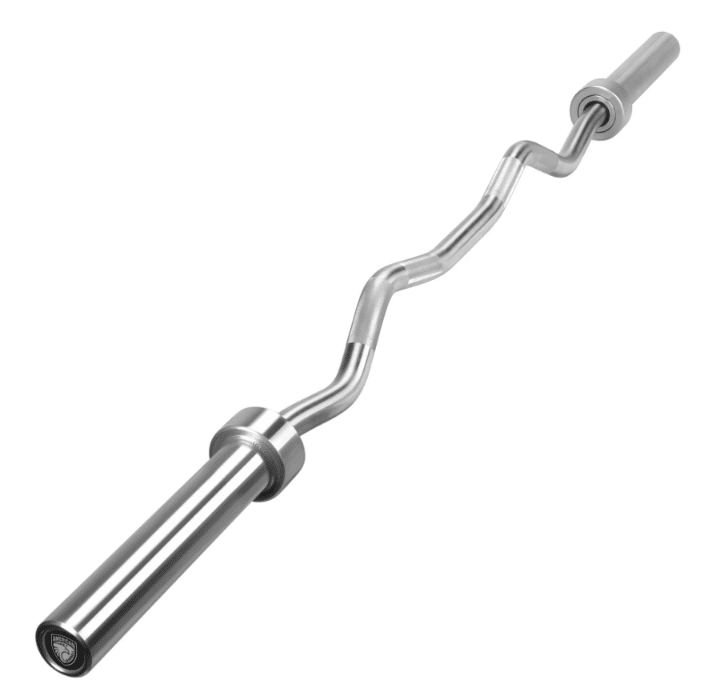 Rating: 4.5/5
Pros
Comfortable knurling
Solid steel construction
Smooth and noisy-free rotation
Cons
The bar is slightly angled at the ends
The American Barbell Stainless EZ Curl Gym Bar gets first place for being the best premium bar on the market. It has comfortable knurling that enables you to get a good grip on the bar during your lifts. The sleeves rotate smoothly, so you can enjoy noise-free, rattle-free workouts!
However, the bar is slightly angled at the ends, so the sleeves aren't parallel to the inner shaft of the bar. While this isn't a huge problem, you'll need to make sure the sleeves are angled upwards to prevent your plates from falling off. To avoid this, you can also use sleeve collars when lifting with this bar.
Rating: 4.5/5
Pros
Available in a range of weights and colors
Diamond-shaped medium knurling for strong but comfortable grip
Standard 28 mm is suitable for most lifters
Cons
Bearings can be loose and rattly
The Holleyweb Olympic Barbell EZ Curl Bar gets first place for customizability because it's available in a range of weights (between 14 lbs and 44 lbs) and colors (silver, black, yellow, and red). It comprises a heavy-duty chrome and steel construction for high resistance to corrosion and general wear and tear.
It has a shaft diameter of 28 mm with 1.2 mm diamond-shaped medium knurling, which should feel comfortable for most lifters. The only downside is that the needle bearings on this EZ curl bar might be a little noisy and loose during your sets.
Rating: 4/5
Pros
Affordable
Black powder coating for increased durability and longevity
Compatible with 1-inch weight plates
Cons
Some quality control issues regarding the collars
If you're looking for the best curl bar set that is compatible with 1-inch weight plates and is also affordable, the CAP Barbell Standard Threaded Solid Easy Curl Bar is a good choice. It's made of solid chromed steel with a sleek black powder coating.
Although it's a basic bar, it's a great 'starter' bar for beginners or those who are only occasional lifters. You might wish to upgrade if you decide to get more serious with your workouts.
The collars of the bar may be loose and noisy but can be easily tightened. If you're having ongoing problems with the collars of your easy curl bar, get in touch with CAP, and they might send you a replacement bar.
An arm blaster could be a great addition alongside your curl bar because it helps isolate your biceps even more. Check out our favorite arm blasters.
Why You Should Trust Us
Here at PowerliftingTechnique, we are a team of expert powerlifting coaches and competitors, strength and conditioning coaches, and fitness experts with decades of combined experience. We have worked with the highest-level athletes and have also competed ourselves.
Combining our personal and professional experience, we know what to look for when searching for the best workout gear on the market.
How We Chose the Best Curl Bars
We considered various factors when deciding which curl bars are the best on the market. We tested dozens of products from a range of leading fitness brands and compared them against these factors.
More specifically, we looked at the materials used to create the bar, price, grip and knurling options, and durability. We gave each curl bar a label based on its best features or functions and other curl bar reviews, so you can easily identify which one is best for your needs.
Buying Guide: What To Look For in a Curl Bar
There are so many different things that contribute to the quality and function of a curling bar. Here are some of the most important factors to consider when you want to find the best curl bar for your home gym:
Bar shape
Bar diameter
Knurling
Weight
Weight capacity
Tensile strength
Shaft finish
Warranty
Price
Bar Shape
The main reason people choose to use curl bars is their unique shapes and designs. EZ bars have characteristic bends that enable you to target your biceps from different angles. Some EZ bars have slightly steeper bends, while others are flatter.
The former place your forearms in a more probated position than the latter, targeting the long head of the bicep, the brachialis (which sits between the bicep and the triceps), and the brachioradialis (which runs from the upper arm to the forearm).
For most lifters, somewhere in the middle of steep and flat will be the most suitable for an EZ curl bar.
Bar Diameter
The diameter of your curl bar is another essential factor to consider. If you have smaller hands, you might need a standard curl bar with a thinner shaft of 25 mm. If you have larger hands, go for a curling bar that has a diameter of 28 to 30 mm.
Knurling
Knurling isn't as essential when buying an Olympic curl bar compared to a large barbell you'd use for heavy deadlifts because your grip isn't usually the limiting factor in bicep curls. However, most of the best curl bars have medium knurling, and the budget options tend to have more passive knurling.
Some EZ curl bars have knurling on either side, where you would place your hands, while others have knurling along the whole length of the bar.
Weight
Curl bar weight can range from just 5 lbs all the way up to 120 lbs. While this might not sound like a significant difference, remember that your biceps are small muscles and a 7 lb jump can feel very different during a set of bicep curls! If you're a beginner, you might want a lighter EZ bar to ease yourself into things. You can add some weight plates onto the bar as you progress.
Weight Capacity
The weight capacity of an EZ curl bar depends on its quality and sleeve length. The best curl bars for heavy bicep curls are generally Olympic curl bars produced using high-quality steel that have a long sleeve length (at least 6.5 inches) and a diameter of between 28 and 30 mm.
The average weight capacity for EZ curl bars is around 200 pounds, though different brands may be higher or lower than this. Lighter curling bars will also have a lower maximum weight capacity.
Tensile Strength
Tensile strength refers to the weight that can be added onto the bar before it completely breaks. Generally, stainless steel is the best material for high tensile strength (up to 110 PSI).
Tensile strength isn't as important for EZ curl bars as it is for Olympic weightlifting barbells or powerlifting barbells because you won't be loading them as heavily. However, it's still a factor to consider when finding the best curling bar for your home workouts. Bars with a higher tensile strength won't bend or break easily, even during heavy strength training sessions.
Shaft Finish
The best EZ curl bars have a durable and protective shaft finish to prevent oxidation and prolong their life span. The finish of the bar can also influence how aggressive or passive the knurling feels on your hands.
Most of the cheaper EZ curl bars have a light chrome finish that is more decorative than protective and is prone to rusting. Higher-quality options are finished with a coating of thicker, hard chrome, black powder coating, Cerakote, or zinc.
Warranty
The best fitness brands offer great warranties on their curling bars, and this is something to look out for when buying products for your home gym. Usually, curl bars have a warranty between one and three years, but you can find exact information on each company's website.
Price
Price should always be a consideration when purchasing home gym equipment. Keep this in mind when buying the best Olympic curl bar for your workouts so that you can find an option that aligns with your budget.
Note that cheaper bars are usually cheaper for a reason. Sometimes, it's worth spending more money on a higher-quality curl bar that will last longer.
Benefits of Training the Biceps with a Curl Bar
There are many benefits to using an EZ curl bar over a standard barbell:
Increased bicep size and strength
Extra comfort in the joints
Lower risk of injury
Great for beginners
Increased Bicep Size and Strength
The EZ curl bar enables you to train your biceps with good form, whether you do bicep curls sitting or standing. The different grip angles on the bar allow you to target the different heads of the biceps muscle with different bicep curl variations.
Compared to Olympic barbells or dumbbells, the EZ curl bar activates the biceps brachii and brachioradialis more. So, by using an easy curl bar for your bicep curls, you'll see maximum strength gains and muscle growth in your biceps.
Extra Comfort in the Joints
Curl bars are shaped in such a way that you can get a comfortable and strong grip on the bar. The bends in the bar place your wrists in a less supinated position (palms facing up) than a straight bar, which reduces external shoulder rotation and minimizes the risk of pain in the upper body joints.
Lower Risk of Injury
Compared with straight barbells, EZ curl bars place your wrists and shoulders in more comfortable positions, reducing the chance of both acute and chronic injuries. The risk of long-term issues with your elbows and wrists is minimized, so you can enjoy years of injury-free and pain-free training.
Great for Beginners
Curl bars are suitable for lifters of all levels, including beginners. They enable new lifters to learn proper form and technique in a range of upper body exercises. The EZ bar keeps the wrists in a more neutral placement, which makes it easier for beginners to keep their elbows glued to their sides during bicep curls.
Frequently Asked Questions
What Kind of Bar is Best For Curls?
The best curling bar for bicep curls is a straight curl bar, as it places your biceps in full supination position, which is the most optimal position for muscle growth and strength gains.
What's the Weight of a Curl Bar?
A standard curl bar weighs between 5 and 35 pounds (between 2.3 and 49.8 kg). The exact weight of a curl bar may depend on the materials it's made from and the type of bar. The best EZ curl bars often weigh more than straight curl bars.
There are also fixed EZ curl bars that come in various weights. On average, they can weigh anywhere from 20 to 110 pounds. However, some brands sell fixed bars that weigh more or less than this.
Can a Curl Bar Be Used for Squats and Deadlifts?
Even the best curl bars aren't appropriate for heavy compound movements like squats and deadlifts. It's much better to use curl bars for isolation movements like bicep curls or tricep extensions where you'll be lifting lighter weights.
Can I Use a Curl Bar for Hip Thrusts?
As with squats and deadlifts, even the best curl bars aren't appropriate for hip thrusts. They are usually unable to withstand heavy weights due to their smaller frame, and the curved shape of easy curl bars can be uncomfortable when resting on the hips during hip thrusts.
What Size Curl Bar Should I Buy?
A standard curl bar is usually one inch in diameter, 47 to 60 inches long, and between 5 and 35 lbs. The size and weight you choose will depend on your frame and existing strength levels. Beginners and lighter lifters should opt for a lighter bar, while more advanced and heavier gym-goers should look for a heavier bar.
Final Verdict: What is the Best Curl Bar?
The best EZ curl bar is the REP Fitness Curl Bar, which is a high-quality stainless steel bar, available with either a hard chrome coating or no coating at all. It has a high tensile strength and long sleeves, making it ideal for beginners or advanced lifters who want to practice heavy bicep curls.
The knurling enables you to get a good grip on the bar, which is angled in such a way that it places your wrists in the perfect positions for safe and pain-free lifting. Overall, the REP Fitness Curl Bar will be suitable for pretty much every lifter, and it's definitely worth the investment.
If you're searching for a fixed-weight curl bar, I recommend going for the Titan EZ Rubber Curl Bar.
---
About The Author
Athina is a Biochemistry and Genetics graduate, and a qualified personal trainer with a passion for women's health and fitness. She is passionate about helping women to learn more about the importance of the menstrual cycle and how to balance their hormones. She is the host and producer of Fertility and Freedom podcast, which covers all things women's health and hormones.